Leading by Mastermind (Mitch Joel)
Mitch Joel uses his three decades in digital media as a backdrop for sharing his leadership perspective. In particular, he sees a successful leadership team as a mastermind group that takes a relentlessly cooperative approach toward a common goal.
Welcome to To Lead Is Human. This show helps listeners envision how they can uplevel their leadership and shape cultures of accountability, respect, and candor.
Mitch Joel is a thought leader, author, keynote speaker, podcaster, and the founder of ThinkersOne.
"Having complementary skill sets doesn't put you in that place where you're really conflicting with one another so much as you have your own built-in mastermind group."Mitch Joel
Mitch Joel is an author, writer, entrepreneur, keynote speaker, and co-founder of ThinkersOne — a platform that empowers companies with personalized and bite-sized thought leadership from the best thinkers in the world.
When brands like Google, Starbucks, Shopify, and GE want to leverage technology to better connect with their consumers, they call Mitch. He has been referred to as "one of North America's leading visionaries" by Strategy Magazine.
During his career, Mitch spent close to two decades building and running a company he sold to WPP, where he remained as president of a global marketing agency operating in 25 countries with close to 3,000 employees.
Since 2005, he has given 40–60 keynote presentations a year to small, medium, and large B2B and B2C organizations. During the pandemic era, Mitch shifted online and delivered over 200 virtual presentations for brands like Google, Walmart, SAP, Sanofi, and the Canadian Franchise Association.
Reflecting his love of music, Mitch is also the host of Groove: The No Treble Podcast, where he is slowly trying to build the largest oral history of electric bass players in the world.
For more than 30 years, Sharon Richmond has partnered with C-level executives from mid-size and small, fast-growing companies who want to up-level their leadership and build companies they are proud of. Clients accelerate their leadership by embracing mindset and behavior changes, building self-awareness and self-management skills, and focusing on the three things all leaders must ensure: focus, energy, and delivery.
Sharon's purpose as an executive coach is to help leaders 10X their impact by leveraging the power afforded by their roles to build organizations that are forces for good, both economically and socially. She also advises CEOs on shaping organization culture and leading change.
Sharon has taught leadership at Stanford GSB, where she now helps leaders increase influence, manage conflict, and prepare to build high-performing teams.
To see a list of Sharon's clients, please visit https://LeadingLarge.com.
Credits:
Producer: Cynthia Lamb
Executive Producer: Danny Iny
Assembled by: Melissa Deal
Audio Post Supervisors: Evan Miles and Christopher Martin
Audio Post Production: Post Office Sound
Music Soundscape: Chad Michael Snavely
Making our hosts sound great: Home Brew Audio
Music and SFX credits:
Track Title: Escaping Light
Artist: Aaron Sprinkle
Writer: Aaron Sprinkle
Publisher: A SOUNDSTRIPE PRODUCTION
Track Title: Bright Future
Artist: Be Still The Earth
Writer: Marshall Usinger
Publisher: A SOUNDSTRIPE PRODUCTION
If you don't want to miss future episodes of To Lead Is Human, please subscribe to Apple podcasts or Spotify or wherever you're listening right now. And if you liked the show, please leave us a starred review. It's the best way to help us get these ideas to more people.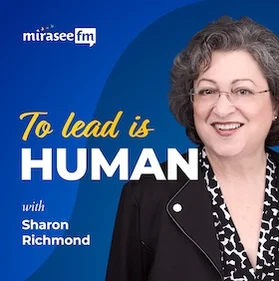 To Lead Is Human
Every business leader has a huge impact on their organization. In this podcast, Sharon Richmond interviews successful leaders who have turned personal growth into tangible business outcomes. They discuss overcoming challenges, lessons learned and what helps them make a positive impact in their organization. Sharon offers insight and advice to help listeners envision how they can supercharge their own leadership by blending the art and science of leading with intention.