Keep Saying Yes (Ellen Finkelstein)
For Ellen Finkelstein, making it is about giving back. When you give, you receive. Through email marketing and blogging, she established authority and built trust… ultimately selling her courses to a loyal following that she cultivated over the years.
Welcome to Making It! This weekly show explores the lives and stories of entrepreneurs as they share their unique perspectives on their success and the path to making it.
Ellen Finkelstein is the founder of Change The World Marketing. In this episode of Making It, Ellen shares how she said "yes" to each learning opportunity she was presented. This eventually led her to writing the AutoCad Bible, a behemoth of a For Dummies book, on her own.
"It takes time. You have to build them up. But it's really hard to go at this by yourself. To actually try to build a business all on your own."Ellen Finkelstein
Ellen Finkelstein teaches online entrepreneurs how to get their knowledge out to the world AND how to maximize their income with email marketing.
During her 20+ years online, she has successfully created and sold dozens of online products and courses. She uses her experience to help others turn their knowledge into online products so they can transform others.
Ellen has become well-known for her contrarian and wildly successful email newsletter formula, which she uses to rank highly on affiliate leaderboards.
Learn more at www.ChangetheWorldMarketing.com.
Resources or websites mentioned in this episode:
Mirasee
Ellen's Website
Ellen's YouTube
Credits:
Co-producers: Danny Bermant and Geoff Govertsen
Supervising Producer: Cynthia Lamb
Executive Producer: Danny Iny
Audio Post Supervisors: Evan Miles and Christopher Martin
Audio Post Production: Post Office Sound
Music Soundscape: Chad Michael Snavely
Making our hosts sound great: Home Brew Audio
Music and SFX credits:
Track Title: Bearing Fruit
Artist Name: Cody Martin
Writer Name: Cody Kurtz Martin
Publisher Name: A SOUNDSTRIPE PRODUCTION
Track Title: The Sunniest Kids
Artist Name: Rhythm Scott
Writer Name: Scott Roush
Publisher Name: A SOUNDSTRIPE PRODUCTION
Track Title: Sweet Loving Waltz
Artist Name: Sounds Like Sander
Writer Name: S.L.J. Kalmeijer
Publisher Name: A SOUNDSTRIPE PRODUCTION
Special effects credits:
24990513_birds-chirping_by_promission used with permission of the author and under license by AudioJungle/Envato Market.
To catch the great episodes coming up on Making It, please follow us on Mirasee FM's YouTube channelor your favorite podcast player. And if you enjoyed the show, please leave us a comment or a starred review. It's the best way to help us get these ideas to more people.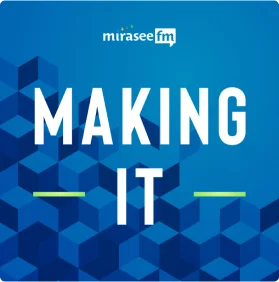 Making It
If you're an online entrepreneur, Making It was made for you. In each episode, real-world entrepreneurs tell their stories in their own words. They define what "making it" means in the busy space of online business. And they reveal what they've learned in their journey toward making it… lessons you can use in your own business.