Integrate & Create (Sean D Stewart)
Business coach and speaker Sean Stewart talks about helping students to break out of overthinking and into using their true gifts and talents. He shares an integrative and creative process to help them find their own genius zone energy.
Sean Stewart is an expert business coach and the founder of Rock Your Gift, a company that helps coaches and speakers stand out and become market leaders.
In this episode we discuss:
Bringing in a creative element by adding mind-body connections, movement and fun.
Mixing individual and group training with live calls.
Finding creative ways to integrate your students' natural gifts into the learning process.
How to structure a profit center group model.
How to allow for individual creativity in your course design and process.
Finding inspiration and ideas in your day-to-day life that can translate to your course.
"So I'm always helping my clients realize that whenever I'm presenting, I never use a script. I mean, I have slides, but the moment brings the energy for me. And I encourage my clients to do that."Sean Stewart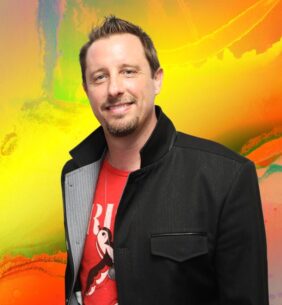 Sean D. Stewart is a transformational business coach and speaker with over 11 years experience helping entrepreneurs create profitable businesses aligned with their core gifts.
Originally trained by Tony Robbins and with a 30 year background as a spoken words artist, rapper and stage performer…Sean electrifies audiences in his live and virtual events bringing a unique blend of training and edutainment. Sean has helped thousands of clients in his career and he's not only shared stages with many of the biggest leaders in the coaching space… but he's been their go to event sales expert as well.
Helping icons like Les Brown, Marisa Murgitroyd Lisa Sasevich and more generate millions from their live and virtual events. He is the CEO of Rock Your Gift and the founder of the Rock Your Gift 3 day live experience where Sean takes a stand for change agents everywhere to not settle for modeling others, but instead to innovate their unique message and mark on the world.
Resources or websites mentioned in this episode:
Mirasee
Sean's website
Sean's LinkedIn
Credits:
Guest: Sean D Stewart
Hosts: Danny Iny & Abe Crystal
Producer: Cynthia Lamb
Executive producer: Danny Iny
Assembled by: Geoff Govertsen
Audio Post Supervisor: Evan Miles, Christopher Martin
Audio Post Production: Post Office Sound
Music soundscape: Chad Michael Snavely
Making our hosts sound great: Home Brew Audio
If you don't want to miss future episodes of Course Lab, please subscribe to Apple podcasts or Spotify or wherever you're listening right now. And if you liked the show, please leave us a starred review. It's the best way to help us get these ideas to more people.
Music and SFX credits:
Track Title: Bossa BB
Artist Name(s): Marie
Writer Name: Chelsea McGough
Publisher Name: A SOUNDSTRIPE PRODUCTION
Track Title: Grace
Artist Name(s): Shimmer
Writer Name: Matthew Wigton
Publisher Name: BOSS SOUNDSTRIPE PRODUCTIONS
Track Title: Carousel Lights
Artist Name(s): Chelsea McGough
Writer Name: Chelsea McGough
Writer Name: Matthew Wigton
Publisher Name: A SOUNDSTRIPE PRODUCTION
Publisher Name: BOSS SOUNDSTRIPE PRODUCTIONS
Track Title: Coo Coos
Artist Name(s): Dresden, The Flamingo
Writer Name: Matthew Wigton
Publisher Name: A SOUNDSTRIPE PRODUCTION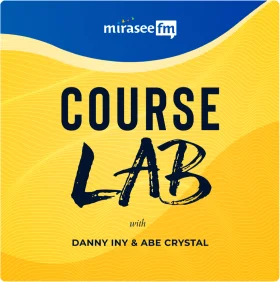 Course Lab
Ever wondered how online courses could be even better? What would that next level look like? Those are the questions driving online course experts Danny Iny (founder of Mirasee) and Abe Crystal (co-founder of Ruzuku) in Course Lab. In each episode, they bring on an innovative course creator and deconstruct what makes their course (and course business) work for them and their students.