How To Streamline Your Course For Optimized Learning (Rebecca Cuevas)
In this episode, our hosts Danny Iny and Abe Crystal will take a closer look at Rebecca's course "Streamline Your Course Creation," which helps online course creators design transformative learning experiences. Rebecca is the recipient of multiple Federal scholarships for international study and brings a creative, multi-cultural perspective to her work. While pursuing her goal to light up the planet, one mind at a time, Rebecca perfected a method that makes course design simple, even for first-time course creators – and today she's sharing all her top strategies with our listeners.
In this episode we discuss:
How tripping over digital whiteboards gave Rebecca the idea of taking her face-to-face training to the online world.
Although she has diversified offerings, Rebecca's wish for scalability led to the creation of a very guided practice-focused course — an evergreen course.
How digital flipbooks eliminate navigation challenges while keeping interactivity and engagement with the students.
Why do minimizing downloads help students to use the note-taking method of their preferred choice and enhance the learning experience?
Danny's and Abe's debrief after the interview
"The difference between a course and some other kind of digital product is that in order for it to work, people have to actually learn from it."

Rebecca Cuevas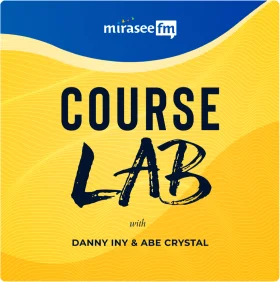 Course Lab
Ever wondered how online courses could be even better? What would that next level look like? Those are the questions driving online course experts Danny Iny (founder of Mirasee) and Abe Crystal (co-founder of Ruzuku) in Course Lab. In each episode, they bring on an innovative course creator and deconstruct what makes their course (and course business) work for them and their students.