How Students' Lived Experiences Lead to Innovative Course Design (Sara Eisenberg)
In this episode of Course Lab, Danny and Abe discuss Sara's course and explore how she uses students' lived memories and experiences to create an in-depth and innovative curriculum. She shares how the pandemic helped her understand that Zoom meetings with the participants created a more intimate environment in which to be vulnerable and safe to share experiences.
In this episode we discuss:
The approach of "radical inclusion."
How the students sharing their experiences and perspectives builds the course's innovative structure.
How to enroll people into a course with sensitive topics such as racial and gender equality.
How Sara creates a safe and intimate environment in the group's Zoom calls.
Danny and Abe's debrief after the interview.
"Now I'm closing the loop, bringing the consciousness practices from my healing path back into the work of the  divisive issues of race and gender. Because we haven't made a lot of progress using the tools that we have."

"In some cases, I'm writing the curriculum as we go based on how the students' material interacts with one another." 

Sara Eisenberg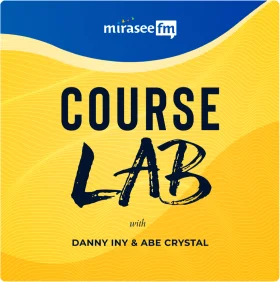 Course Lab
Ever wondered how online courses could be even better? What would that next level look like? Those are the questions driving online course experts Danny Iny (founder of Mirasee) and Abe Crystal (co-founder of Ruzuku) in Course Lab. In each episode, they bring on an innovative course creator and deconstruct what makes their course (and course business) work for them and their students.