How Students' Lived Experiences Lead to Innovative Course Design (Sara Eisenberg)
Episode summary: The feeling of a broken world and Sara Eisenberg's own experience as an activist were drivers in the creation of her four-week online course, Radical Inclusion Immersion, which helps attendees deconstruct their biases. The course teaches simple practices that deepen curiosity, empathy, and visceral understanding of belonging and exclusion and invites a natural shift to more inclusionary behaviors.
In this episode of Course Lab, Danny and Abe discuss Sara's course and explore how she uses students' lived memories and experiences to create an in-depth and innovative curriculum. She shares how the pandemic helped her understand that Zoom meetings with the participants created a more intimate environment in which to be vulnerable and safe to share experiences.
In this episode we discuss:
The approach of "radical inclusion."
How the students sharing their experiences and perspectives builds the course's innovative structure.
How to enroll people into a course with sensitive topics such as racial and gender equality.
How Sara creates a safe and intimate environment in the group's Zoom calls.
Danny and Abe's debrief after the interview.
"Now I'm closing the loop, bringing the consciousness practices from my healing path back into the work of the  divisive issues of race and gender. Because we haven't made a lot of progress using the tools that we have."

"In some cases, I'm writing the curriculum as we go based on how the students' material interacts with one another." 

Sara Eisenberg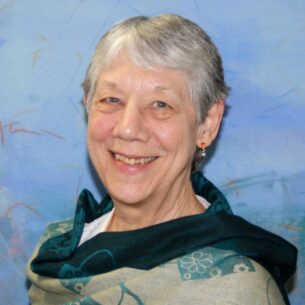 Guest bio: Sara Eisenberg is a healer, herbalist, activist, elder, and the founder of  A Life of Practice, her online home, where she integrates her work in Nondual Kabbalistic Healing, Herbal Medicine, and Radical Inclusion with A Life of Practice©.  Sara brings over 35 years of experience as a teacher, facilitator, and healer in academic and community settings to her work. 
Sara teaches CEOs, professionals, activists, and seekers committed to race and gender justice, guiding them to naturally shift to more inclusionary behaviors by engaging them in simple practices that deepen their curiosity, empathy, and visceral understanding of belonging, exclusion, and agency.
In Radical Inclusion Practice©, she partners race and gender justice beginners with seasoned practitioners in a variety of settings: one on one, small group settings by contractual agreement, and in online learning settings where course size is limited to optimize transformational learning.
In spite of her years as a community organizer, nonprofit CEO, and large-systems change agent, Sara was also trying to solve her own pain over the constant harms caused by a broken world.
Radical Inclusion Practice© is the fruit of her desire to make this path available to others.
Now she offers a 4-week beta course, Radical Inclusion Immersion, a protected space for professionals, seekers, and activists who:
are committed to racial and gender justice
wrestle with being part of the problem they want to solve
are ready to look within and work with their own stories and lived experiences
Resources or websites mentioned in this episode:
Credits:
Guest – Sara Eisenberg
Hosts – Danny Iny & Abe Crystal
Producer – Cynthia Lamb
Executive producer – Danny Iny
Assembled by – Geoff Govertsen and Michi Lantz
Audio Post Supervisor: Evan Miles, Christopher Martin
Audio Post Production by Post Office Sound
Music soundscape: Chad Michael Snavely
If you don't want to miss future episodes of Course Lab, please subscribe to Apple podcasts or Spotify or wherever you're listening right now. And if you liked the show, please leave us a starred review. It's the best way to help us get these ideas to more people.
If you have a question for Course Lab, put the show title in the subject line and send it to podcasts@mirasee.com
Music and SFX credits: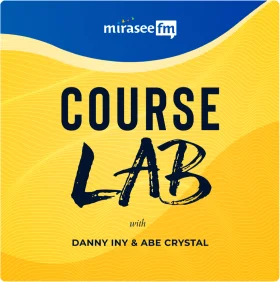 Course Lab
Ever wondered how online courses could be even better? What would that next level look like? Those are the questions driving online course experts Danny Iny (founder of Mirasee) and Abe Crystal (co-founder of Ruzuku) in Course Lab. In each episode, they bring on an innovative course creator and deconstruct what makes their course (and course business) work for them and their students.