Hip Course Vibes (Tad Hargrave)
Tad Hargrave is the founder of Marketing for Hippies, a company that teaches ethical marketing strategies to business owners. Traditional marketing techniques can feel outright icky to some business owners, so how can you get course recognition without feeling smarmy?
In this episode of Course Lab, Danny, Abe and Tad cover a ton of ideas to get your creative juices flowing with alternative ways to structure and market your course. Tune in and mellow out as these experts discuss relevant and useful strategies that you can implement to create good vibes all around.
In this episode we discuss:
Why business owners with "hippie" values reject traditional marketing – and what to do if that describes you.
How seemingly unrelated course assignments can help clients within the course content.
Ways to filter out potential clients who may not be a good fit.
How to structure group work to reiterate and solidify content.
How to use the "hot seat" approach to benefit everyone in the group.
Creating structures for peer support within your course.
Practical ways to ensure guaranteed relevance of content for different groups.
Why credentialism is often overrated.
Danny and Abe's debrief.
"So now that's what I teach – how to market your business in a way that not only works and is effective but also feels genuinely good to everybody involved."Tad Hargrave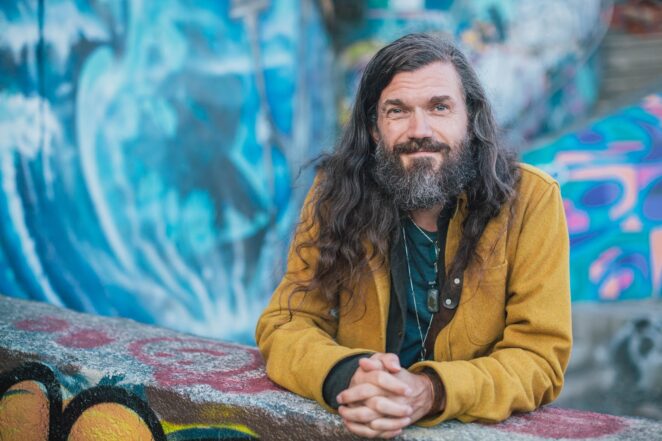 Tad Hargrave is a hippy who developed a knack for marketing (and then learned to be a hippy again).
He spent his late teens being schooled in a mixed bag of approaches to sales and marketing – some manipulative and some not. When that career ended, he spent a decade unlearning and unpacking what he'd been through.
How had he been swept up in it? Why didn't those approaches work as well as advertised? Were there ways of marketing that both worked better and felt better to all involved? It took him time but he began to find a better way to market.
By 2006, he had become one of the first, full-time 'conscious business' marketing coaches (for hippies) and created a business where he could share the understanding he had come to: Marketing could feel good. You didn't have to choose between marketing that worked (butfelt awful) or marketing that felt good (but got you no clients).
Since 2001, he has been touring his marketing workshops around Canada, the United States, Europe, and online, bringing refreshing and unorthodox ideas to conscious entrepreneurs and green businesses that help them grow their organizations and businesses (without selling their souls). Instead of charging outrageous amounts, he started doing most of his events on a pay what you can basis. He is the author of sixteen books and workbooks on marketing.
Resources or websites mentioned in this episode:
Mirasee
Tad's website
Tad's YouTube
Credits:
Guest: Tad Hargrave
Hosts: Danny Iny & Abe Crystal
Producer: Cynthia Lamb
Executive producer: Danny Iny
Assembled by: Geoff Govertsen
Audio Post Supervisor: Evan Miles, Christopher Martin
Audio Post Production: Post Office Sound
Music soundscape: Chad Michael Snavely
If you don't want to miss future episodes of Course Lab, please subscribe to Apple podcasts or Spotify or wherever you're listening right now. And if you liked the show, please leave us a starred review. It's the best way to help us get these ideas to more people.
Music and SFX credits:
Track Title: Bossa BB
Artist Name(s): Marie
Writer Name: Chelsea McGough
Publisher Name: A SOUNDSTRIPE PRODUCTION
Track Title: Grace
Artist Name(s): Shimmer
Writer Name: Matthew Wigton
Publisher Name: BOSS SOUNDSTRIPE PRODUCTIONS
Track Title: Carousel Lights
Artist Name(s): Chelsea McGough
Writer Name: Chelsea McGough
Writer Name: Matthew Wigton
Publisher Name: A SOUNDSTRIPE PRODUCTION
Publisher Name: BOSS SOUNDSTRIPE PRODUCTIONS
Track Title: Coo Coos
Artist Name(s): Dresden, The Flamingo
Writer Name: Matthew Wigton
Publisher Name: A SOUNDSTRIPE PRODUCTION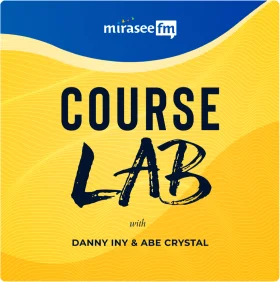 Course Lab
Ever wondered how online courses could be even better? What would that next level look like? Those are the questions driving online course experts Danny Iny (founder of Mirasee) and Abe Crystal (co-founder of Ruzuku) in Course Lab. In each episode, they bring on an innovative course creator and deconstruct what makes their course (and course business) work for them and their students.