From Your Scraps, Create Something New
Story Coach Lisa Bloom is the go-to expert on business story-telling. For decades she's helped entrepreneurs master this important but overlooked skill. In Once Upon a Business, she's turning her attention from the craft of storytelling to the stories themselves — the densely evocative folk and fairy tales that we're all exposed to.
In each episode of Once Upon a Business, Lisa reads a fairy or folk tale and then extracts rich business lessons that are applicable for entrepreneurs of all stripes. As she puts it, a tiny tale of nine sentences can encompass worlds.
So, come now. Gather around the fire. Lisa's about to begin….
"And that's the point where we all need to go back to our work rooms like the tailor and spend time stitching and sewing and stitching and sewing and spend time in our creative space to figure out what might work better." "

"One of the lessons, I think, from the story, is never to assume something is over before it's over, never assume that something is finished. There's always pieces that can be pulled together, and we can make something out of almost nothing. I think it's an incredibly important skill for an entrepreneur, for anybody running a business, to know that creating something out of nothing is always possible."

Lisa Bloom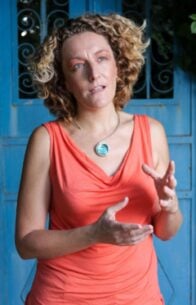 Guest Bio: Lisa Bloom is a storyteller and author who's passionate about the art and business of storytelling. She runs a business called The Story Coach and helps entrepreneurs to de-stress their marketing and find their unique success stories. 
After traveling the world and working a variety of jobs, she settled down in Israel, where she lives with her husband and sons. From there, she built up her Story Coaching business, developed Narrative Based Leadership Programs, and delivered many global conference keynotes and workshops. She is also the manager of Mirasee's ACES (Accountability, Coaching & Community, Expertise, and Service) program.
There's nothing Lisa loves more than to spend time with her partner and their four sons, walk her dog, travel, read and share stories.
Resources or websites mentioned in this episode:
Credits:
Host – Lisa Bloom
Producer – Cynthia Lamb
Executive producer – Danny Iny
Assembled by – Geoff Govertsen
Audio Post Supervisor: Evan Miles, Christopher Martin
Audio Post Production by Post Office Sound
Music soundscape: Chad Michael Snavely
If you don't want to miss future episodes of Once Upon a Business, please follow us on Apple podcasts, Spotify or wherever you're listening right now. And if you liked the show, please leave us a starred review. It's the best way to help us get these ideas to more people.
Music credits: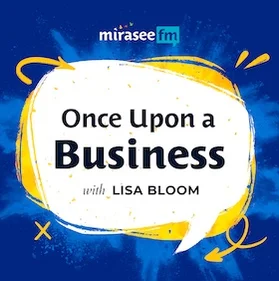 Once Upon A Business
Want to tap into the power of story to grow your business? Once Upon a Business is the podcast for entrepreneurs who believe business material doesn't have to be boring. In each episode, Lisa Bloom (founder of Story Coach) shares an evocative fairy or folk tale... the kind we've all heard since childhood. She then unpacks the story to help listeners find inspiration and creative ways to think about business.