From List to Blissed (Terry Dean)
There aren't many mismatches like an introvert trying to sell satellite dishes to Amish homes. But from that start, Terry Dean explored many avenues before discovering the Internet in 1996 and becoming one of the earliest online marketing successes.
Welcome to Making It! This weekly show explores the lives and stories of entrepreneurs as they share their unique perspectives on their success and the path to making it.
Terry Dean has been an online marketing expert for nearly 30 years and is the founder of MyMarketingCoach.com.
"My biggest breakthrough was when I realized that my income each month was directly proportional to the size of my email list."Terry Dean
Terry Dean went from delivering pizzas for $8 an hour to creating a full-time income online in 1996. He was one of the first online marketers to demonstrate the power of email, generating nearly $100,000 from a single email to his list, in front of a live audience. In the past 27 years, he has personally helped thousands of clients in hundreds of different markets create and sell online courses, improve website conversions, and earn an excellent income even from small email lists.
Resources or websites mentioned in this episode:
Mirasee
Terry's website: MyMarketingCoach.com
Terry's free cheat sheet: MyMarketingCoach.com/golden-glove
Credits:
Co-producers: Danny Bermant and Geoff Govertsen
Supervising Producer: Cynthia Lamb
Executive Producer: Danny Iny
Audio Post Supervisors: Evan Miles and Christopher Martin
Audio Post Production: Post Office Sound
Music Soundscape: Chad Michael Snavely
Making our hosts sound great: Home Brew Audio
Music credits: 
Track Title: The Sunniest Kids
Artist Name: Rhythm Scott
Writer Name: Scott Roush
Publisher Name: A SOUNDSTRIPE PRODUCTION
Track Title: Love and Circumstance
Artist Name: Shimmer
Writer Name: Matthew Wigton
Publisher Name: A SOUNDSTRIPE PRODUCTION
Track Title: Strength
Artist Name: Shimmer
Writer Name: Matthew Wigton
Publisher Name: A SOUNDSTRIPE PRODUCTION
Special effects credits:
24990513_birds-chirping_by_promission used with permission of the author and under license by AudioJungle/Envato Market.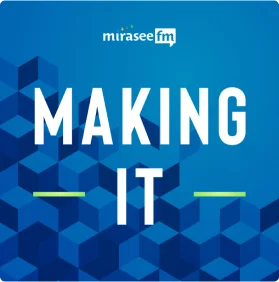 Making It
If you're an online entrepreneur, Making It was made for you. In each episode, real-world entrepreneurs tell their stories in their own words. They define what "making it" means in the busy space of online business. And they reveal what they've learned in their journey toward making it… lessons you can use in your own business.