Feeder Courses – What are they and how do they help your coaching business? (Mary Williams)
Episode summary: Bootcamps, introductory webinars, books, and joint ventures are some of the best methods of attracting clients who are immediately interested in what a coach has to offer. But why are these sometimes known as feeder courses? How much should you charge for a feeder course? Or should you just give them away as freebies? Today's coaching conversation clarifies what feeder courses are, how to use them, and when to create them.
In this episode, our host Melinda Cohan engages in an in-depth and lively discussion with Mary Williams about feeder courses and how to use them to grow your coaching business. Mary is a Chief Technology therapist who runs her own coaching and education business Sensible Woo and is also a coach for course creators at Mirasee. Mary and Melinda are both very excited about the prospect of using feeder courses to grow your coaching business and in this session, they'll explain exactly how it's done.
In this episode we discuss:
"Feeder courses are a really special little corner of our universe and it can be used really, really powerfully."

Mary Williams
Guest Bio: Mary is the Chief Technology Therapist at Sensible Woo, where she teaches highly sensitive & neuro-divergent online business owners how to replace technological chaos with a harmonious system. Through programs like Digital Feng Shui, her clients optimize their business foundation from an emotional and intuitive perspective so that they can delegate and automate without wasting time, money, or energy.
She is an accredited librarian with a Master of Science in Information and set the foundation of her career as the first digital archivist for Disney Animation Studios. From there, she has worked with marketing agencies, entertainment technology companies, public libraries, fundraising organizations, and technology start-ups. You can connect with Mary at sensiblewoo.com, subscribe for updates, and access her free library of learning resources.
Resources or websites mentioned in this episode:
Credits:
If you don't want to miss future episodes of Just Between Coaches, please subscribe to Apple podcasts or Spotify or wherever you're listening right now. And if you liked the show, please leave us a starred review. It's the best way to help us get these ideas to more people.
If you have a question for Just Between Coaches, put the show title in the subject line and send it to podcasts@mirasee.com.
Music and SFX credits: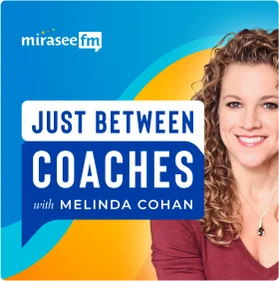 Just Between Coaches
This show is like Oprah's couch, where conversations cut straight to the heart of the topic, but... it's only for coaches! Melinda Cohan of the Coaches Console explores the tough questions coaches face on a regular basis. With a new guest host each episode, Melinda provides tactical advice and strategies to address issues like "How do I deal with price resistance?" and "Should I fire my client?"