Fearless Acceptance
Story Coach Lisa Bloom is the go-to expert on business storytelling. For decades she's helped entrepreneurs master this important but overlooked skill. In Once Upon a Business, she's turning her attention from the craft of storytelling to the stories themselves — the densely evocative folk and fairy tales that we're all exposed to.
In this episode of Once Upon a Business, Lisa reads "Lucia Zenteno" and extracts rich business and life lessons that are applicable for entrepreneurs of all stripes.
"We're surrounded in business by the opportunity to exclude people from our awareness and our consideration, and yet we have a choice to treat everyone with kindness, even those who seem different from us."Lisa Bloom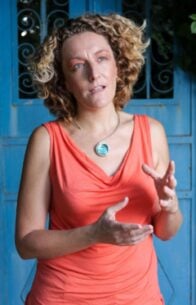 Lisa Bloom is a storyteller, author and coach who's passionate about the art and business of storytelling. She runs a business called 'Story Coach' and helps entrepreneurs, business owners & leaders attract & impact ideal clients and grow their business.
After traveling the world and working a variety of jobs, Lisa settled down and created her business: story coaching, developing transformational story leaders & delivering global conference keynotes and workshops. She is also the Director of Mirasee's ACES Business Acceleration Program.
There's nothing Lisa loves more than to spend time with her partner & their four sons, walk her dog, travel, read and share stories!
Resources or websites mentioned in this episode:
Mirasee
The Story-coach
Lisa Bloom's book – The Story Advantage
Credits:
Host – Lisa Bloom
Producer – Cynthia Lamb
Executive producer – Danny Iny
Assembled by – Geoff Govertsen and Melissa Deal
Audio Post Supervisor: Evan Miles, Christopher Martin
Audio Post Production by Post Office Sound
Music soundscape: Chad Michael Snavely
If you don't want to miss future episodes of Once Upon a Business, please subscribe to Apple podcasts or Spotify or wherever you're listening right now. And if you liked the show, please leave us a starred review. It's the best way to help us get these ideas to more people.
Music credits:
Track Title: Emeralds
Artist Name(s): Hale
Writer Name: Cory Hale Williams
Publisher Name: A SOUNDSTRIPE PRODUCTION
Track Title: Places in Dreams
Artist Name(s): Alsever Lake
Writer Name: Adrian Dominic Walther
Publisher Name: A SOUNDSTRIPE PRODUCTION
Track Title: Keeper of My Dreams
Artist Name(s): Fantoms
Writer Name: Stephen Keech
Publisher Name: A SOUNDSTRIPE PRODUCTION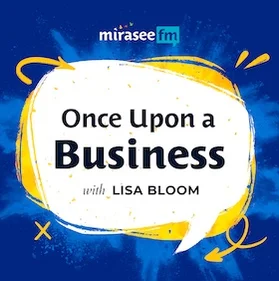 Once Upon A Business
Want to tap into the power of story to grow your business? Once Upon a Business is the podcast for entrepreneurs who believe business material doesn't have to be boring. In each episode, Lisa Bloom (founder of Story Coach) shares an evocative fairy or folk tale... the kind we've all heard since childhood. She then unpacks the story to help listeners find inspiration and creative ways to think about business.