Culture Is All About People (Doug Camplejohn)
When two decades of tech leadership collided with the pandemic in 2020, Doug Camplejohn saw and filled a gap in the corporate world. By fostering strong employee connections, he's fulfilling his philosophy: You lead best by creating a vibrant culture.
Welcome to To Lead Is Human. This show helps listeners envision how they can uplevel their leadership and shape cultures of accountability, respect, and candor.
Doug Camplejohn is an accomplished tech executive, entrepreneur, startup advisor, and the Founder and CEO of Airspeed, a platform that connects and celebrates employees digitally.
"The really fascinating part to me was the number-one reason why somebody said they would leave an organization is that they didn't feel connected to their co-workers."Doug Camplejohn
Doug Camplejohn is an accomplished tech executive, entrepreneur, and startup advisor with more than two decades of experience in the industry. He is the Founder and CEO of Airspeed, a platform designed to connect and celebrate employees digitally.
Prior to founding Airspeed, Doug held several leadership roles at innovative tech companies such as LinkedIn, Microsoft, and Salesforce. At LinkedIn, he was the Vice President of Product Management for Sales Solutions, where he led the development of LinkedIn's Sales Navigator product. Doug also worked at Salesforce as an EVP and GM of Sales Cloud.
Doug is also an active investor and advisor to several early-stage startups, including Metadata.io, a B2B demand-generation platform. He is a frequent speaker at industry events and has been featured in various publications such as the Wall Street Journal, Forbes, and TechCrunch.
Doug attended Carnegie Mellon University. He is passionate about leveraging technology to drive innovation and improve people's lives, which is reflected in his work at Airspeed.
For more than 30 years, Sharon Richmond has partnered with C-level executives from mid-size and small, fast-growing companies who want to up-level their leadership and build companies they are proud of. Clients accelerate their leadership by embracing mindset and behavior changes, building self-awareness and self-management skills, and focusing on the three things all leaders must ensure: focus, energy and delivery.
Sharon's purpose as an executive coach is to help leaders 10X their impact by leveraging the power afforded by their roles to build organizations that are forces for good, both economically and socially. She also advises CEOs on shaping organization culture and leading change.
Sharon has taught leadership at Stanford GSB, where she now helps leaders increase influence, manage conflict, and prepare to build high-performing teams.
To see a list of Sharon's clients, please visit LeadingLarge.com.
Resources or websites mentioned in this episode:
Mirasee
Sharon's website: LeadingLarge.com
Doug's website: GetAirspeed.com
Credits:
Host: Sharon Richmond
Producer: Cynthia Lamb
Assembled by: Melissa Deal
Audio Editor: Marvin del Rosario
Executive Producer: Danny Iny
Music Soundscape: Chad Michael Snavely
Making our hosts sound great: Home Brew Audio
Music credits:
Track Title: Escaping Light
Artist: Aaron Sprinkle
Writer: Aaron Sprinkle
Publisher: A SOUNDSTRIPE PRODUCTION
Track Title: Bright Future
Artist: Be Still The Earth
Writer: Marshall Usinger
Publisher: A SOUNDSTRIPE PRODUCTION
Special effects credits:
24990513_birds-chirping_by_promission used with permission of the author and under license by AudioJungle/Envato Market.
To catch the great episodes coming up on To Lead Is Human, please follow us on Mirasee FM's YouTube channel or your favorite podcast player. And if you enjoyed the show, please leave us a comment or a starred review. It's the best way to help us get these ideas to more people.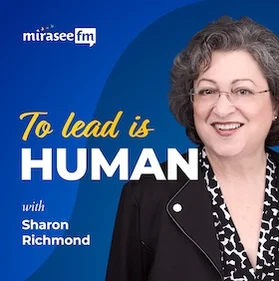 To Lead Is Human
Every business leader has a huge impact on their organization. In this podcast, Sharon Richmond interviews successful leaders who have turned personal growth into tangible business outcomes. They discuss overcoming challenges, lessons learned and what helps them make a positive impact in their organization. Sharon offers insight and advice to help listeners envision how they can supercharge their own leadership by blending the art and science of leading with intention.