Courses for Coaches (Dr. Barbara Birsinger)
After years of working through her own body issues, Dr. Barbara Birsinger created a "behavior decoding" method that generated astonishing results for clients. She then took it to the next level as a certification course for coaches and practitioners.
Dr. Barbara Birsinger is the creator of the Behavior Decoding Method as well as the CEO and Founder of The Energetics of Eating. She works with people from all walks of life who want to focus on true health and self-love rather than be pressured by the tenets of "diet culture."
In this episode, Abe and Barbara explore:
How she decided on her target audience
The modalities of her instruction and interaction with students
Customizing her offering and incorporating feedback
Exploring the emotional aspect of the problems your students face
The importance of a clear customer focus
"I started getting really dramatic results, like people absolutely stopping their intractable behaviors…. And that's when I thought, I'm the only one who's doing this."Dr. Barbara Birsinger
Creator of the Behavior Decoding Method™, Dr. Barbara Birsinger has invested over three decades studying, researching, and innovating a system to put an end to food and body-image struggles. More than 70 percent of the population, mostly women, encounter these challenges fueled by a culture obsessed with weight, size, and appearance rather than real health, self-love, and appreciating diversity.
Dr. Birsinger has worked with people from all walks of life: CEOs, students, doctors, professionals, entrepreneurs, stay-at-home moms, and more. In the process she designed a revolutionary system for revealing the deeper meaning, purpose, and intended positive outcome in eating and weight-related behaviors. This includes revising limiting beliefs and identity, as well as fulfilling spiritual longings that are essential for lasting change.
To make a greater global impact with her work, she has secured a U.S. Patent Pending for the development of a mobile app based on her Food & Body Code® program, which will also serve as a referral tool to match individuals looking for support with experienced professionals trained in her methods to reach a broader audience and extend the healing.
Dr. Birsinger thrives on training health and mental health practitioners and experienced coaches in her certification and continuing-education courses. She also enjoys professional speaking to diverse groups on broader topics that also are derived from her Mind-Body Core Code™ principles. From professional organizations to large training and speaking events, Dr. Birsinger enjoys motivating audiences while providing new and provocative information to help them find more peace, freedom, and living their dreams.
Resources or websites mentioned in this episode:
Mirasee
Dr. Birsinger's website: BarbaraBirsinger.com
Dr. Birsinger's free offer: BarbaraBirsinger.com/real-timequickdecoding
Credits:
Hosts: Danny Iny and Abe Crystal
Producer: Cynthia Lamb
Assembled by: Geoff Govertsen
Executive Producer: Danny Iny
Audio Post Supervisors: Evan Miles and Christopher Martin
Audio Post Production: Post Office Sound
Music Soundscape: Chad Michael Snavely
Making our hosts sound great: Home Brew Audio
If you don't want to miss future episodes of Course Lab, please follow us on Apple podcasts or Spotify or wherever you're listening right
now. And if you liked the show, please leave us a starred review. It's the best way to help us get these ideas to more people.
Music credits:
Track Title: Bossa BB
Artist Name: Marie
Writer Name: Chelsea McGough
Publisher Name: A SOUNDSTRIPE PRODUCTION
Track Title: Coo Coos
Artist Name: Dresden, The Flamingo
Writer Name: Matthew Wigton
Publisher Name: A SOUNDSTRIPE PRODUCTION
Track Title: Grace
Artist Name: Shimmer
Writer Name: Matthew Wigton
Publisher Name: BOSS SOUNDSTRIPE PRODUCTIONS
Track Title: Carousel Lights
Artist Name: Chelsea McGough
Writer Name: Chelsea McGough
Writer Name: Matthew Wigton
Publisher Name: A SOUNDSTRIPE PRODUCTION
Publisher Name: BOSS SOUNDSTRIPE PRODUCTIONS
Special effects credits:
24990513_birds-chirping_by_promission used with permission of the author and under license by AudioJungle/Envato Market.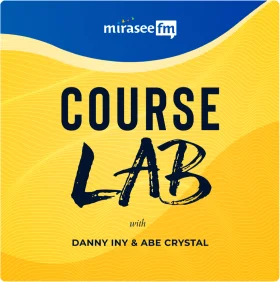 Course Lab
Ever wondered how online courses could be even better? What would that next level look like? Those are the questions driving online course experts Danny Iny (founder of Mirasee) and Abe Crystal (co-founder of Ruzuku) in Course Lab. In each episode, they bring on an innovative course creator and deconstruct what makes their course (and course business) work for them and their students.