Courses & Community (Gina Bianchini)
For the next few episodes, Course Lab is going beyond the design of courses and diving deep into the platforms that host them. We are talking with industry leaders about their vision of the future and what that means for you as a course creator. Today, we feature Gina Bianchini, co-founder and CEO of Mighty Networks, a community software platform designed to help businesses create online courses.
In this episode, Danny, Abe and Gina talk about Gina's passion and expertise in creating online communities and how that led to the all-in-one, community-centered platform she runs today. The three discuss the impact that group interaction has on transformation and scaling opportunities as well as possible industry trends.
In this episode we discuss:
The convergence of online courses and communities.
Is there still room in the market for new course creators?
Scaling your business on a single platform.
Moving from content-only to transformational courses.
The flywheel effect of adding layers and tools to an existing course.
The importance of recognizing and playing to your own strengths when making decisions about what tools and platforms to use for your online business.
Danny and Abe's debrief.
"I am both personally and professionally obsessed with how we create social experiences with communities and courses that enable people to achieve results and transformation in their lives that they simply can't get on their own."Gina Bianchini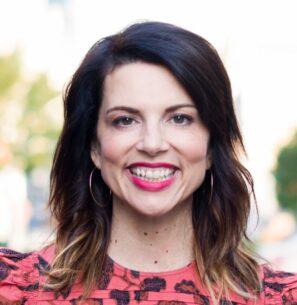 Gina Bianchini is the Founder & CEO of Mighty Networks. Her mission at Mighty Networks is to usher in a new era of creative business built on community. Mighty serves "creators with a purpose" selling experiences, relationships, and expertise to their members via community, content, online courses, and subscription commerce–all offered in one place under the creator's brand.
Before Mighty Networks, Gina and Netscape co-founder Marc Andreessen launched Ning, a pioneering global platform for creating niche social networks. Under her leadership, Ning grew to ~100 million people in 300,000 active social networks across subcultures, professional networks, entertainment, politics, and education.
Gina and Mighty Networks have been featured in Fast Company, Wired, Vanity Fair, Bloomberg, and The New York Times. She has appeared on Charlie Rose, CNBC, and CNN. She grew up in Cupertino, California, graduated with honors from Stanford University, started her career in the nascent High Technology Group at Goldman, Sachs & Co., and received her M.B.A from Stanford Business School.
Resources or websites mentioned in this episode:
Mirasee
Gina's website
Gina's LinkedIn
Credits:
Guest: Gina Bianchini
Hosts: Danny Iny & Abe Crystal
Producer: Cynthia Lamb
Executive producer: Danny Iny
Assembled by: Geoff Govertsen
Audio Post Supervisor: Evan Miles, Christopher Martin
Audio Post Production: Post Office Sound
Music soundscape: Chad Michael Snavely
If you don't want to miss future episodes of Course Lab, please subscribe to Apple podcasts or Spotify or wherever you're listening right now. And if you liked the show, please leave us a starred review. It's the best way to help us get these ideas to more people.
Music and SFX credits:
Track Title: Bossa BB
Artist Name(s): Marie
Writer Name: Chelsea McGough
Publisher Name: A SOUNDSTRIPE PRODUCTION
Track Title: Grace
Artist Name(s): Shimmer
Writer Name: Matthew Wigton
Publisher Name: BOSS SOUNDSTRIPE PRODUCTIONS
Track Title: Carousel Lights
Artist Name(s): Chelsea McGough
Writer Name: Chelsea McGough
Writer Name: Matthew Wigton
Publisher Name: A SOUNDSTRIPE PRODUCTION
Publisher Name: BOSS SOUNDSTRIPE PRODUCTIONS
Track Title: Coo Coos
Artist Name(s): Dresden, The Flamingo
Writer Name: Matthew Wigton
Publisher Name: A SOUNDSTRIPE PRODUCTION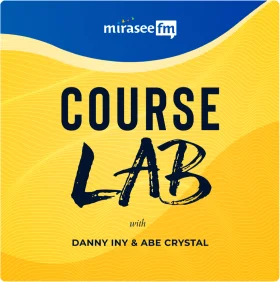 Course Lab
Ever wondered how online courses could be even better? What would that next level look like? Those are the questions driving online course experts Danny Iny (founder of Mirasee) and Abe Crystal (co-founder of Ruzuku) in Course Lab. In each episode, they bring on an innovative course creator and deconstruct what makes their course (and course business) work for them and their students.