Conversion Optimization (Talia Wolf)
Talia Wolf, founder of GetUplift, reveals a simple way to boost sales and turn an "okay" funnel into a revenue machine that works for you by using emotional marketing to improve conversions from existing traffic.
Conversion specialist Talia Wolf has brought her customer-centric methods and emotional marketing framework to some of the top brands in the world to help them improve sales conversions from existing traffic.
Hosts Linda Claire Puig and Ari Iny explore with Talia how to turn a sales funnel into a conversion machine with emotional targeting.
In this episode, we discuss:
How to optimize your sales funnel and boost conversions—turning an "okay" funnel into a revenue machine that works for you
A clever trick to uncover your ideal prospects' exact pain points and needs to empower your marketing copy…even if you don't have an audience to survey yet
Why tracking and analytics are not important when you're starting out—and what you should be doing instead to develop winning marketing appeals
And much more!
"Every decision we make in life is based on emotion."Talia Wolf
Talia Wolf is the founder of Getuplift, the CRO agency and training space that high-growth brands like Teamwork, Bitly, Sprout Social, thinkific, Mercedes and Dario turn to when they want to optimize their funnels and create experiences customers love to convert to. Using customer-centric methods and emotional marketing, Talia and her team generate more leads, sales and ROI for clients.
Talia has been invited to keynote on hundreds of stages, such as Google, MozCon, Call To Action Conference, SearchLove, and many more and was recently listed as one of the most influential experts in conversion optimization.
Resources or websites mentioned in this episode:
Mirasee
6-Figure Newsletters
Talia's website
Talia's free gift
Credits:
Hosts: Linda Claire Puig & Ari Iny
Producer: Linda Claire Puig
Managing Producer: Cynthia Lamb
Executive producer: Danny Iny
Audio Post Supervisor: Evan Miles, Christopher Martin
Audio Post Production: Post Office Sound
Music soundscape: Chad Michael Snavely
Making our hosts sound great: Home Brew Audio
If you don't want to miss future episodes of Blowing Up, please subscribe to Apple podcasts or Spotify or wherever you're listening right now. And if you liked the show, please leave us a starred review. It's the best way to help us get these ideas to more people.
Music and SFX credits:
Track Title: Sunny Side Up
Artist Name(s): Neon Beach
Writer Name: Aaron Sprinkle
Publisher Name: A SOUNDSTRIPE PRODUCTION
Track Title: Presence
Artist Name(s): Mikey Geiger
Writer Name: Michael Thomas Geiger
Publisher Name: BOSS SOUNDSTRIPE PRODUCTIONS
Track Title: Coo Coos
Artist Name(s): Dresden, The Flamingo
Writer Name: Matthew Wigton
Publisher Name: A SOUNDSTRIPE PRODUCTION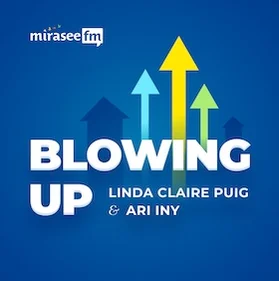 Blowing Up
"What's their secret?" If you've ever looked at a highly successful entrepreneur and asked that question, Blowing Up is your chance to get the answer! In each episode of the podcast, Linda Claire Puig and Ari Iny ask a top entrepreneur to share the details behind the one strategy that exploded their income and impact the most. You'll discover proven and tested ways to make more sales, grow your audience, connect with partners, expand into new areas, and more!