Connect with Self, Connect with Love (Lilli Bewley)
Desperately unhappy, Lilli Bewley reached the point of suicidal ideation. But she didn't give up on God or herself. She worked on self-healing and then built a business helping women enjoy dating and find true love.
Welcome to Soul Savvy Business. This podcast aims to help entrepreneurs find balance and harmony at the intersection of business and spirituality.
Host Katy Valentine is a soul-minded spiritual entrepreneur. She empowers other entrepreneurs to thrive, creating a global ripple effect. Grab your free meditation at soulsavvybusiness.com.
"We have to feel safe within ourselves in order to connect with someone deeply, right? We have to feel safe within ourselves to communicate clearly."Lilli Bewley
Lilli Bewley is a dating coach with over 10 years of experience in personal development. She went from just surviving in life to thriving in love and purpose — and now she's helping single and successful women enjoy dating and find true love.
Lilli is on a mission to educate people on how dating can be fun again after a divorce, even in their 30s, 40s, and 50s — and even if they've been single forever. We have the ability to create magnetic energy in our dating lives even if we have to perform and be high achievers in other parts of our lives. Her signature Feminine Dating Archetype Quiz will show women their blocks to love and help them find their true love match.
Resources or websites mentioned in this episode:
Mirasee
Katy's website
Lilli's Feminine Dating Archetype Quiz
Lilli's Instagram
Lilli's Dating U special offer (use the discount code mentioned in the episode for $94 off)
Suicide & Crisis Lifeline: Call or text 988 (24 hours a day, 7 days a week; in the United States)
National Alliance on Mental Health HelpLine (non-crisis and U.S. only): 1-800-950-6264 or text 62640
Credits:
Producer: Cynthia Lamb
Assembled by: Melissa Deal
Executive Producer: Danny Iny
Audio Post Supervisors: Evan Miles and Christopher Martin
Audio Post Production: Post Office Sound
Music Soundscape: Chad Michael Snavely
Making our hosts sound great: Home Brew Audio
Music credits:
Track Title: Shepherd
Artist Name: Two Dudes
Writer Name: Adrian Dominic Walther
Publisher Name: A SOUNDSTRIPE PRODUCTION
Track Title: Butterfly Effect
Artist Name: Cody Martin
Writer Name: Cody Kurtz Martin
Publisher Name: A SOUNDSTRIPE PRODUCTION
Special effects credits:
24990513_birds-chirping_by_promission used with permission of the author and under license by AudioJungle/Envato Market.
If you don't want to miss future episodes of Soul Savvy Business, please follow us on Apple podcasts or Spotify or wherever you're listening right now. And if you liked the show, please leave us a starred review. It's the best way to help us get these ideas to more people.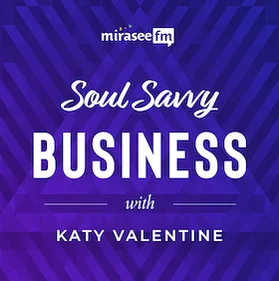 Soul Savvy Business
How can we pursue both entrepreneurial success and spiritual authenticity? Reverend Dr. Katy Valentine explores that question and more in this spiritually diverse podcast aimed at engaging mindful and curious entrepreneurs. Katy and her guests dive into the intersection of business and spirituality, exploring ways that entrepreneurs of all faiths (including none) can elevate their awareness and find abundance.