Coming Out of Isolation (Isabelle Houle)
Coaching as an entrepreneur can be an isolated, and sometimes lonely, practice. Even with a strong roster of clients, we need the connection of peers. Isabelle Houle shares with us how she broke free of loneliness and grew through creating community.
Isabelle Houle is a holistic recovery coach, certified yoga teacher, and master NLP and Time Line Therapy® coach.
In this episode we discuss:
What does "community" mean exactly?
What are the categories of community?
Embracing the magic in having a community.
Being consistent with your networking.
The importance of visiting a group at least three times before you make a commitment.
Other practices or activities that can help reduce loneliness.
"When we connect with other coaches… ask for what you need and learn to give. And when we do that, we create a safe space and we create trust."Isabelle Houle
Isabelle Houle is a holistic recovery coach, certified yoga teacher, and master NLP and Time Line Therapy® coach who worked in the more traditional field of social work for 15 years. She also worked through addiction, Crohn's disease, and Borderline Personality Disorder, which she recovered from.
After physical, emotional, and spiritual burnout, Isabelle knew she had to serve from her experience. She decided to create her own approach, one that would include everything she learned from her time as a social worker, the powerful ancient teachings of yoga and meditation, and the efficiency of NLP and Time Line Therapy. And this is how she supports her clients in reclaiming their power and finding true freedom and peace.
Resources or websites mentioned in this episode:
Mirasee
Coaches Console
Isabelle's website
Isabelle's LinkedIn
Isabelle's Facebook

Credits:
Host: Melinda Cohan
Producer: Michi Lantz
Supervising Producer: Cynthia Lamb
Executive producer: Danny Iny
Audio Post Supervisors: Evan Miles and Christopher Martin
Audio Post Production: Post Office Sound
Music Soundscape: Chad Michael Snavely
Making our hosts sound great: Home Brew Audio

If you don't want to miss future episodes of Just Between Coaches, please subscribe to Apple podcasts or Spotify or wherever you're listening right now. And if you liked the show, please leave us a starred review. It's the best way to help us get these ideas to more people.
Music and SFX credits:
Track Title: Clouds
Artist Name: Acreage
Writer Name: Marshall Usinger
Publisher Name: BOSS SOUNDSTRIPE PRODUCTIONS

Track Title: Coastline Dream
Artist Name: Wild Sky
Writer Name: Adam Simons
Publisher Name: BOSS SOUNDSTRIPE PRODUCTIONS

Track Title: Coo Coos
Artist Name: Dresden, The Flamingo
Writer Name: Matthew Wigton
Publisher Name: A SOUNDSTRIPE PRODUCTION

Track Title: Stars & Trees
Artist Name: Outside The Sky
Writer Name: Dustin Ransom
Publisher Name: A SOUNDSTRIPE PRODUCTION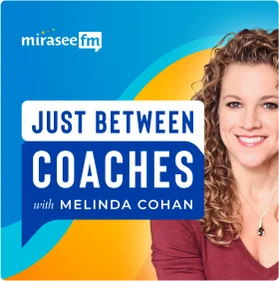 Just Between Coaches
This show is like Oprah's couch, where conversations cut straight to the heart of the topic, but... it's only for coaches! Melinda Cohan of the Coaches Console explores the tough questions coaches face on a regular basis. With a new guest host each episode, Melinda provides tactical advice and strategies to address issues like "How do I deal with price resistance?" and "Should I fire my client?"