Claim Your Competitive Advantage (Renée Blasky)
The coaching field only seems to get ever more crowded — because it is. So how do you figure out and communicate why a client should choose you? Join us as business coach Renée Blasky lays out how to discover and claim your competitive advantage.
Renée Blasky is the founder and CEO of The LEAP Network and a coach with the Mirasee ACES program.
In this episode Melinda and Renée talk about:
What a competitive advantage means
How Renée got started in a crowded coaching market
Sharing stories and vulnerability
Being unique versus being an expert
How Renée helps clients find their competitive advantage
Whether innovation is important or not
Getting out of a competitive rut
How your stage of business matters
Leveraging your weaknesses
The future of competitive advantage
"Just have fun with this. Because you evolve over time. And when you can really figure out how you show up in the world, you're going to attract that client that you absolutely love to work with."Renée Blasky
Renée Blasky discovered her love of business strategy, operations, and finance as an equity analyst in Singapore. She obtained the Chartered Financial Analyst designation while in Singapore. Renée went on to start her own finance/strategy consulting business 20 years ago after her employers didn't share her values and vision. Renée started coaching entrepreneurs five years ago and loves to help them nurture and build their dream businesses to meet their values and lifestyles.
Through her business, The LEAP Network, LLC (Lead, Empower, Aspire, and Promote) she helps her clients get results without the overwhelm and to recognize when they are getting in their own way as a result of their limiting beliefs and negative emotions.
She is a certified trainer for Dr. Susan Jeffer's Feel the Fear and Do It Anyway and Marci Shimoff's Happy for No Reason. She is also going through certification for Positive Intelligence. She is also a coach in the Mirasee ACES program, which helps entrepreneurs fast-track their growth to earn more income and create more impact.
Outside of business, Renée has lived an adventurous life. She moved with her family from the United States to Hong Kong at the age of 14, which started her 37 years abroad (10 in Asia and 27 in Africa); she's traveled to 47 countries; she lived on board a 45-foot sailboat that she sailed from Singapore to Kenya over a two-year period; and she has climbed Mount Kilimanjaro, scuba dived with sharks, hot-air ballooned over the Masai Mara, and jumped out of a perfectly good airplane at 12,000 feet.
Resources or websites mentioned in this episode:
Mirasee
Coaches Console
Melinda's book: The Confident Coach
Renée's website: ReneeBlasky.com

Credits:
Host: Melinda Cohan
Producer: Michi Lantz
Supervising Producer: Cynthia Lamb
Audio Editor: Marvin del Rosario
Executive Producer: Danny Iny
Music Soundscape: Chad Michael Snavely
Making our hosts sound great: Home Brew Audio

To catch the great episodes that are coming up on Just Between Coaches, please follow us on Mirasee FM's YouTube channelor your favorite podcast player. And if you enjoyed the show, please leave us a comment or a starred review. It's the best way to help us get these ideas to more people.
Music credits:
Track Title: Clouds
Artist Name: Acreage
Writer Name: Marshall Usinger
Publisher Name: BOSS SOUNDSTRIPE PRODUCTIONS
Track Title: Coastline Dream
Artist Name: Wild Sky
Writer Name: Adam Simons
Publisher Name: BOSS SOUNDSTRIPE PRODUCTIONS
Track Title: Coo Coos
Artist Name: Dresden, The Flamingo
Writer Name: Matthew Wigton
Publisher Name: A SOUNDSTRIPE PRODUCTION
Track Title: Stars & Trees
Artist Name: Outside The Sky
Writer Name: Dustin Ransom
Publisher Name: A SOUNDSTRIPE PRODUCTION
Special effects credits:
24990513_birds-chirping_by_promission used with permission of the author and under license by AudioJungle/Envato Market.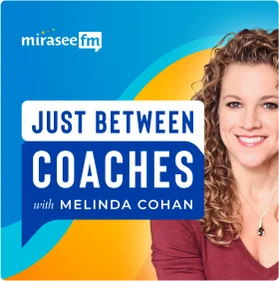 Just Between Coaches
This show is like Oprah's couch, where conversations cut straight to the heart of the topic, but... it's only for coaches! Melinda Cohan of the Coaches Console explores the tough questions coaches face on a regular basis. With a new guest host each episode, Melinda provides tactical advice and strategies to address issues like "How do I deal with price resistance?" and "Should I fire my client?"