Bite-Sized Modules Create a Distilled and Actionable Course (Gayle Van Gils)
On this episode of Course Lab, Danny and Abe discuss Gayle's online course, "Smart Tips: Wellness," which teaches people how to infuse awareness into every aspect of wellness through short and topic-focused standalone videos. Her unique course architecture and Smart Tips: Wellness format have proved remarkably successful, with a majority of students completing the whole course in one day. In this session, you'll learn all the ins and outs of Gayle's strategy for developing a course that students love to binge.
In this episode we discuss:
How the unique architecture of the course and the Smart Tips: Wellness format encourages students to consume in one day.
What are the advantages and the trade-offs of going broad and wide as opposed to very narrow and deep?
Why did Udemy reach out to her?
Danny and Abe's debrief after the interview
"I learned to be quite succinct in what I was saying. I had to drill down to the core of the message. And then I drilled that even further to put it in the workbook for them."

Gayle Van Gils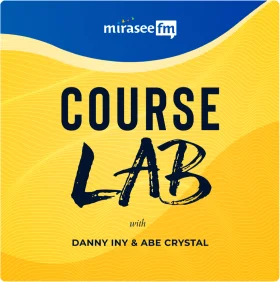 Course Lab
Ever wondered how online courses could be even better? What would that next level look like? Those are the questions driving online course experts Danny Iny (founder of Mirasee) and Abe Crystal (co-founder of Ruzuku) in Course Lab. In each episode, they bring on an innovative course creator and deconstruct what makes their course (and course business) work for them and their students.