Beyond Structure (Corrie Melanson)
Corrie Melanson is the president of Sea Change CoLab, a company that ignites transformational learning and impact. As an instructional designer and process facilitator, she set out to develop meaningful dialogue processes that would invite greater participation and engagement.
In this episode, Danny, Abe and Corrie dive into instructional design practices and their impact on revenue and scalability. Corrie describes her course pricing and the models she's put in place to ensure that her students can engage honestly and freely to get the most out of her course.
In this episode we discuss:
What is a blended or flipped classroom style?
Corrie's holistic approach to integrated learning.
How a peer-based feedback system can save you time and actually help your students learn more.
Ways to create and cultivate a safe culture for honesty and vulnerability.
Creating models to increase student interaction and engagement.
How to be economically savvy when providing a sliding scale or scholarships.
How quality drives momentum.
"And they feel like this is the first time they could ask these kinds of questions and not be, you know, considered like they're doing something wrong."Corrie Melanson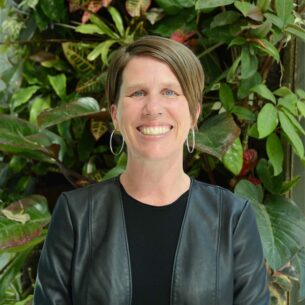 Corrie Melanson  is an experienced process facilitator, trainer, and graphic recorder based in Halifax, Nova Scotia.  As a graphic recorder, Corrie listens intently to capture key messages and outcomes, propelling group work to a new level of understanding and action. Her work with participants maximizes group dynamics and validates different learning styles.  It's her results-oriented approach that leads to innovative and tangible outcomes while focusing on key objectives.
Corrie excels at designing and facilitating dynamic change processes that build on individual and organizational strengths. As a process facilitator, she works with clients to develop effective learning and change processes that foster inclusion, collaboration and creativity.
Resources or websites mentioned in this episode:
Mirasee
Corrie's website
Corrie's LinkedIn
Credits:
Guest: Corrie Melanson
Hosts: Danny Iny & Abe Crystal
Producer: Cynthia Lamb
Executive producer: Danny Iny
Assembled by: Geoff Govertsen
Audio Post Supervisor: Evan Miles, Christopher Martin
Audio Post Production: Post Office Sound
Music soundscape: Chad Michael Snavely
If you don't want to miss future episodes of Course Lab, please subscribe to Apple podcasts or Spotify or wherever you're listening right now. And if you liked the show, please leave us a starred review. It's the best way to help us get these ideas to more people.
Music and SFX credits:
Track Title: Bossa BB
Artist Name(s): Marie
Writer Name: Chelsea McGough
Publisher Name: A SOUNDSTRIPE PRODUCTION
Track Title: Grace
Artist Name(s): Shimmer
Writer Name: Matthew Wigton
Publisher Name: BOSS SOUNDSTRIPE PRODUCTIONS
Track Title: Carousel Lights
Artist Name(s): Chelsea McGough
Writer Name: Chelsea McGough
Writer Name: Matthew Wigton
Publisher Name: A SOUNDSTRIPE PRODUCTION
Publisher Name: BOSS SOUNDSTRIPE PRODUCTIONS
Track Title: Coo Coos
Artist Name(s): Dresden, The Flamingo
Writer Name: Matthew Wigton
Publisher Name: A SOUNDSTRIPE PRODUCTION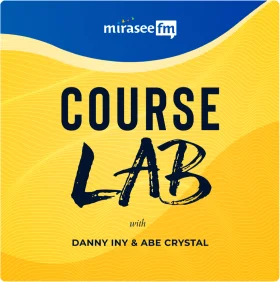 Course Lab
Ever wondered how online courses could be even better? What would that next level look like? Those are the questions driving online course experts Danny Iny (founder of Mirasee) and Abe Crystal (co-founder of Ruzuku) in Course Lab. In each episode, they bring on an innovative course creator and deconstruct what makes their course (and course business) work for them and their students.