All the Necessary Elements for Transformation (Melinda Cohan)
In the wildly successful 12-week online course, The Coaching Business System, Melinda helps entrepreneurs avoid overwhelm through carefully mapped out milestones, experiences and action items. The course is a mixture of content and interaction with coaches and the community of fellow students. Plus it comes with a rare guarantee policy that promises results.
In this episode of Course Lab, Danny and Abe discuss Melinda's course, her very long track record of expertise before she came to the world of online courses, how she leverages synergistic skills, and why you might want to hire from your own community.
In this episode we discuss:
How Melinda changed her business model from one-on-one to one-to-many.
The seven success systems every business needs to have in place, and what made her decide on such a broad scope in her course.
The biggest areas where students get stuck.
Where the coaching part of the course is really impactful.
How the unique guarantee policy promises results.
Danny and Abe's debrief after the interview.
"It doesn't matter how much content you give somebody at home, it matters how much they consume, and how much they implement." 

Isolation is the number one enemy to success."

Melinda Cohan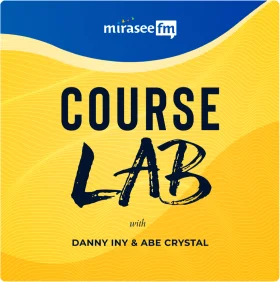 Course Lab
Ever wondered how online courses could be even better? What would that next level look like? Those are the questions driving online course experts Danny Iny (founder of Mirasee) and Abe Crystal (co-founder of Ruzuku) in Course Lab. In each episode, they bring on an innovative course creator and deconstruct what makes their course (and course business) work for them and their students.