A Journey of Intention (Eliana Hassen)
As an executive, executive consultant, and woman of color who ascended from front-line service, Eliana Hassen brings diversity to the table and a superpower for connecting at all levels. Her guiding principles? Transparency, intention, and empathy.
Welcome to To Lead Is Human. This show helps listeners envision how they can uplevel their leadership and shape cultures of accountability, respect, and candor.
Eliana Hassen serves as the Chief Executive Officer and Managing Partner of the Redda Group, a boutique management consulting and executive search firm specializing in strategic growth.
"All of us have our flaws. And the bravest person displays those flaws, and uses that as a way of encouraging and driving others to do great things."Eliana Hassen
Eliana Hassen serves as the Chief Executive Officer and Managing Partner of the Redda Group, a boutique management consulting and executive search firm specializing in strategic growth. With a remarkable career spanning over two decades, Hassen has made her mark in the professional services industry, excelling in staffing, consulting, and business process outsourcing across the marketing, digital, creative services, and technology sectors.
Throughout her career, Hassen has consistently exhibited a relentless commitment to driving strategic growth and delivering service excellence. Her leadership has steered substantial teams and organizations through pivotal phases and transformative initiatives, ranging from the inception of startups to navigating turnarounds and overseeing successful mergers and acquisitions.
Before taking the reins as CEO of The Redda Group, Hassen achieved significant success as the CEO of Onward Search, a prominent national staffing and workforce solutions provider focused on marketing, digital, technology, and gaming. Under her guidance, Onward Search experienced record-breaking growth, with each year surpassing the previous one, achieving best-ever-since-inception performance.
Hassen's achievements have not gone unnoticed, earning her several accolades and recognition in the industry. She was named "Best CEOs for Women" by Clearly Rated and emerged as one of the "Top 5 Staffing Leaders to Watch in 2023" at the prestigious World Staffing Awards. She combines her professional acumen with her passion for diversity, equity, inclusion, and belonging (DEIB) advocacy, actively championing these causes.
Before her tenure at Onward Search, Hassen held the position of Senior Vice President of Strategy, Sales, and Operations at Crews Control, a globally renowned media services company. Her career includes a diverse array of leadership roles within the staffing, technology, and outsourcing sectors, working with best-in-class organizations such as Williams Lea Tag Worldwide, Aquent, and IBM. Hassen studied Business Administration with a Minor in Marketing at the University of Maryland.
Beyond her professional commitments, Hassen embraces her identity as a mom, a caregiver for her aging parents, and a first-generation American. She enjoys immersing herself in diverse cultures while traveling with her three children. A dedicated Terps fan, she spends her weekends passionately following Terp basketball and football games when she's not busy tending to her garden.
For more than 30 years, Sharon Richmond has partnered with C-level executives from mid-size and small, fast-growing companies who want to up-level their leadership and build companies they are proud of. Clients accelerate their leadership by embracing mindset and behavior changes, building self-awareness and self-management skills, and focusing on the three things all leaders must ensure: focus, energy and delivery.
Sharon's purpose as an executive coach is to help leaders 10X their impact by leveraging the power afforded by their roles to build organizations that are forces for good, both economically and socially. She also advises CEOs on shaping organization culture and leading change.
Sharon has taught leadership at Stanford GSB, where she now helps leaders increase influence, manage conflict, and prepare to build high-performing teams.
To see a list of Sharon's clients, please visit LeadingLarge.com.
Resources or websites mentioned in this episode:
Mirasee
Sharon's website: LeadingLarge.com
Eliana's website: ReddaGroup.com
Eliana's LinkedIn: Linkedin.com/in/eliana-hassen-1887141
Credits:
Host: Sharon Richmond
Producer: Cynthia Lamb
Assembled by: Melissa Deal
Audio Editor: Marvin del Rosario
Executive Producer: Danny Iny
Music Soundscape: Chad Michael Snavely
Making our hosts sound great: Home Brew Audio
Music credits:
Track Title: Escaping Light
Artist: Aaron Sprinkle
Writer: Aaron Sprinkle
Publisher: A SOUNDSTRIPE PRODUCTION
Track Title: Bright Future
Artist: Be Still The Earth
Writer: Marshall Usinger
Publisher: A SOUNDSTRIPE PRODUCTION
Special effects credits:
24990513_birds-chirping_by_promission used with permission of the author and under license by AudioJungle/Envato Market.
To catch the great episodes coming up on To Lead Is Human, please follow us on Mirasee FM's YouTube channel or your favorite podcast player. And if you enjoyed the show, please leave us a comment or a starred review. It's the best way to help us get these ideas to more people.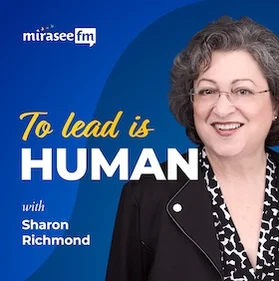 To Lead Is Human
Every business leader has a huge impact on their organization. In this podcast, Sharon Richmond interviews successful leaders who have turned personal growth into tangible business outcomes. They discuss overcoming challenges, lessons learned and what helps them make a positive impact in their organization. Sharon offers insight and advice to help listeners envision how they can supercharge their own leadership by blending the art and science of leading with intention.