A Fresh Approach for Adding Online Courses to Your Business (Abe Crystal)
In this special episode of Course Lab, Danny and Abe discuss Abe's book, what business owners should think about when creating courses today, and what the coming years may look like for the online course industry.
In this episode we discuss:
Abe's reasons for writing the book, The Business of Courses.
How course creators should think about courses.
Powerful strategies you can use to help potential clients discover you and your course.
Why turning a book with great content and relevant information into a video course is usually a big mistake, and what to do instead.
The 5 phases of the customer learning journey.
What's coming in the next 3, 6, 12 months for the online course industry.
"Over the past year, we've seen a wave of prominent thought leaders, as well as new startups, really highlighting the value of intensive group learning."

Abe Crystal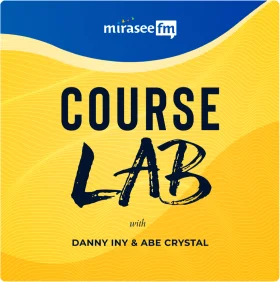 Course Lab
Ever wondered how online courses could be even better? What would that next level look like? Those are the questions driving online course experts Danny Iny (founder of Mirasee) and Abe Crystal (co-founder of Ruzuku) in Course Lab. In each episode, they bring on an innovative course creator and deconstruct what makes their course (and course business) work for them and their students.