A Coach Needs a Coach, But Why? (Kate Steinbacher)
In this fun episode filled with wisdom, Melinda talks with KateSteinbacher, co-founder of The Coaches Console. Over the past 17 years, Kate has helped thousands of coaches to get out of their own way and succeed in building a Coaching Business beyond their wildest dreams. Melinda and Kate emphasize the importance of having a coach if you want to be credible and grow your coaching skills, and also address the potential consequences of not having one.
In this episode we discuss:
You don't have to reinvent the wheel and struggle. There's a smart way to do almost anything as a coach.
How you become a better coach when you have one yourself, and how to communicate it to your clients.
The need for transparency when someone asks why YOU should be hired.
The dangers of not having a coach yourself.
The main reasons why a coach doesn't have a coach.
How to know when you've outgrown your coach, and why that's great.
Having your own coach is a rite of passage."

"To have a coach, as a coach, allows you to feel like a professional, and confident in your skills and knowledge that you have support if necessary."

Kate Steinbacher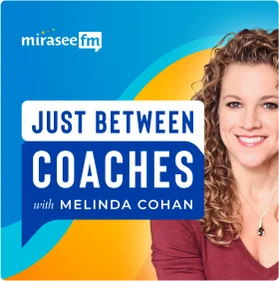 Just Between Coaches
This show is like Oprah's couch, where conversations cut straight to the heart of the topic, but... it's only for coaches! Melinda Cohan of the Coaches Console explores the tough questions coaches face on a regular basis. With a new guest host each episode, Melinda provides tactical advice and strategies to address issues like "How do I deal with price resistance?" and "Should I fire my client?"