Personal Marketing: Shake Hands with Flesh and Blood
The following post is an entry by one of our spectacular finalists in our Awesome Engagement Strategies Contest. Finalists showcase their ideas, and whoever gets the most traction (i.e. comments and social shares) within five days of publication will be crowned the winner! This was a wonderful contest with lots of great entries – you can see all of the winners right here!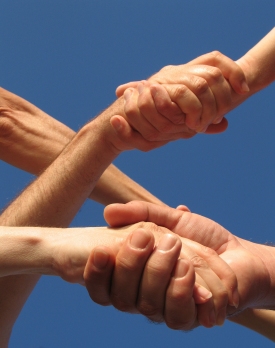 Consider a photograph of a person caught in a shark's mouth in open waters.
Gruesome, yes, but where does your eye go?
Not to the churning water, not even to the shark's fearsome teeth.
No, most people would fix on the face of the trapped person. Our empathetic nerves would trigger, we'd sense some of the pain, some of the fear, some of the horror. We do that because we are human, and our humanness first reaches out to other humans.
Consider a more benign picture, say one of those great Bierstadt western panorama paintings, which often depict towering cliff-sides falling to a deep river valley, one filled with gigantic trees, with a tiny rider on horseback on the valley floor. Where does your eye rest? Indeed the vast cliffs get attention, as does the rushing river, but the eye-and the heart-go to the rider. What is he doing in that vast space? How does he feel? You wonder this because you project your own self, your own vulnerable sense of place in an open world into the place of that rider.
You do it because you are human-you share the boldness and the foreboding.
Those feelings are threaded inextricably through our nature, from endless iteration from hunter-and-gatherer times, where cooperation proved to be key to move the individual, family and the group forward. And what does this have to do with personal marketing? Just this: there are a thousand and one SEO tricks, a hundred headline hacks, and ebook giveaways by the gangham. But before all that, before all the strategies and the schemes is a basic: being more human with your audience is more engaging than a bushel of WordPress plug-ins.
Pray tell, how does one be more human with their audience? No rules, but just a few thoughts:
Be yourself
Be conversational, whether you're selling time-shares or time machines. Don't explain every whiz-band feature with techno-talk before you say hello, and ask how it's going. This isn't to say that you stock your communications with your every sigh and wheeze, but that you just loosen up. Let your customers into your world and they might venture into your store. And don't be afraid to let your feelings show- emotional marketing can really set you apart.
I think of Chris Brogan, who has talked frankly about his depression in his writing, exposing some bone. Watch his videos on Google+ or his site, and see a guy who lets you know what drives him, what upsets him, what inspires. And it's not just the good business stuff he's putting out there-he'll make you laugh with stuff about his Camaro or the comic books he loves. Brogan sends out a Sunday email that's the essence of a conversational style, and he'll unfailingly answer your responses to that mail. That kind of personal element is what sets his marketing, and his business, apart.
Be curious (and share the cupcakes of your curiosity)
Ask questions of yourself and of your customers, out loud. There's always more to learn. If you're presenting information, don't do it from a position of absolute knowledge and certainty-there is no absolute knowledge or certainty. Try to discover more about your customers and how you can serve them will, curiously, lead you to understand more of yourself and your strengths. And by god, make it fun. Business without fun is, well, no fun.
Jonathan Fields is a kind of intellectual adventurer in his work, blending science and sinew in his books and writing. He's never afraid of asking questions out loud on his blog about life issues, where it's clear he's searching for answers as much as his followers are. His current Good Life Project, a series of videos where he interviews interesting (and often extraordinary) people on their life pursuits-and what constitutes a good life-is a stirring example of sharing his curiosity in a vivid, affecting way.
Say thanks
Surprise your biz peeps. Send 'em a special discount, a signed postcard of well wishes, a photo of you in your underwear. Well, maybe in your Santa outfit. Let them know you appreciate working with them, that you appreciate their very themness. Saying (and meaning) a sincere thank you is liberating. It frees you from grinchiness. Being grateful is being more open to being alive, more human.
I'm reminded of Seth Godin's recent blog tribute to his mentor, Zig Ziglar, which shimmered in simple appreciative truth. Godin has always quick to give thanks where it's due, whether to people who work directly with him, or to his many followers. He's repeatedly given generously of his writings and thoughts for many years, but he'll often redirect the attention given to those toward sincere appreciation of his audience. He may have an action figure, but he's a real guy.
Simple stuff, to be sure, but it's remarkable how authenticity in business allows us to connect with those folks that do it right. There are lots of people-Sonia Simone, Johnny B. Truant, James Chartrand, Leo Babauta, the homeboy here, Danny Iny-who all seem real, curious and generous, and even in blog posts read by thousands, leave you with the feeling that they're talking to you.
When we get caught up in our business dealings and deadlines, and are hit with bills or ills, we lose sight of the things that originally brought us to our business: the passion, the play, the wonderful elation that comes from seeing an idea bear fruit. We forget those human pleasures, lost in unnatural goals and dry numbers. But if you take time to focus back on where you came from-your humanity-you can feel the resurgence of blood and feeling back to, and from, your business.
So, to summarize this humanization stuff:
Loosen up: Small talk can really be big talk. Letting your customers and your colleagues know that you collect Roman antiquities, memorize lacrosse scores or always have five chocolate chips for breakfast might seem like meaningless palaver. But letting anyone peek over your wall lets you see them too. Humans like to see one another.
Mean it, when you ask what's up: Before the pitch, before the sale, ask those "Hey, howya doings" that might seem lame on the surface. Be genuinely curious (without being a freak, of course) about their chocolate chip breakfast. Curiosity has led to the greatest things-like, well, chocolate chips.
Thank your mechanic, thank the mail person, thank even the clients that drive you batty: Saying thanks (and meaning it, duh) is disarming. People appreciate being appreciated. Thanks are that little lagniappe, that something extra, the gift that imparts a little glow.
Personal marketing doesn't have to mean getting face to face with every person you do business with – it just means not letting the marketing get in the way of your person!
Being human – it's only natural.