Natural Performance Enhancement with Dr. Isaac Jones
Audra Casino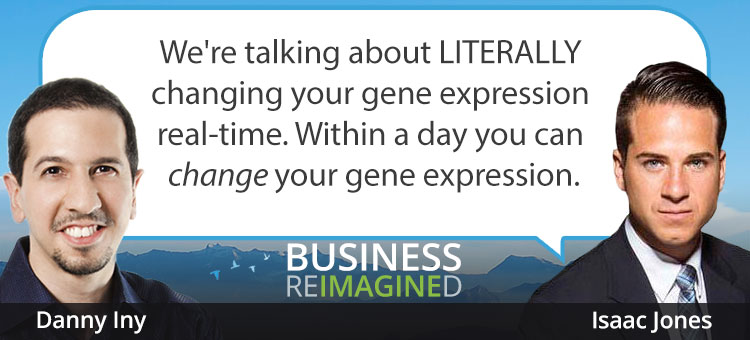 In terms of performance, did you know that you have a 'genetic bucket?' Everyone does, and we don't get to choose how much they hold. Some are bigger than others, and you can have a huge effect on the size of your children's genetic bucket, by virtue of the life YOU live.
So what's a genetic bucket?
According to Dr. Isaac Jones, your genetic bucket is how much toxicity you can hold in your body. Once the bucket overflows, you begin to feel tired and distracted. You have headaches and pain in your body. In short, an overflowing bucket can lead to poor performance.
In this episode, discover why you shouldn't pass tiredness and headaches off as a hazard of being a busy entrepreneur. Also:
Isaac reveals his own painful past and the transition from special education student to the top of his class and nearly qualifying for the Olympics.
Find out what the dirty dozen and clean fifteen are, and how you can eat better, even on a budget.
Combat environmental toxins and cleanse your body through natural means, in spite of a broken healthcare system.
Get clear, easy-to-understand steps and explanations of how to improve your performance.
Yes, entrepreneurs and professions lead demanding lives, but that doesn't mean you have to feel horrible while doing it. Don't miss this episode with Dr. Isaac Jones; his passion for the performance will leave you feeling inspired
At 1:30 – Find out the soul-crushing label doctors gave a young Isaac that almost kept him from being the success he is today.
At 3:40 – Isaac gets to the heart of what causes poor performance in the human body, and what causes it. If you're thinking of buying a new computer, you'll want to hear this.
At 10:00 – Isaac gives some practical, easy to implement steps for busy entrepreneurs that can help mitigate the toxins all around them, and inside their bodies.
At 12:00 – Danny and Isaac discuss the concept of the 'genetic bucket,' and the lifestyles many adults are living and teaching their children.
At 21:00 – Isaac take a little extra time to explain in simple terms what micronutrients are, as well as easy ways to increase your own intake to help your performance soar.
customer service
Shape Your Mind for Success!
Get the mindset that sets you up for success. Danny Iny, CEO and Founder of Mirasee, shows you how.