How to Leverage Your Message and Go From Self-Promotion to Online Legacy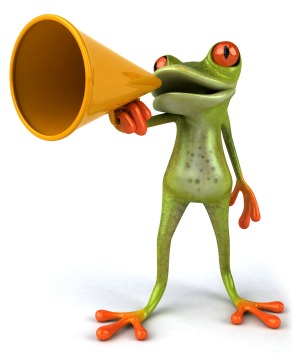 Life coaches, health coaches, yoga teachers and the like, please gather round.
Last week, we talked about how to use business storytelling to discover your core values, the problems you solve, and who you solve them for.
But in business, that's not enough to last long-term.  You might have some stellar clients here and there.  You've identified who your market is, how you relate to them, and how you solve their problem, but nothing is really sticking.
There's a problem.  Something's missing, but you can't put your finger on what it is.  All you know is that you want to be known online for what you do and wish it wasn't so hard to communicate with your audience.
Cue the Megaphone
What you lack right now is the online communication language that your audience understands and responds to.  They're just waiting for you to take the words right out of their mouths.

Once you get down your message, or your why, you not only understand who you are but you've won a bonus round of clarity as well.  You understand your ideal client and what they're looking for from you – their wants and needs.  You get their pain points when you know yours.
If you want to know what it actually takes to get known and stay known online, it's time to use this foundation to build a thriving online presence.
3 Steps to Own Your Unique Presence
Realize what makes you tick and fully own your unique presence in your field.

You need to stand out from the crowd in order to reach your ideal client. But let's face it: there's a lot of noise in the form of other people in your field. That's why it's so important to recognize and promote what makes you unique in your field. This is sometimes called your customer value proposition.
For example, let's say that you are a bit of a rebel, and you bring that fully to your copywriting business.  You make your personal writing style stand out because you purposely break grammatical rules.
Find the people who resonate with your message and you're excited to work with.
Everyone loves to work with clients who are like them. In the case of our copywriting example above, your ideal clients are fellow rebels who are looking to stand out in their online presence. You help them do that with your unique writing style, in a way that most other copywriters can't.
Recognize that they want to get to know and possibly work with you, and tell them how.

Building your online legacy involves some field work. Once you know what makes you unique and who will resonate with your message, you need to meet these clients where they are instead of waiting for them to magically find you. You know these fellow rebels hang out on various online writing forums seeking out help for their web presence. So go into these forums and start commenting. The goal here is to answer people's questions and to be useful.  In other words, you're letting people know who you are, that you're good at what you do and that you are open for business without selling.
In this way you can start to effectively market who you are and what you do with online communication.
In fact, that tribe of people who need you most are probably in your 'old' shoes.  You've most likely had the same experiences that they've had, which gives you the knowledge and expertise – along with the compassion – to help them gain clarity if they're going through the same situation.
Your Tribe is a Few Steps Behind You
This brings us to an interesting point. In actuality, your tribe of people in the online world are only a few steps behind you.
This makes it easy to find them where they are already hanging out online.  Perhaps they're hanging out on the same online blogs that were giving you the clarity and peace of mind that you needed a year ago.  Maybe they're on your competitors' sites, and the solution that they really need now exists because you're teaching it with your own personal touch.
How to Bring Your Client to You
Once you've identified where your tribe is hanging out online, how can you communicate with your target market in a way that brings them to you?
Because while it's great to know where they are hanging out online, personally seeking them out might take some time. This is fine in the beginning, when you are just starting to build your business. But as your coaching practice or copywriting business grows, you'd rather that your clients come to you.
There's a much simpler way to reach your target market and subsequent clientele on a massive scale.
It starts by tuning into the most effective and authentic way in which to communicate that message to the people who need to hear it.  It's your mode of creative online communication.
There are three tangible ways in which to tune into your online audience and build the foundation for a long-term scalable business. These three creative communication languages  will give you credibility and a long-lasting clientele, which when put together, equals a thriving business.
Three Creative Online Communication Languages
In essence, there are three creative online languages that will build your lasting online legacy. Most people find that they are naturally proficient in – and prefer – one of these languages over the others.
Speaking
Speaking translates in the online world to webinars, Google hangouts, interviews, conference calls or telesummits.  In other words, anything that involves your way of verbally communicating your message is a type of "speaking" online language.
Let's say that you love speaking about the latest online tools that help modern online entrepreneurs grow their business faster.  You start a podcast series to share this knowledge, but when you check your stats you realize no one's listening.  Then, you decide to start interviewing creative online entrepreneurs. This way, when the podcasts go live, your interviewees can promote the episodes to their audiences, many of whom happen to be your ideal clients. This helps build your online legacy and brings clients to you.
Design
the language of design includes any mediums you use to visually express your message creatively.  These can be imagery on social media channels, your unique web design, or any number of other graphic elements.
Maybe you're a designer by nature. You think of your hands as your tools, so when working online, you seek out visual mediums in which to creatively express your message.  You might decide to create a visual blog with quotes highlighted on backgrounds you've designed.  Yet when you discover that no one is reading your blog, you decide to try your hand at social media in a medium that feels good.
This line of thought leads you to begin posting your quotes on Pinterest, where you know your target market is hanging out.  You start to see that you're getting a lot of re-pins, which is great. Even better, people who are interested in your artwork and design abilities are coming back to your website!
Writing
Writing is all about the guest posting opportunities or freelance gigs you get with online media outlets to feature your words to your potential tribe.
Let's return to the story of the the rebellious copywriter we used earlier. You're now seeking out your target market on various online writing forums and contacting various individuals within that market to find your ideal clientele.  It takes a serious amount of time.
So you decide to leverage your finely creative expertise by seeking out guest posting opportunities on popular blogs where you already know your target market is hanging out.
Now that you know who you're writing for and where they are online, you write targeted guest posts addressing your ideal client's pain points. When they read that post, they'll be inclined to click on the link back to your site, thus getting you a potential client that much faster.  Voila!
Sell The Message That People Need and Want to Hear
These three methods are not the only forms of online communication, but they're the most effective modes to reach your potential target market. These online languages allow you to creatively take control of a natural craft to communicate your message powerfully and gain influence in the online sphere quicker.
An added bonus is that using one of these modes of communication helps you to gain credibility in your ideal client's eyes without feeling slimy. In other words, you're not selling a 'fake' version of yourself.
Instead you're selling this awesome message (problem solver) that people need and want to hear about.
Leverage Your Message
If you want to get fancy, you can learn how to leverage that same message even more by turning your live presentations, blog posts, or creative designs into live training series (online or in-person) which can lead to various services, or even DIY products and programs.
This strong foundational platform is what you need in order to ultimately create new leads which can then be converted to new subscribers, customers, and clients.
It's all about taking your one message, finding your unique creative mode of expression which aligns with your brand identity, and leveraging from there on out.
It comes down to creating a branded signature system that feels good.
It's All About Relationships
Once your people are feeling good and jiving with your message, you can start to nourish those relationships.
You can start to create different platforms or next steps to keep building the relationship with prospects, subscribers and clients.  It's all about that long-term relationship after all.
Because successful entrepreneurs know that their people are everything.
When you learn how to leverage your message and build up your tribe, then you're really onto something. You're onto an online communication platform that will help you to make an impact on a large scale.
When done the right way, you'll have created a rocking long-term sales cycle based on both authenticity and connection.
In my marketing book, that's a win-win situation.
If you're thinking about transitioning from aspiring entrepreneur to online legacy, it's time to take action: determine which creative networking language is the one you jive with the most, and start communicating with your audience. Leave a comment below and let me know what you decide!