Numbers Don't Lie: The Truth about Becoming Semi-Local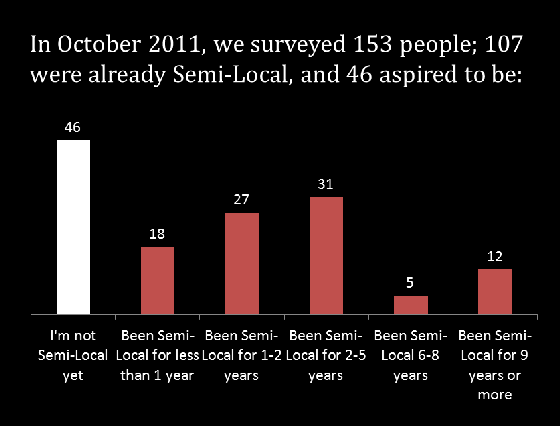 Do you want to start making money online?
Well, so do a lot of people. They want to keep their local, offline income, but supplement it with money that they earn remotely, or online.
In other words, they want to become Semi-Local.
In October 2011, we surveyed 153 people; 107 who were already Semi-Local, and 46 who aspired to be.
We asked questions to find out what was really involved in becoming and being Semi-Local.
Here are the highlights of what we learned…
What is the highest level of education that you have completed?
We were very interested to see the educational background of people who had achieved Semi-Local status (current SLs) versus those that of people who aspired to achieve it (aspiring SLs):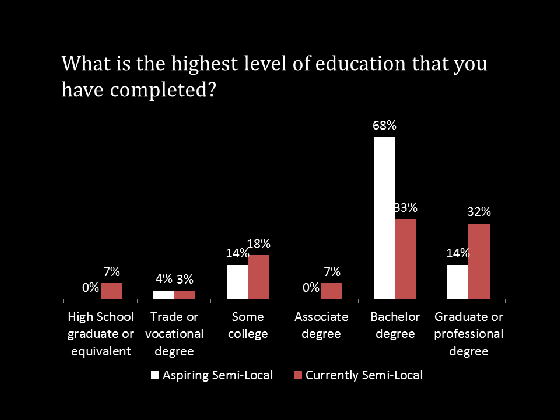 The discrepancy with bachelor's degrees is striking; it is the highest level of education achieved by 68% of aspiring SLs, but only 33% of current SLs (less than half the amount). The data is open to interpretation, but my read on it is that a lot of aspiring SLs are doing it because they've finished their undergrad, spent a couple of years in the workforce, and decided that they want a change, whereas current SLs got there by knowing what they want, and going after it. Does that sound about right to you?
The Importance of Focus
Another interesting set of responses was to the question "How many different business lines or income sources do you have?":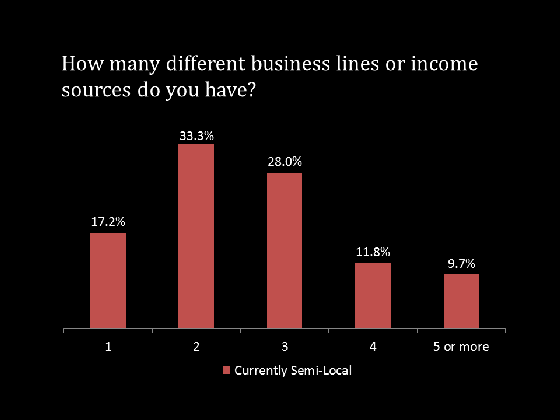 The vast majority of current SLs (78.5%) have 1-3 business lines or income sources – a far cry from the dozens of niche sites that are talked about in internet marketing circles. The lesson: put the shiny objects aside, and focus on building a real business!
How much money did you invest to achieve Semi-Local status?
This is probably one of the most interesting pieces of information for aspiring SLs – how much money did it actually cost for people to get there, for real?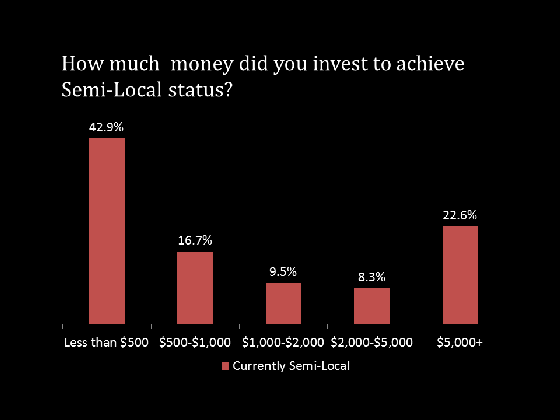 The clear answer seems to be that "it depends", and I suspect that the two poles depend on whether the business is complex, requiring infrastructure, or can be built quickly and inexpensively. The clear lesson, though, is not to dabble – either spend the money that you need to spend (which may be significant, in the $5,000+ range), or get the work done yourself (spending less than $500), but don't dabble with half a dozen different info products and courses.
Expectations vs. Reality
The biggest difference in terms of business expectations versus reality seems to be around how fast results and business growth can be expected, and how much money will be made when that milestone is reached. Comparison of the data showed that aspiring SLs consistently expected to make more money in less time than current SLs actually experienced. Were the current SLs dissatisfied? No, they weren't – but it did involve a lot more work than most aspiring SLs seem ready for.

Get the full survey results!
Do you want to see more of the numbers? Review more of the answers that the respondents gave us? Then click here for the full report – it's free!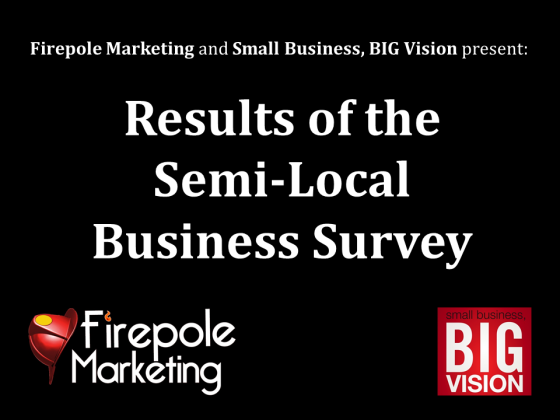 Thank You to Our Respondents!
None of this data would be available without the time invested by our survey respondents. Some of them have chosen to remain anonymous, but we're honored to showcase those who didn't:
Barry from MarketingThatWorks.TV and Social-Media-Toolkit.info
Bill Gluth (@billgluth) from BillGluth.com
Clay (@claynferno) from ClayNFerno.com
Connie Hammond (@resortentrepren) from ResortEntrepreneurs.com
Craig Gonzales (@craiggonzales) from CraigGonzalesTutoring.com
David Patterson (@s4bg) a4bg.com.au
Diane Mclaughlin (@Schmorgasboard1) from TheSchmorgasboard.com
Eugene Nayvelt (@EugeneNayvelt) from EngageToConvert.com
jean compton (@Jeunesse1) from JeanCompton.com
Jonathan (@dakotalocal) from DakotaLocal.com
Julie (@aclearsign) from AClearSign.blogspot.com
Kathleen Hanover (@kathleenhanover) from Imagine-That-Creative.com
Kelsey
Ken Speegle (@TREWgroup) from TheRealEstateWriter.com
Laurel Black (@laurelblack) from LaurelBlack.com
Lindsay Gattis (@logangattis from LoganGattis.com
MaLinda Johnson (@MaLindaLou) from MalindaLou.wordpress.com
Mark (@swingthoughts) from WarriorGolfer.com
Matt (@yfncg) from yfncg.com
Mike Monroe (@Mike_Monroe) from TheInvisibleBoss.com
Neil Scott
Rachelle Carlson (@RachelleCarlson)
Richard Dewick (@Makakman) from MakakMedia.co.uk
Sharlea Taft (@gingerleaphoto) from GingerleaPhoto.zenfolio.com
Wade from WebContentXpress.net
Wiwi Kuan from WiwiStudio.com
Yvonne Root from JournalInABox.com
Thanks to all of you! 🙂

Danny Iny (@DannyIny) is an author, strategist, serial entrepreneur, expert marketer, and the Freddy Krueger of Blogging. Together with Guy Kawasaki, Brian Clark, Mitch Joel, he wrote the book on how to build an engaged audience from scratch.