How to Get Likes on Instagram (and Stop Wasting Your Time on Yet Another Social Media Platform)
Kylie Budge
So you started using Instagram because everyone is talking about how visuals create big impact and how power users are raking in the $$$. But nobody seems to be paying attention. You wonder, "How do I get likes on Instagram?"
Perhaps it's because the content on your Instagram channel has deteriorated into short, sales-y posts that have become off-putting for your audience.
Your Instagram feed contains product shot after product shot (often in badly lit spaces), with little or no text. These kind of posts are sales-focused without any understanding of how to connect with the people who might be viewing your posts. And they don't even hint at the broader story that sits behind your business.
"The average viewer sees this kind of content as little more than infomercials. "

Tweet Me
The average viewer sees this kind of content as little more than infomercials. For those driving the content, it creates confusion and frustration because nobody's taking any notice. You know this because there are very few likes and comments.
Never fear. With just a few small tweaks you can change things for the better.
If you're new to the platform check out this overview of Instagram's features and what it can do for your business  – if used properly. You'll discover the basics and get an understanding of the potential within Instagram.
However, this potential needs to be considered, planned for, and handled with a degree of skill. And if content is created in this way, your audience is more likely to experience a sense of connection and a desire to know more.
It's a Visual Medium
Instagram houses many examples of businesses not understanding how to use its unique space. It's a visual medium. But so many companies forget this and post unimaginative photos with little visual appeal and no regard for basic principles of photography, such as light, color, and composition.
You don't have to be the world's best photographer to create deep, insightful, informative, and fun Instagram posts. But you do need to recognize the visual nature of the space and respond with some level of skill, interest, and care.
Instagram is more than the image or video or "story" (10-second videos that disappear 24 hours after they're posted). Text, if used well, can be an amazing way to build the bigger narrative that surrounds your business. It can help humanize your organization and generate an atmosphere of approachability. These are all good things. This is what people want to see.
So how do you do this? I analyzed 10 of the top Instagram accounts I follow to create a list of strategies to help you create high-quality Instagram posts that connect you with your audience and get you more likes.
You achieve this by publishing posts that build and contribute to the communities that surround their business and that add value.
"5 ways to create quality Instagram content that gets more likes"

Tweet Me
5 Ways to Create Quality Posts That Get Likes on Instagram
Light, light, light
The visual is key on Instagram so make sure you maximize the use of natural light and think about how an image will be seen by others. Experiment with the edit function and filters on Instagram but don't rely on these.
Think about how shadow and light work. Dark images create a sense of gloom. They can also create mood but most of us aren't equipped with the skills to control this so take care.
Use natural light as much as you can. Take your photographs indoors but close to a window or a glass door during daylight hours. You don't want to be standing in blinding sunlight but you do want the effect of filtered natural light.
Try to avoid the full glare of the midday sun and take photos early in the morning or late in the afternoon when the light is gentle and kind to every photo.
Avoid taking photos of anything under fluorescent lights because it's unflattering to anyone or anything. Beautifully lit posts are captivating and get more likes on Instagram.
Example 1: This shot was taken during the day in a dark room using overhead artificial light. Notice the way the subject looks a little dull. And see those distracting shadows on the wall behind the plant? And the dark shelf only adds to the gloom.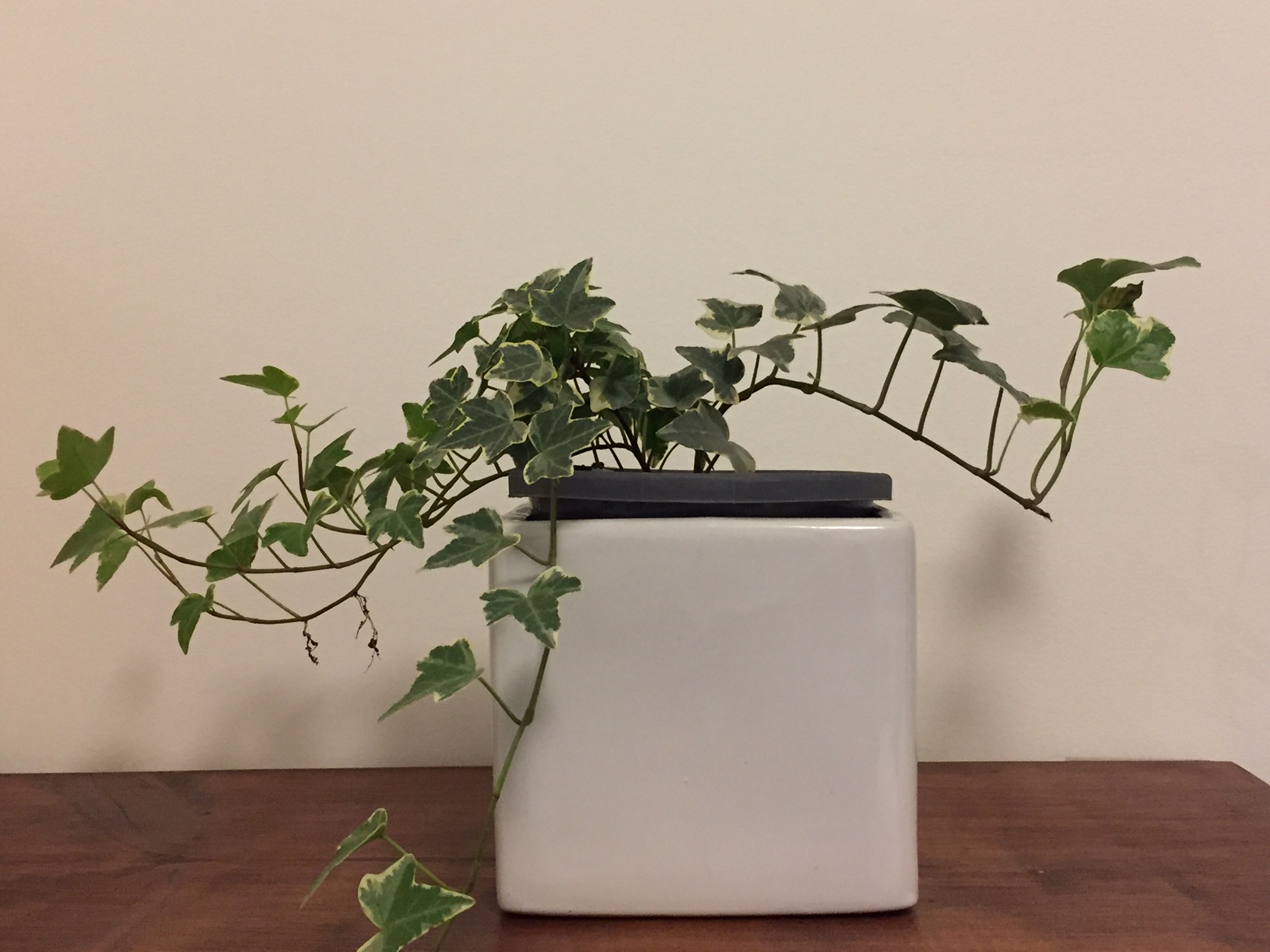 Example 2: What a difference a little natural light can make! This photograph was taken in the same room next to a glass door with soft, early morning light. Notice the way this image has an uplifting feel to it.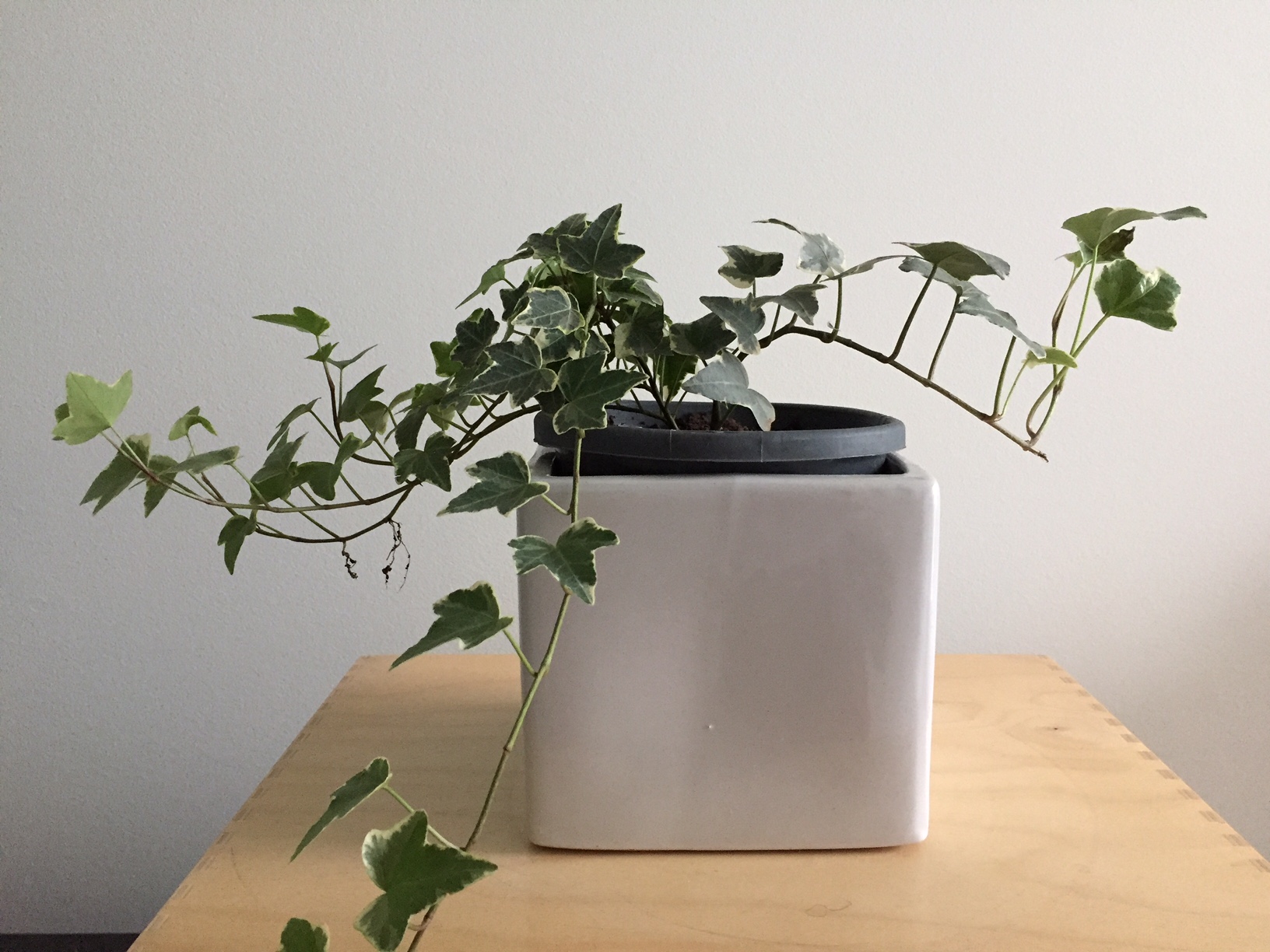 While you're thinking about light, take some time to consider composition. Is the focus of your post too far away or cut off on a weird angle? If so, delete. Study well-composed posts like the one below and see how they handle composition and light.
Good visual composition tips include filling the frame, avoiding busy backgrounds, and not chopping off heads or limbs unless you deliberately want to draw focus to content on the body that doesn't require the rest (for example, close-ups of a watch). For more composition tips, read this post.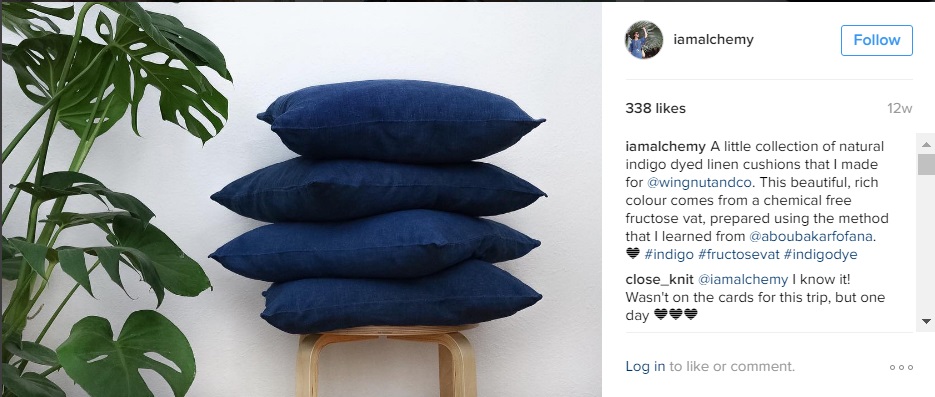 Belinda Evans of @iamalchemy creates beautiful, well-lit posts. She has a natural dye textiles business. She's also a maestro at building community through her posts. Take a look and see how she does this through her posts and comments.
Contribution
Post visuals and text that tell your story. What contribution is your business making to the world? What problem is it trying to help solve or what value does it bring to people or our planet? Weave this into your visuals and text, but do it subtlety with finesse and not as if you're wielding a sledgehammer over the heads of your audience.
Check out the example below from @floretflower: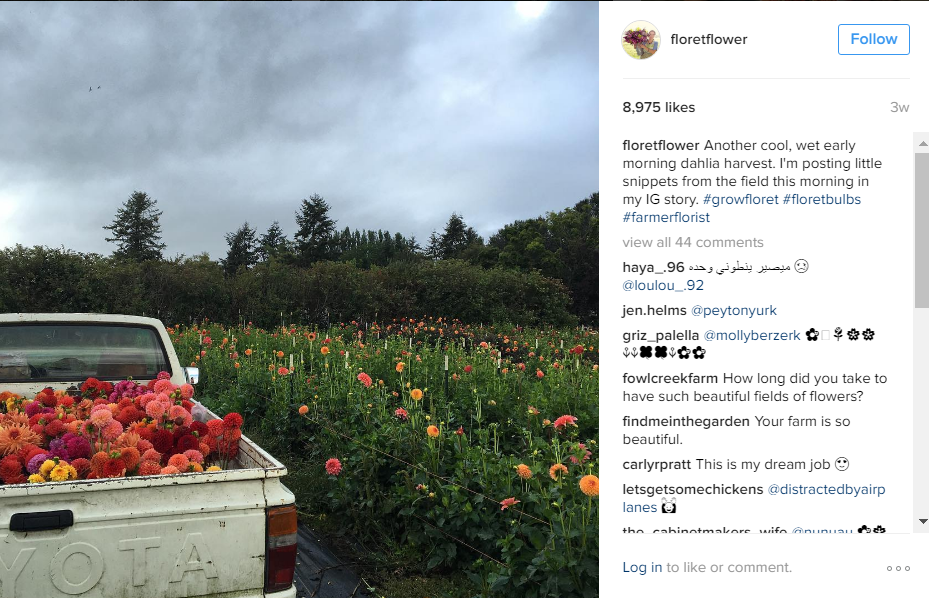 Erin Benzakein from @floretflower has built a phenomenal following on Instagram through documenting the ordinary, hard-working day of her team on their small flower farm. True, flowers are visually striking, but take a look at @floretflower (and read the comments on her posts) to see how she connects and builds community with finesse.
Humor and everyday, ordinary things
Nobody wants to follow an Instagram account that feels like it was created by a robot. The human element needs to come through your content. What are the funny parts of running your business? Who are the people behind it? Or those you rely on (like suppliers)? What's your business process like on an everyday level? Share the quirky and the ordinary. People love seeing and reading about the human and ordinary as much as we like to see the staged and well-presented. Aim to strike a balance.
Textile design sisters Lily and Hopie Stockman from Block Shop Textiles, for example, use humor in many of their Instagram posts (and beautiful natural light!). See this example: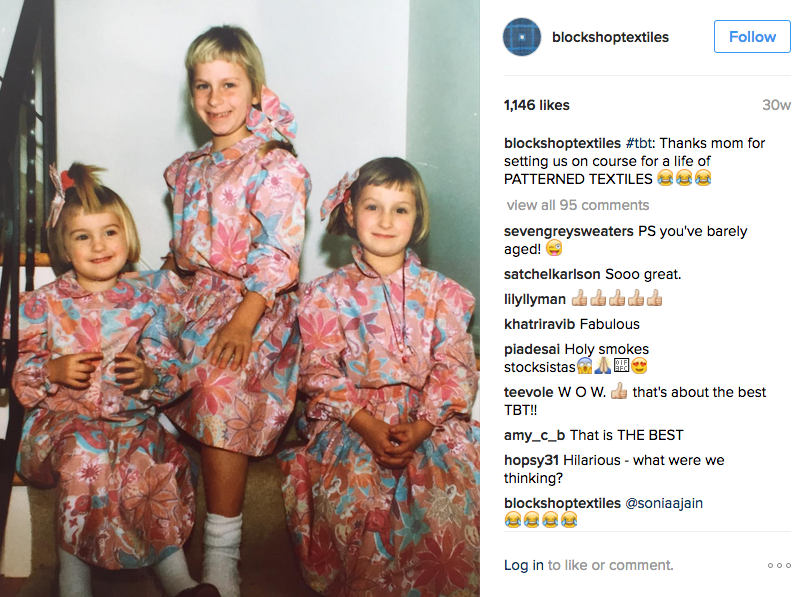 Connect and build community
See your posts on Instagram as part of something larger. When you click "share," you're doing just that, sharing with the world. But more precisely, you're sharing with a community or series of interconnected communities. You're certainly not posting into the void hoping for people to miraculously find you. Connect with others.
Building a community on Instagram means seeking out your peers and even your competitors. Show interest in their posts. Leave comments that are meaningful (not spammy and suspicious). Do this organically over time and you'll begin to become part of the Instagram [insert your business field here] community. Interest, respect, and curiosity are built in this way, and over time posts like this will get more likes.
 Start with good.
Have a great product to begin with. It's hard to create interesting content if there's no real value to the product or service you're trying to grow. Of course, on Instagram, it helps if the product or service has visually appealing elements that can be showcased through photography. But even if it doesn't, think laterally about how you might reflect compelling visuals through Instagram.
What if you don't sell physical products?
Service-oriented businesses can still use Instagram to build audiences by finding the visual aspects of their day and sharing these. Is your team putting together an event? Take photographs of how it comes together. People love behind-the-scenes shots and learning about the process of making an event come to life. Do you have interesting clients drop by with their dog? Consider an Instagram moment. Cat and dog pictures on Instagram are hugely popular!
For a concrete example, see how Mirasee uses visuals on its CEO Danny Iny's Instagram account.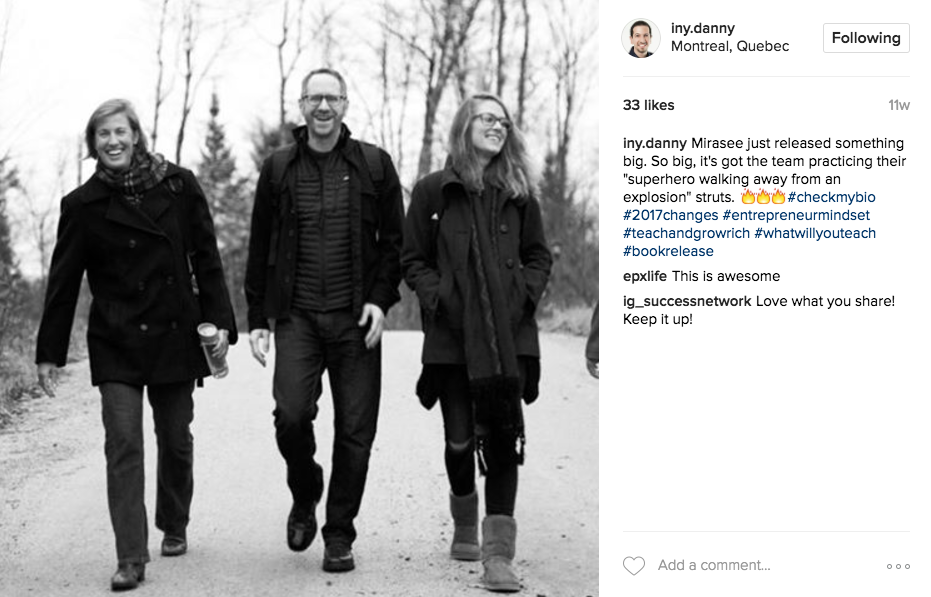 If you really can't find a way to share visuals, you might want to re-think if Instagram is the right platform for your business. Perhaps Twitter is a better fit? 😉
Your Turn
By using the strategies above, you will not only connect better with your Instagram followers, you'll also create a better understanding of what your business is about and how it contributes to the world. Over time, people will gain an insight into your vision, and if it resonates, they'll connect with it and become part of it in some way.
This is powerful stuff. The results go beyond getting more likes on Instagram to creating a community whose values align with yours.
How is Instagram working for your business? What have you learned about the combination of visual and text that is working? What are you keen to change to improve audience engagement?
Attract Your First 1,000 True Fans!
size-large wp-image-24036" />
Get the critical mass you need to have a sustainable and impactful online business.