A Writing Routine to *Finally* Get that E-book Out of Your Head and Onto the Page
Dana Sitar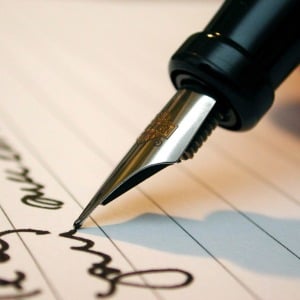 You've got a brilliant idea for an e-book that will blow your audience away – but you can't seem to get the thing written. Why?
When the first idea strikes, it seems simple. But the truth is, you're going to face a lot of barriers to writing an e-book.
You'll encounter fear of what your ideas will look like on the page and overwhelm at the process of publishing an e-book.
You may have to fit the writing around other obligations, like a full-time job or running your own business. You may have family or social obligations that demand your time, when you could be writing.
Whatever it is, this book isn't going to write itself.
Getting Started
So how do you start writing an e-book?
The key is to commit to a routine and a set of goals from the start, so you have a timeline and guidelines to help you focus on writing your book when it gets tough. Set daily writing goals, and create a workable plan to fit writing into  your life and around your unique obligations. Let's start by allocating some time to get the project started.
Put It in Your Calendar
"To commit to writing an e-book, start by setting deadlines for certain tasks."

Tweet Me
Set calendar reminders in your iCal, Google Calendar, etc., or hang a paper calendar over your desk with reminders of your writing schedule.
You'll want to:
Choose a deadline to complete tasks: writing an outline, completing each chapter, hitting a word count milestone (e.g. the halfway point), and getting a draft to your editor(s).
Determine how much time you'll need to complete each task (e.g. If it takes you one hour to write 1,000 words, and your first chapter is 4,000 words, you'll need four hours to finish Chapter 1.)
Determine which days of the week and which hours of the day you'll be able to dedicate to writing your e-book.
Block put these times on your calendar with specific tasks and goals to focus on your e-book. Make an appointment with yourself, and don't schedule anything else during that time.
Know Your Priorities
One major barrier to completing any writing project is having too many balls in the air at once. If you're going to commit to writing an e-book, you have to leave room in your life — and brain! — for it.
Of course, you're going to have other obligations and priorities: family, work, clients, hobbies, classes, etc. And new opportunities will arise as you work on this project, as well.
You can ensure your commitment to writing your book by fitting it into your life as a priority NOW. That way, when you're forced to make decisions about your time later, you won't let it slip away.
Answer these questions to get your priorities straight – and to shave away anything that might be getting between you and your finished manuscript!
What are your daily/weekly scheduled obligations?
What/who in your life requires regular interaction or attention?
What projects are you currently working on?
What hobbies are you currently pursuing?
What can you spend less time on to make room for your writing project?
As new opportunities arise: What are the benefits/drawbacks of these opportunities? Can they wait until your manuscript is finished?
Tell the World What You're Starting
Nothing keeps you on track like public accountability (or the fear of a public failure). Either way, you'll get that by sharing your goals with the people around you. Tell someone about your e-book!
Keep it small and private by sharing your ideas and goals with a coach or mastermind partner, go all out by stating it on your blog, or try something in-between, like tweeting about your e-book or telling your best friend.
Then… Start Writing!
Committing the space in your schedule and life to write an e-book is an important first step – but it still won't get your e-book written. Now you have to show up at your scheduled time and make progress toward your goals.
Faced with a blank page and your brilliant idea, writing an e-book can feel like a massive, overwhelming task. Break it down into bite-sized pieces, and focus on just one step at a time to make it more manageable and ensure you continue to make progress.
Follow these steps to write an e-book your audience will love.
5 Steps to Writing Your First Draft
Step 1: Clarify Your Message – While creating your outline and developing the vision for your e-book, get crystal-clear on the purpose of the book and the message you want it to convey about your brand.
Step 2: Define Your Audience – Who will read your book? Create an outline of your ideal reader and how this book will address their most urgent needs and desires.
Step 3: Name Your Action Steps – What do you want a reader to do after reading this book? What will the book inspire them to do in their life or business? Make a list of actions you'd like to see, and determine what you can write to encourage readers to take them.
Step 4: Know Your Unique Voice – 
"Before you start writing, know what's special about your message."

Tweet Me
When you know this, you can work to convey it through the voice of your e-book, as well as through your taglines or marketing language.
Step 5: Put Yourself in the Reader's Shoes – Read through your outline, notes, and answers to the above questions. What questions remain unanswered? What do you still need to add to ensure this book conveys the message you want to share?
Remember: An Okay First Draft is Better Than No Draft At All

Anytime you hit a wall writing a book, remember this is your first draft. Don't strive for perfection yet. You have to get this on the page before you can move forward to create that brilliant e-book for your audience! Writing your first draft is all about answering the questions your book is meant to address.
To get started, go through the steps above, and jot whatever comes to mind when you think about your goals and audience. This will give you material to work with when you get stuck writing the draft, and it will stand as a quick reminder of why you set out to write this book, and who you're trying to help by publishing it.
For more guidance and resources to write your first draft, check out my "Write Your Manifesto" e-book publishing course! Through this course, you'll get step-by-prompts to clarify your message, define your audience, and figure out what's totally unique and special about the message you have to share through your next e-book.
Note from the Mirasee Team: Dana does an excellent job with her courses, and we highly recommend you check out her services if you're interested in how to get started writing your e-book. 🙂