Are You Engaging Brand Advocates To Market Your Business?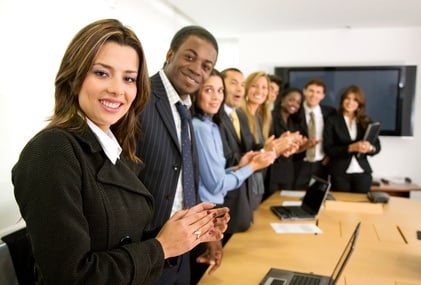 I'm going to say something radical: I'm sick and tired of hearing that if you post great content on your blog you'll become a star, or bad content and you're in the doghouse.
Of course you're trying to write the best content you can. Does it make sense that you would post your worst content?
Great content is likened to the Pied Piper, leading readers to your site where they will leave nifty comments and buy your products. But I'll let you in on a little secret. If you believe that by simply building it they will come, I have a bridge in Brooklyn I want to sell you.
Engaging Brand Advocates
No, you need to work your (I was about to say ass off) connections so they become your brand advocates to promote your business. Who are these people?  Your brand advocates are your employees, your connections in your social media communities and your personal friends who will voluntarily spread your message across the web.
Let's start with employees
Even if you are head of a very small company, your employees are no doubt already on either one or all of the most popular networks: Facebook, Twitter and LinkedIn. Assemble a pilot group of employees who are willing to promote your company and its products or services through their social networks. You can create simple guidelines about not spilling the company's secrets.
But, as Jon Iawata, SVP of Marketing & Communications for IBM says in this video, you can trust your employees to do the right thing. If they wanted to give away your proprietary information, there's nothing stopping them now from doing it at midnight in a garage.
Your employees want the company to be successful because then they have more opportunities to grow. Give them the messages you want to communicate and set them loose. Also ask them to comment on your corporate blog posts and retweet them.
Allow them to set up their own company branded blogs. Again, using IBM as example, check out IBMer's Blogs where dozens of employees are blogging away. Just imagine the traffic they are driving to the company's website and the good will they are building for the IBM brand. And you know what that leads to –more business.
Tap into your social media communities
Suppose you are a solopreneur. You don't have a cadre of employees to promote your blogs and company information. You can leverage your blogs by:
Publishing them to social media sites. You're already doing that, right? If you have a WordPress blog there are a number of plugins that will automatically send your content to pingfm.com and you can choose the networks where you want to post your content, including the Big Three.
Start discussions on LinkedIn. You can belong to up to 50 groups on LinkedIn related to your subject area. Post your blogs to the appropriate groups – and your own updates — and you will get a lot of traffic back to your blog. When I first started blogging, LinkedIn was my main source of traffic. Now it's search engines, but I still receive hundreds of visitors a month from LinkedIn. Also, answer questions, post your slide shows through Slide Share, and get recommendations. These are golden.
Join Ning Communities. Facebook isn't the only game in town. You can form your own community on Ning or join an existing one, as I did, the Employee Engagement Network. I've commented on discussions and posted original blogs, all linking back to my own site. I even contributed a quote to one of their e-books, "Employee Engagement in Just Six Words." (My quote was "Can I Help You to Improve?").
Join Groups on Facebook. The groups on Facebook don't have as many members as on LinkedIn but they will grow. Also, get people to Like your fan page so that your content gets posted to their walls.
Join Support Groups. I belong to two groups, one on LinkedIn and one on Google Groups. In the LinkedIn Group, Bloggers Helping Bloggers, we comment on each other's blogs, which improves our SEO and attracts more visitors. Members of my Google Group retweet each other's blogs so that our posts get distributed to all their followers.
Personal Friends
Hey, there is no reason why you can tap into your personal friends. They understand what it means to have to make a living. Ask them to post comments to your blogs, RT, Digg, Stumble, and Like on Facebook and Reddit. What are friends for but to help you build your business?
Don't Get Discouraged
There are hundreds of thousands of blogs. So you may be discouraged because you thought your blog would automatically bring you tons of traffic that would convert to business. Your blog, in my view, should still be the centerpiece of your social media strategy. It's your hub, the springboard for driving your content throughout the web. You'll get traffic — but it won't happen all by itself. You need to give it a push.
So what are you doing to market your business on the web? Please share your ideas in the comments section. Thanks, and happy hunting!