Did I Hike the Himalayas?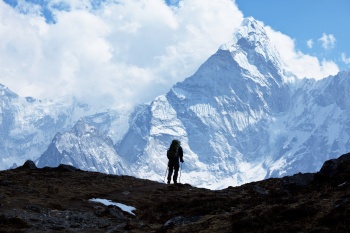 This was inspired by Pat Flynn's I Am a Blackbelt. True or False?
Let's have a little fun.
Today, instead of the usual dose of marketing goodness, I'm going to tell you some things about myself. Eleven things, to be exact.
Some of them sound pretty incredible – which makes sense, because they aren't all true.
Three of the eleven "facts" are actually lies. Care to guess which ones?
8 Truths and 3 Lies
Okay, here we go – 8 things that are true about me, and 3 things that aren't:
1. I am a jujitsu black belt.
2. I ran a marathon – 42.2km, in case you were wondering!
3. I'm engaged, and getting married soon.
4. I've hiked the Himalayas.
5. I spent a month in Bahrain (a tiny island near Saudi Arabia).
6. I served for three years in the Israeli Defense Forces (IDF).
7. I've had lengthy conversations with Guy Kawasaki, Randy Komisar and Seth Godin.
8. I quit school when I was fifteen years old.
9. I've spoken at TED.
10. I ran a start-up that crashed, burned, and left me with a quarter million dollars of debt.
11. I am a published author.
Guess the Lies, Know the Truth
What do you think – can you guess which aren't true?
I've dropped plenty of clues over the course of the last several months of posting, but you don't have to go and research – just take a guess.
Oh, and don't worry – I won't leave you in suspense…
UPDATE: Check out the comments for the answer. 🙂