Confessions of a Marketing Slacker (and How I Recovered in a Lurch)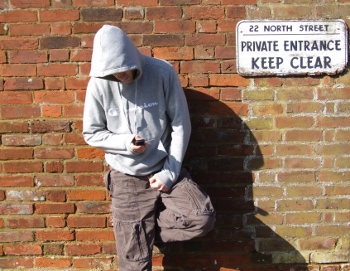 If you're a business owner, you can probably think of a time when your back was against the wall.
When you look back on it, you didn't know how you'd pull through or even if it was possible. Maybe you were hit with unexpected expenses, equipment failure, or the departure of a key employee. Maybe you lost a couple big clients all in one month. Or maybe something in your family or personal situation changed.
You couldn't really change what happened. Some if it was outside your control.
But now, you really wish you hadn't slacked off on your marketing.
Whatever your story, it forced you to get creative real quick.
The Life Change That Made Me Do a Happy Dance
My corporate job was eliminated this past April after 19 years. I had seen the changes coming, so it wasn't unexpected. I had taken the time to prepare and was more than ready for a new challenge. I even did quite inappropriate happy dances in the hallways (mostly privately) after I heard the news.
I lived a double life for many years. I'm a music teacher and songwriter and I have owned a lesson studio for 10 years. I ran it as a part-time business in the evenings in addition to my full-time job. So I had "something to fall back on".
I love music, writing, and entrepreneurship. I lost interest in the management fast track early in my corporate career and I have known for years that the only real promotion I wanted was to full-time self-employment. So when the opportunity came, I knew I had to make it work.
Once my happy dance stage wore off, the loss of my main income did force me to get clear and ramp up my business quickly.
A business that works for you instead of the other way around
How well does your business fit with the life you want to live now? What about your vision for the future? If your life changes, will your work flex also?
When I bought my company it was a retail store and lesson studio. I intended to grow it to the point where I could work at it full-time, but that never happened. My money got tied up in inventory, I made other costly mistakes, and soon found I needed to keep my day job to pay off the debt.
The first few years I worked like gangbusters 6 days a week with as many as 8 part-time employees. As you can imagine, the pace was unsustainable and I quickly burned out. I backed off, adopted a more manageable schedule and found good mentors. With their help, I doubled my prices and learned that I could make the same money in much less time. I started to take a longer-term view and used my free time to do things I enjoy – like writing songs and recording a CD.
There were times when I just let the studio run on auto-pilot.
It's not like I was doing no marketing at all. I have some reliable sources of new business that I'm always working at. I just wasn't pushing hard to grow the business.
But when my job situation changed, it was time for my business to grow up and support me.
Traps that lure business owners into slacking off from marketing
Over the years, I've seen some common reasons that entrepreneurs slack off on marketing and I am guilty of many of them.
I had a modest vision for my studio while I was employed, because it was all I could manage at the time and because it fit with my lifestyle. I wanted my studio to be small and flexible. I love teaching and I'm good at it, but I never wanted to teach full-time or manage a large music school. I have always wanted an online business.
There are trade-offs to every decision. Had I pushed a little more, or got the right support sooner, I could have been making more money from the business all along. I might have been in a much better position to replace my full-time income when the time came.
It's OK if you accept trade-offs, as long as you are aware of the costs.
Can you relate to these challenges?
Juggling too much – I put big marketing campaigns on the back burner because I couldn't take on any more work and my support network was weak.
Unresolved business issues – I wanted to make some personnel, system, and location improvements before I tried to grow larger again. I did make them, but it took time.
Lack of support, or lack of the right support – I had assistants, but they didn't always have the skills or follow-through that I needed. It can be hard to find local people who understand online marketing for instance. I had to get comfortable hiring and managing remotely.
Fear – I didn't want to be overwhelmed, overextended, sick, and burned out again.
No real urgency – I didn't absolutely need the money. I had a steady income, so a part-time income was fine with me. As long as the business was cash flowing and I was paying off my initial debt, I was happy.
Other interests and priorities – I wanted to pursue songwriting and blogging, for example – and I wanted to have a life. Developing my other interests turned out to be a very good decision, because they increased my value as teacher and coach.
What money or opportunities are you leaving on the table and are you okay with that?
Making Up For Lost Time
All entrepreneurs get off-track sometimes. I had neglected marketing but I had other advantages. I took stock and leveraged all these to get back on course…
10 years of experience learning what worked and most importantly what didn't,
Some discretionary funds,
More time than before,
Support people who understand blogging, social media marketing, etc.,
Better systems in place for lead tracking, student registration, scheduling, and invoicing, and
Clear income motivation.
Formulating a Master Plan for World Domination
I worked through an analysis using Danny's Business Optimization Framework  from his free video training. (If you haven't done it yet, I highly recommend it.) I used this structure to clarify my plans and priorities. I decided on these in priority:
Getting more leads – First, I stepped up local marketing efforts. I decided to test new approaches and to continue to do a lot more of the things that have worked well for me in the past.
More customers – I handled the entire sales effort personally for a while, recording calls (with peoples' permission of course), and updating my scripts so that I can once again turn over the phones and scheduling to my assistant.
Deal value – I planned more classes to re-build my funnel and stressed the ways we go above and beyond for our students during the off-hours.
Good Karma – I will continue to stress good customer relationship building to the team, develop a free downloadable guide for prospective students, and blog about studio activities in the community and my charity involvements.
Repeat customers – I plan to develop or revive programs to retain students longer and re-engage former students.
Quick Fixes to My Lead Generation Strategies
I had only a few weeks in which to act because of the time of year. It was late spring. School would be out soon and people were making their summer plans.
1. Offering New Services to Previous Clients
Find some complementary service or product you can offer to people you've worked with before. Maybe you can help solve a more advanced problem that clients experience after being on their own for a while.
Summer can be chaotic for music lessons because of family vacations, pool time, etc. It can be hard to pin people down to a regular schedule. I wanted short, flexible programs that would attract new students and re-engage former students, and yet not be too much of a commitment. I created 4-week programs that were light on instruction and heavy on singing and playing. The goal was simply to whet students' appetites for more serious study in the fall.
Takeaway – practice being creative with your offerings within your constraints, esp. when you have to launch quickly or at a difficult time of year. Have some options in your back pocket you can implement quickly when needed.
2. Warming Up Cold Leads
You might hesitate to try this, not wanting to come across as overly pushy or "salesy". But it's definitely worth your effort to reach out, and customers often appreciate it.
I usually have either email addresses or phone numbers from my lesson inquiries. I went through my list from the last few months – people I had spoken to but who hadn't committed, and reconnected with them. I got one student from that tactic this summer, but I had several people who expressed interest in starting in the fall (our usual busy time.)
Takeaway – have a good tracking system in place for your leads. Make sure it's sharable if you have an assistant. Don't be afraid to follow up occasionally – many people are interested but get busy and simply forget.
3. Getting Referrals From Existing Clients
Are referrals working for you? Do you have a referral system in place?
Word-of-mouth referrals have always worked well for me, especially as time went on. I have been established in my area for over 10 years. I am always surprised by the number of people who remember me and refer people years later.
The most important thing I've found is to simply keep up the communication. I have created good relationships over the years. When I started telling people of my job change and that more of my efforts would be going into the studio, most are more than willing to help.
A couple of years ago I put a referral program into place. I have posters and cards around the studio so that people see them every week. I email my list occasionally. We've gotten a few students from it. But I've gotten a lot of feedback – especially from my more loyal clients – that they are happy to refer people to me and they're not so concerned about the free lesson.
Takeaway – It's worthwhile to have a formal referral program in place, but you might find your most loyal customers don't care much about the incentives.
4. Repeating What Has Worked For Me Over the Years
New strategies are always tempting. Test them, but not at the expense of your tried-and-true tactics.
I have several marketing strategies that I've had good success with over the years and that now mostly run on auto-pilot. First, our location has been in my town for over 25 years. People know about it. I have signage on a main street. I have a web page that works nicely (although it can always be better and I'm constantly working on that) and I have a big-box instrument store that doesn't do lessons and provides a good number of referrals for me.
I ask every new student how they found out about us.
Takeaway – If something's working well, don't abandon it. Keep doing what works! And have some way to track where new customers are coming from.
5. Testing and Using New (To Me) Marketing Tactics
If you've ever lost money on advertising that didn't work, you can understand why I cautiously test everything now. I wasted a lot of money in my early years on paid advertising because I didn't know any better. Since then I've been very conscientious about reviewing advertising opportunities and making sure they are targeted to the exact people I want to reach.
It helps to have a community of small business owners to share experiences. I was intrigued by some colleagues' successes with door hangers. I wanted a low-cost way to test the effectiveness before I spent much.
In a short time, I recruited some friends and we distributed about 1200 door hangers in local neighborhoods and about 300 to local businesses I have relationships with.
Takeaway – When time is short and you want to test inexpensively, don't be afraid to hoof it.
6. Setting the Stage for a New Income Stream with a Blog
If you're reading on this site, I probably don't have to convince you of the importance of content marketing.
From the beginning, my dream has been to have a strong online presence. My early years in the trenches were a great learning ground. I gained valuable experience.
Over time, more people started coming to me for business advice as well as referring their friends to me for music lessons. So my coaching business grew naturally out of what I was already doing. My work now includes helping other entrepreneurs to make good full- or part-time livings with their art without going broke, living in their cars, or starving to death.
I've made blogging for my music site more of a priority, and I have launched another blog for my coaching site. The two will work hand in hand for the time being.
Takeaway – Teach people something and communicate the value you deliver through your blog. Let your content sell your products and services to the point that you are their only option.
Results
In a few weeks, I developed a short-term plan and executed it. I got eleven new students for myself and several for other teachers in my studio – a nice, last-minute summer lift. I was pleased enough with our results to commit to a larger scale effort for the fall.
If You've Fallen Off the Marketing Wagon
It's easy to get discouraged when faced with the double-whammy of a life change and a business that isn't performing where you need it to. Take stock of your assets, advantages, and all the things you're doing right and build on those. Have some contingency plans in place for unexpected situations and always be thinking of quick, flexible, and inexpensive fixes you can keep in your back pocket to pull out when you need them.
As long as you have good, solid product and service offerings and happy customers, it's really just a matter of getting the word out. Make your business work for you and be a life-saver and insurance policy in tough times, rather than another drain on your energy.
After all, we are living the dream, right? Right!