How to Hack a Business Conference for High Quality Leads (Even if You Can't Attend)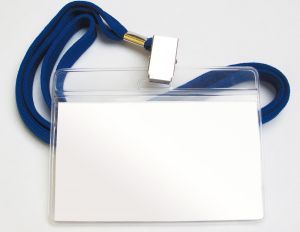 I felt the creeping dread in the pit of my stomach.
I had just begun a product launch marketing campaign with a healthy sized list (not huge, but not small either.) After spending nearly two months preparing all the launch content, making the videos, and designing a webinar…
My list was barely alive.
In fact, it was on life support.
I spent several months building that list by blogging and doing SEO (how SEO works).
And I could barely get them to open an email or click a link.
Plus, I had started this launch campaign, so I had to keep going with it. I couldn't just pull the plug once the first red flags presented themselves.
What was wrong with me?
Was I just a terrible marketer?
Was my email copy that awful?
That's what I thought at first, and I wallowed in self-flagellation until I started really thinking about the different types of lists I'd built with different types of traffic. 😉
It was at that moment that I realized that my list just sucked.
My list was mostly made from search engine traffic, which I now know from experience, is highly disengaged and not very invested.
When you think about it, it's kind of obvious. When you use a search engine, you interact with websites in a very different way. You're mostly like a phantom, just observing and browsing without any real motive to take action.
Not exactly the kind of prospects most businesses are eager to have.
If you're like me, you want to be qualifying leads, and finding ones that are engaged and invested. Readers who leave comments on your blog posts, give you an answer when you ask them a question, and — most importantly — buy stuff when you offer it to them.
But so many entrepreneurs are encouraged to do SEO, as if pulling a fast one on Google was the hidden secret to unfathomable success.
I mean, if you've done any sort of research, you've probably heard marketers tell you that search engine traffic is the "best quality traffic."
Well, I'm here to tell you today that search engine traffic is some of the lowest quality of traffic you can get.
I mean, I'm sure it's pretty decent if you're a plumber, or sell computer parts, or something like that.
But if you're trying to build a loyal and responsive following, you can do better.
So what is better source of traffic?
After realizing that my audience of search engine readers was mostly lifeless, I started thinking about it for a while myself. I came across one of the best traffic sources out there. People who are highly engaged and massively invested…
Business Conference attendees.
These aren't just SEO tire-kickers. These are people who are eager to pay hundreds or thousands of dollars for tickets to attend a live event. Don't forget to also factor in the cost of a plane ticket, hotel, and the time investment of spending a few days at a business conference.
These people are excited and willing to throw down some money.
That's the kind of leads I want!
Still don't believe me?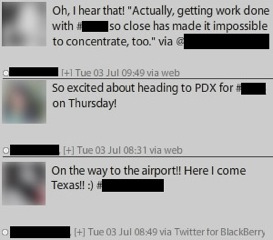 Here are a few screen captures I took from TweetDeck leading up to a recent conference (images have been blurred and identifying info has been blacked out to protect the innocent…)
People are so excited to attend this business conference that they are unable to concentrate at work and they are literally narrating every leg of their trip and every airport transfer. They are excited to the point of nearly jumping out of their own skin.
Do you ever see people doing that on search engines? ("I am so excited to be Googling 'weight loss tips' pls RT!") Not at all.
These people are also thrilled and excited to meet up with their friends. These are people actively reaching out, elated at the thought of going to this conference and meeting one another.
Do you think this type of person would be a good prospect?
You'd better believe it!
How Can you Leverage This Especially if You Can't Actually Attend the Conference?
Twitter.
Most business conferences have a unique hashtag to keep track of special conference-related updates (something like: #bigconference).
Keep an eye on anyone and everyone who tweets using hashtags. Then "follow" them on Twitter and "follow" everyone they mention, when they Tweet about the conference.
Then create a special list to keep track of them all.
Now the Real Work Starts…
Keep an eye on these people and reply to a few of their tweets. If they have blogs, visit them and leave a comment.
Basically do anything you need to do to get them to notice you.
What you want to do is make a connection with them and start to build a relationship.
Note: this is not about spamming them or leaving generic "nice post" comments – we all know that doesn't work, right? Actually take the time to leave thoughtful replies. This is the key to really getting them to notice you.
Is this a lot of work?
Yes!
But it is absolutely worth it. These aren't just any leads. These are people who are excited and engaged. These are also people who are very invested (they are what some call "buyer leads", for those of you who have been in the game for a while).
These are some of the best kinds of leads you can get, and they are much more valuable than SEO leads, PPC leads, or any other disengaged traffic source. Some marketing experts I know of have said that these types of leads are ten or twenty times more valuable than ordinary leads. And, from my experience, I really can't argue with them.
Also, don't feel as if you have to get them to notice you in the weeks directly leading up to the conference or during the conference itself.
You can take a little time, if you need to, to get to know them better and build a relationship with them after the event.
Some of these people may be more suited to becoming partners or affiliates rather than customers (especially speakers at these events), in which case you still want to make your presence known, but approach them in a different manner. Approach them as a partner and ask if you can help them with something they are working on (big hint: everyone needs a little help, no matter how successful they are.)
So with that I want to leave you with a question: What sorts of business conferences are there in your market that you could be leveraging to get more high quality leads?