Best Writing Apps for Better Content Creation
Antonio Tooley
How many times have you come across a blog article with an awesome starting point but with such boring content that it lost your attention somewhere along the way?
Unfortunately, so many online writers struggle with this everyday. They write as their thoughts flow, so their articles end up a complete mess. While a huge chunk of text may be good, nobody wants to read it.
And there's a good chance that this is something you also struggle with. With so much on your plate as a solopreneur, writing engaging content often proves challenging.
So is there a recipe for creating absolutely unique and attention grabbing content that can lure even those with short attention span?
You Are Not Using the Right Techniques
Writing is a creative process, but there's also the technical aspect. When you base the process on certain principles, you write content that more people want to read.
Here are some of the reasons why so many writers can't reach out their online audience:
They don't bother with proper punctuation. How can you hope someone will read a huge piece of text with only few sentences and barely any punctuation? Want to guarantee your reader will click the back button? Show them a wall of text.
Grammar no longer matters to the casual online writers. But they are fooling themselves. Even if a reader isn't aware of specific grammar rules, he still recognizes illiteracy. It's fine to use slang and casual style, but that doesn't mean you can ditch all principles and invent your own language.
They get distracted. You'll lose your reader when you jump from one topic to another without any transitions.
They procrastinate. This 'technique' leads to the creation of boring content. You need to publish a post today, but you spent the last few days watching TV shows. So you write something in a hurry. You use the first idea that comes to mind and write something for the sake of publishing. Compelling content takes time and effort.
They don't use the right technology. Sure for some an open document in MS Word works. But with all the great tools at our disposal these days, technology is here to save your writing day.
Let Technology Take Care of the Technical Stuff for You
Resist the urge to be resistant to technology.
Use any number of online tools and apps to make the planning, writing, formatting, and editing aspects of your work easier. In addition to simplifying your writing routine, with these tools you'll achieve another important goal: creating appealing content that holds your reader's attention.
Generating Ideas:

1. MindMup
A mind map lets you to bring order to the chaotic creative flow, and find the connections between different ideas. Sure, the back of a napkin works, but there is no point in doing that when you have MindMup—a tool that enables you to construct appealing and helpful mind maps.
With MindMup, nest nodes, expand and collapse them, change their color for easy recognition, and organize them by moving around. At the end of the process, you get a bone structure with a lot of potential in being turned into compelling content.
2. Ilys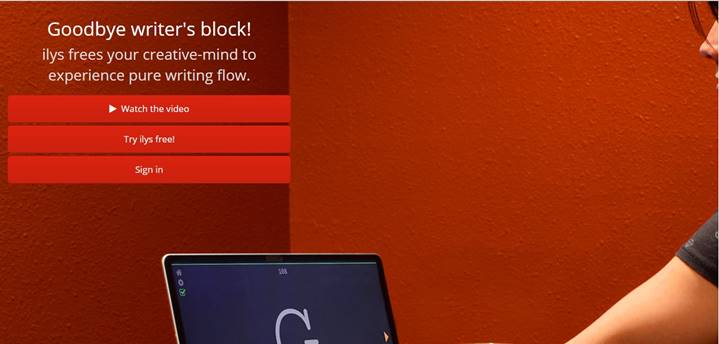 Do you know what the ultimate cause is of boring content?
Writer's block!
Ilys helps you fight that state by implementing an unusual method. You start typing on a black screen, seeing only one letter at a time. You can't see what the sentences and paragraphs look like, so you just go with the flow and type without thinking about editing.
When you shut down your inner editor down, you more easily get into creative mode.
3. Write or Die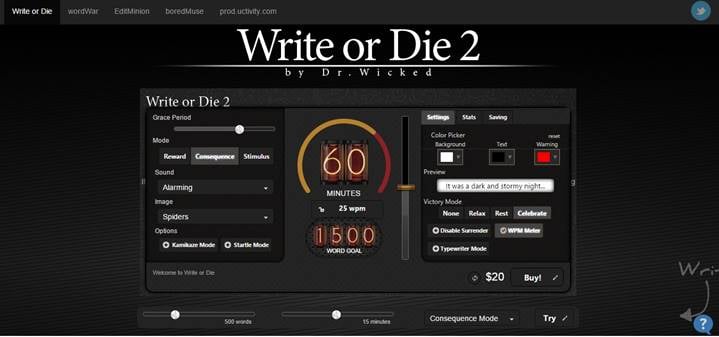 Write or Die 2 has gamified the writing process. It's the place where you either write great content, or you let your cool ideas die.
Are you up for the challenge?
The risk of losing what you've written motivates you to achieve the goal you set. You can adjust the level of punishment you get if you don't reach the planned word count within the given time.
Beware of Kamikaze mode: it starts deleting words one by one if you don't keep the keyboard working.
4. Cold Turkey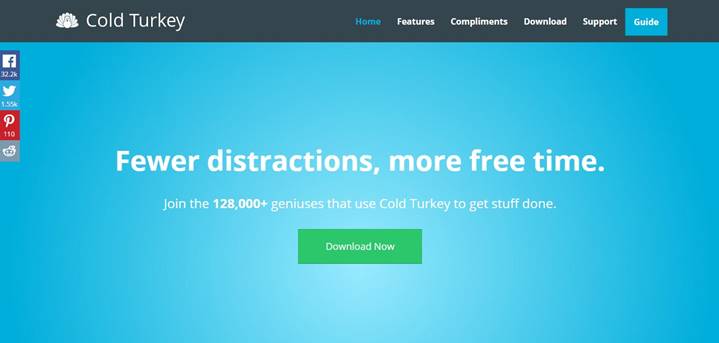 You're immediately a more productive and effective writer once you get rid of distractions.
With Cold Turkey, you can block an unlimited number of websites on your browser, as well as games and other applications on your computer. Try scheduling the blocks during your working hours, so you will have no excuses; you'll have to get focused and write.
Writing Content:

1. Write.app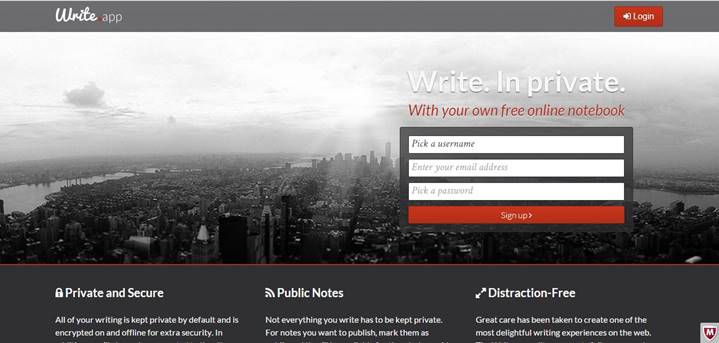 There is something about visual clutter on a computer screen that can keep you unfocused.
When you start writing your content in MS Word or a similar word processor, you see plenty of icons and features that grabg your attention. Write.app is a minimalist writing environment to keep you focused on your ideas.
With the app, share your online notebook with an audience or keep it private. When you're done writing the content, you can download it as a text file.
2. Ommwriter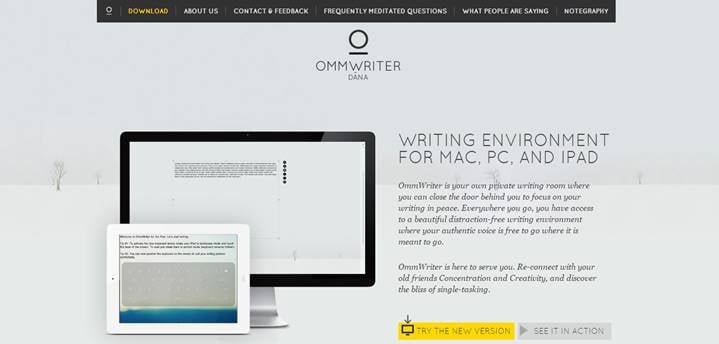 This is another tool that will keep distractions away while you write.
You type in plain text, so you won't be bothered by fancy formatting features and icons. Of course, you can export your text as a PDF or an RTF file to fancy it up once you're done writing.
When you maintain your focus, you definitely end up with more attractive, easy-to-read content.
Fine-tuning Content:

1. EduGeeksClub
You can't hope to publish awesome content if you ignore the importance of editing.
While it's possible to edit your own work, it's more challenging if you're too attached to what you just wrote.
That's why I recommended you leave this part to a professional editor. EduGeeksClub is a great editing service that will bring your content to a whole new level of readability and quality. It's much more effective and affordable than hiring a full-time editor.
2. Power Thesaurus

This is a comprehensive, effective, and simple online thesaurus to help you avoid repetitiveness.
When you notice your habit words, you replace them with synonyms you find using Power Thesaurus. And the simplistic design is great. You just type a word in the search box, and the tool gives you alternatives.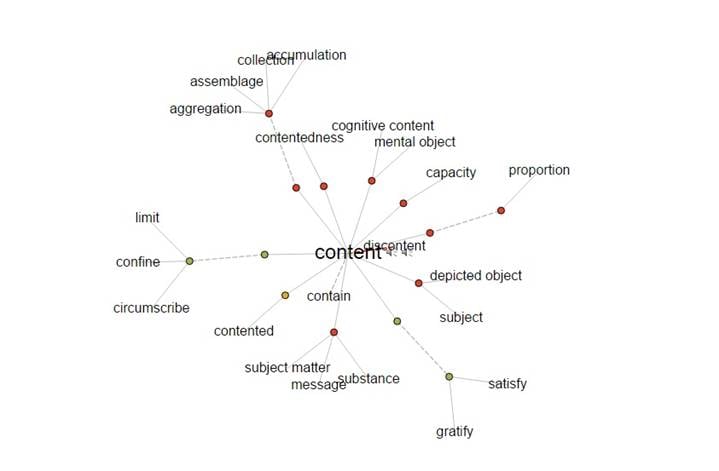 This interactive dictionary and thesaurus shows you a visual presentation of a word.
The branch nodes display synonyms or antonyms, and the color-coded connections between the words indicate parts of speech. You also discover the semantic relationship with another word.
Adding cool new words into your content instantly makes it more attractive.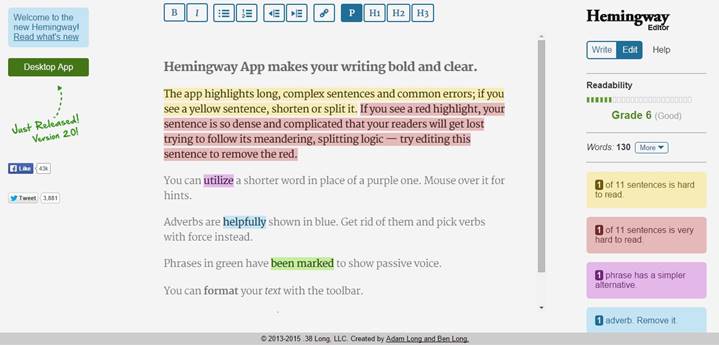 This online editor removes clutter out of your content.
It helps you fix complex sentences, which lose the reader's attention. Basically, it forces you to stick to the simplicity Hemingway was known for.
The tool judges the reading level of your text and indicates which part you should simplify. If you follow the hints, you end up with bolder, clearer content that people will love reading.
My Usual Work Flow
I was the first one to mock technology.
We have our creativity within us, so why do we need tools and apps to encourage it? However, I recognized the need for change during a terrible idea blackout.
Once I started experimenting with online tools, I realized: they make me more productive, and my readers like the results much more.
Let me describe my usual work flow; maybe it will help you define your own routine:
Idea generating and planning. Ilys helps me get away from my inner critic. I'm usually amazed with the things I create when I'm not paying attention to the way the content looks. Then, I use MindMup to create a rock-solid outline to keep me focused on the main idea.
Crafting the content. I write in OmmWriter, which helped me realize how unproductive I was when I was glued to MS Word and Google Docs. Cold Turkey is a mandatory tool during the planning and writing stages; it helps me work without wasting time on useless websites.
Fine-tuning. First, I replace repetitive words with synonyms I find on Visual Thesaurus and Power Thesaurus. Then I simplify the content by following the hints I get from the Hemingway Editor. Of course, I don't follow them religiously; I still want to maintain my own style, which is usually characterized with slightly longer sentences than the ones Hemingway suggests. Finally, I hire an editor from EduGeeksClub to polish my content, and I always get the perfect version in return.
There it is: a simple routine that produces results my readers love!
Over to you. Where do you struggle when creating content? Have you tried any writing apps or other technologies to help with your content? Let us know in the comments!
Top 10 Productivity Tips
Learn the tactics we used to build a $2.5 Million company in just 5 Years