After the wedding: "Why am I doing this, anyway?"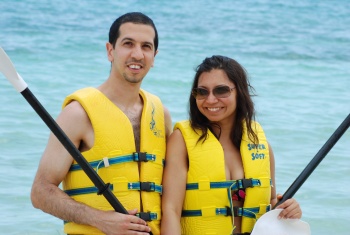 So I got married.
The wedding was one of the most beautiful, magical nights of our lives.
Within a couple of days, all of our friends and families had scattered back to their respective corners of the globe, and we had only a couple of days to recover and adjust before heading off for our honeymoon.
It was the ultimate slacker vacation – a week at a resort where my wife and I (I'm practicing saying that, and it's still weird) did nothing but lounge around by the pool. Okay, so that isn't quite all that we did… but suffice to say that we had a really, really good time. 😉
And somewhere between the resort, the beach, the food, the reading, and the company of my wonderful wife (still weird), my batteries recharged, and I came back to real life so much more energized and enthused than I was when I left it.
The process was quite profound for me, and I'd like to share it with you…
After the wedding was… Exhaustion
It wasn't just the wedding, either.
In the three months leading up to the wedding, here is just some of the stuff that was on my plate:
Planning the wedding (obviously)
The redesign of our site
Meeting all of my wife's extended family
The "close" launch of our training program, complete with awesome free videos
Writing 20+ guest posts (do the math – that works out to over 100 pages of text!)
Laying the groundwork for our promotion plan until the end of the year
Moving into our new condo
Writing TWO books, start to finish (I'm not kidding – more about that coming up)
It's a lot, which is why I'm not beating myself up too much about not running a marathon this year. 😛
But seriously – I managed to get it all done, but boy was I burned out by the end of it, and in desperate need of a vacation!
(And my heartfelt thanks to Peggy Baron, Brittany Rubinstein, Natalie Sisson, Sam Montoya, Stephen Murphey, Sean Platt, Stuart Mills, and Jayme Soulati for keeping Mirasee going with their excellent guest posts while I was away!)
Which is why the slacker resort vacation that we chose was such a good idea (the other idea that we were considering was backpacking the Andes in Peru – which would have been fun, but not this time!).
The Honeymoon: Fun and Reflection
We spent our honeymoon at the Sandals Whitehouse resort in Jamaica.
(Incidentally, the resort was featured by my good friend Judith Ritter in her radio piece Hotel With a Heart – it's the third one down on the page, is only seven minutes long, and is really worth listening to.)
Our days looked something like this:
8:30am – Wake up, and make our way to breakfast.
9:30am – Breakfast at the Bayside Restaurant.
10:30am – Hang out by the pool, intermittently reading a book and swimming.
1:00pm – Lunch at one of the resort's restaurants – my favorite was the Jamaican grill.
2:30pm – Back to our room to take a nap or read a book.
4:00pm – Walk along the beach, and maybe swim in the ocean.
7:30pm – Dinner at one of the resort's restaurants – our favorite was Giuseppe's Italian.
10:00pm – Walk along the beach, and make our way back to our room.
That's all we did, more or less, for the entire eight days that we were there.
Along the way I managed to read four books, which I thoroughly enjoyed (if you're interested, the titles were The Art of Non-Conformity, Flourish, Street Smarts, and Buzzmarketing).
I also got to think about my business.
Now, of course, I'm *always* thinking about my business. But this was different – since I was so far removed from everything (in Jamaica, without a computer), I was able to disconnect from the day-to-day, and think about the big picture.
Which brought me to an important question…
"Why am I doing all this, anyway?"
That was the question: "Why am I doing all this?"
Entrepreneurs don't explore that nearly as much as they should; we may have a sense of what we want to achieve when we get started, but the funny thing about business is that it can have a life of its own, and if you don't check in on a regular basis, you'll find yourself further and further off-course.
So I posed myself the question. Why am I doing it? The blogging, the consulting, the writing… the whole kit-and-kaboodle of my online and offline activities. What's it for?
Was it just to make money? No. I honestly don't care that much about money, and I don't have a particularly expensive lifestyle. Besides, there are lots of ways to make money – so why this?
Was it so that I wouldn't have to work in a j-o-b? No, that wasn't it, either. Don't get me wrong – I don't think I'd particularly enjoy working for someone else, and I think the opportunity cost would be too high for it to ever make sense for me, not just from a financial standpoint, but also in terms of what I would be able to learn and experience independently versus with a company.
So why?
Here's the answer that I came up with – the answer that resonates for me, and that I will use to course-correct as new ideas enter my mind and new opportunities come my way:
I WANT TO HELP ENTREPRENEURS BE BETTER BUSINESS PEOPLE.
I don't mean that they'll be able to make more money – though I want that, too. I mean better at business, and better as people; so that they create more value for themselves, their employees, their customers, and their communities.
I know it's a tall order, but hey, I was planning on working hard anyway, so I might as well work hard at something that matters! 😉
So what's next for Mirasee, and for me?
There's a lot of exciting stuff coming up – we've been laying the groundwork for a lot of it for quite some time, and I'm very happy to say that it is all consistent with my newly focused vision.
Here's what you can look forward to in the next little while:
Our Semi-Local Business Survey. UPDATE: You can read about the results here.
A book that I'm co-authoring with Sean Platt called How to Build a Blog: Create Awesome Content, Build Community, and Go Viral! We expect this one to be published around November or December.
A book that I'm co-authoring with Guy Kawasaki, Brian Clark, Mitch Joel, and lots of other people that you probably know and follow, called Engagement from Scratch! How Super-Community Builders Create a Loyal Audience and How You Can Do the Same! I'm very, very excited about this project, and you'll be hearing a lot more about it from me, very soon.
And lots of other things – now that I'm back and feeling all re-charged, I feel like I can't keep up with the exciting ideas that keep floating into my head! 😉
So stay tuned, 'cause there's gonna be lots and lots of really great stuff comin'!

Danny Iny is an author, strategist, serial entrepreneur, and proud co-founder of Mirasee, the program that teaches expert marketing for non-marketers. Get his free video course on how to get more money out of your business, website or blog, or follow him on Twitter @DannyIny.