Leading from Every Seat (Dr. Geetha Murali)
Her mother escaped being a child bride and immigrated to the U.S. — and Geetha Murali still honors that journey as CEO. It informs her mission and her leadership philosophy with a firm belief that transformation and leadership can come through anyone.
Welcome to To Lead Is Human. This show helps listeners envision how they can uplevel their leadership and shape cultures of accountability, respect, and candor.
Dr. Geetha Murali is the Chief Executive Officer of Room to Read, a leading international organization that is creating a world free from illiteracy and gender inequality.
"I came from a family where I could have very easily been a child bride. And I wanted to do something that made that not even a possibility for the next generation."Geetha Murali
Dr. Geetha Murali is the Chief Executive Officer of Room to Read, a leading international organization that transforms the lives of millions of children through education, creating a world free from illiteracy and gender inequality. As CEO, Geetha has been a driving force behind the exponential scale of Room to Read's quality programs — achieving presence in 21 countries and benefiting more than 32 million children to date.
Geetha joined Room to Read in 2009 and has more than 25 years of diverse experience across the corporate and non-profit sectors. She has worked with pharmaceutical companies and an array of educational technology programs like the Digital Equalizer Program (American India Foundation) and Adobe Youth Voices (Adobe Systems Incorporated). Her compelling personal history as the daughter of a potential child bride coupled with her corporate experience, academic background in the quantitative and social sciences, and community-based work, give her a unique perspective on the socio-economic landscapes in which Room to Read operates, as well as the quantitative rigor and business acumen needed to lead this transformative movement.
Geetha's commitment to literacy and gender equality has been recognized by former first lady of the United States Michelle Obama as well as the Bill and Melinda Gates Foundation. She has been featured in international media outlets such as BBC, Bloomberg, ABC, CNBC, and Times of India and has been recognized by WIRED as a leader who will shape the next 25 years.
Geetha received her master's degree in biostatistics from UNC Chapel Hill and her master's and doctorate degrees in South Asian Politics from UC Berkeley.
For more than 30 years, Sharon Richmond has partnered with C-level executives from mid-size and small, fast-growing companies who want to up-level their leadership and build companies they are proud of. Clients accelerate their leadership by embracing mindset and behavior changes, building self-awareness and self-management skills, and focusing on the three things all leaders must ensure: focus, energy, and delivery.
Sharon's purpose as an executive coach is to help leaders 10X their impact by leveraging the power afforded by their roles to build organizations that are forces for good, both economically and socially. She also advises CEOs on shaping organization culture and leading change.
Sharon has taught leadership at Stanford GSB, where she now helps leaders increase influence, manage conflict, and prepare to build high-performing teams.
To see a list of Sharon's clients, please visit https://LeadingLarge.com.
Resources or websites mentioned in this episode:
Mirasee
Sharon's website: LeadingLarge.com
Geetha's website: RoomToRead.org
Dr. Paul Marciano's work on respect: PaulMarciano.com
Credits:
Producer: Cynthia Lamb
Assembled by: Andrew Chapman
Executive Producer: Danny Iny
Audio Editor: Marvin del Rosario
Music Soundscape: Chad Michael Snavely
Making our hosts sound great: Home Brew Audio
Music and SFX credits:
Track Title: Escaping Light
Artist: Aaron Sprinkle
Writer: Aaron Sprinkle
Publisher: A SOUNDSTRIPE PRODUCTION
Track Title: Bright Future
Artist: Be Still The Earth
Writer: Marshall Usinger
Publisher: A SOUNDSTRIPE PRODUCTION
Special effects credits:
24990513_birds-chirping_by_promission used with permission of the author and under license by AudioJungle/Envato Market.
To catch the great episodes coming up on To Lead Is Human, please follow us on Mirasee FM's YouTube channel or your favorite podcast player. And if you enjoyed the show, please leave us a comment or a starred review. It's the best way to help us get these ideas to more people.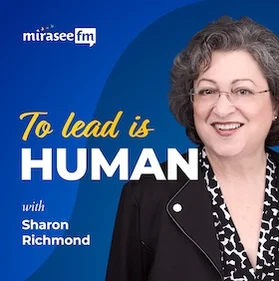 To Lead Is Human
Every business leader has a huge impact on their organization. In this podcast, Sharon Richmond interviews successful leaders who have turned personal growth into tangible business outcomes. They discuss overcoming challenges, lessons learned and what helps them make a positive impact in their organization. Sharon offers insight and advice to help listeners envision how they can supercharge their own leadership by blending the art and science of leading with intention.