Develop Resilience to Change ANY Behavior (ft. Dr. G)
Dr. G's online course, "Change the Behavior in You" teaches the path of change, without dictating the particular behavior you must work on. That way, you learn the structure and strategies to make this change happen, plus how to make any other changes you'll ever want in your own behavior!
This is powerful for the student, but even more so for listeners of Course Lab, who'll find many tips and strategies for creating meaningful change for their own students.
In this episode we discuss:
You know yourself better than any physician.
The neuroscience of change.
The importance and intricacies of knowledge translation.
What don't course creators know about their audience that their audience knows?
Resilience is the ability to navigate change and come through it.
Why her course's title doesn't have the word "resilience" in it.
Danny's and Abe's debrief after the interview
Because we all think that we're kind of a closed perfect circuit. And, obviously, we're not. We're leaking information all the time."

Dr. G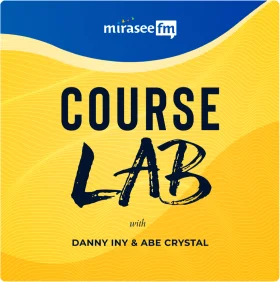 Course Lab
Ever wondered how online courses could be even better? What would that next level look like? Those are the questions driving online course experts Danny Iny (founder of Mirasee) and Abe Crystal (co-founder of Ruzuku) in Course Lab. In each episode, they bring on an innovative course creator and deconstruct what makes their course (and course business) work for them and their students.