Engagement Superstars Share Their Best Tips
To succeed online—whether you run a blog or a business—there's one thing you've got to have…
An audience.
That's how you get eyeballs on your content, after all.
So the question is how do you build a loyal, engaged audience?
To find the answer, I turned to Engagement from Scratch!, where 30 engagement pros share their best advice for building a loyal community. Here, I share the advice that stood out to me, the bottom-line basics of what you need to do to.
But keep in mind, there's no simple answer and no sequence of steps that work for everyone. Your best bet is to take the advice in this article and try it out. Then let your audience be your guide.
Don't forget to grab your free copy of Engagement from Scratch!
Create Your Loyal Audience (from Scratch!)
Get the guidance and insights from 30 of the world's most successful audience- and community-builders to turn your internet business into a true audience business.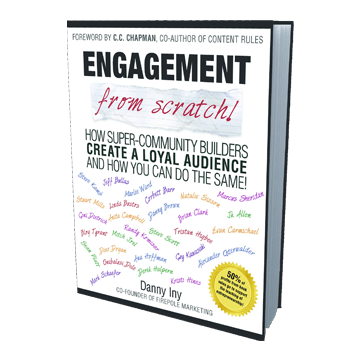 13 Tips: Pearls of Wisdom from the Pros
Keep reading to get 13 more guidelines for building engagement—and some terrific tips from the pros.
Don't forget to share them with your own followers. After all, that's the best way to add to your own engaged audience!
1. Know and Respect Your Audience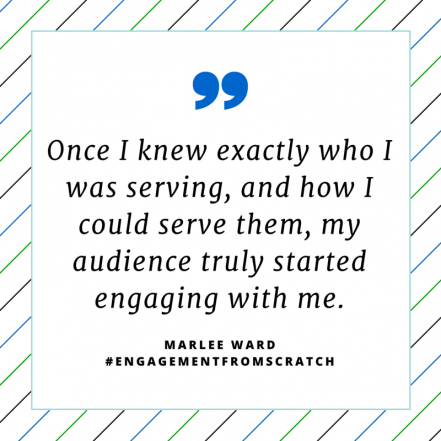 "It's important to me that my audience know that I don't take them for granted, that I'm not necessarily selling them anything. The privilege of having an audience is really the privilege of having a wealth of new people to get to know, with whom you can share ideas and work on new ventures." Randy Komisar
"Cherish each and every reader, and let them know that you appreciate them taking the time out of their day to check out your site." Steve Kamb
"Make a clear point of what your audience will be for, whether its promotion, potential customers, development, support – you name it. Any method of utilizing your audience (while providing value to them!) should be an integral part of your business model." Alexander Osterwalder
"Stroke people's egos—it's really that simple." Gini Dietrich
"Be entertaining, be interesting, and always treat your readers with respect." Sean Platt #engagementfromscratch
Click To Tweet
2. Be (Uniquely) Yourself
"Making people love you is the holy grail of everything. When people love you, they will respect what you have to say. They will trust you. They will engage with you. They will want your help and seek your opinion. They will share your content. They will buy from you." Tristan Higbee
"Treat your readers like a friend. Be your most charming, best, wittiest self. And be conversational." Sean Platt #engagementfromscratch
Click To Tweet
"In order to really engage with your audience, sometimes it's best to let them know who you really are." Corbett Barr
"Digging down deep and providing something really different and exciting got the community to notice. Fight 'sameness' with your every blogging breath." Mark Schaefer
"'Engagement' will look different depending on your platform and goals." JK Allen
"What drove the most traffic to my site—and caused them to stick around—was being myself, letting my humor and quirkiness shine through, ranting, being provocative, having a strong opinion and, most of all, owning it when I screwed up." Natalie Sisson
"People often ask me: 'how do I know what I should blog about?' The answer seems simple; the secret lies in discovering what you love doing in combination with your innate talents." Jeff Bullas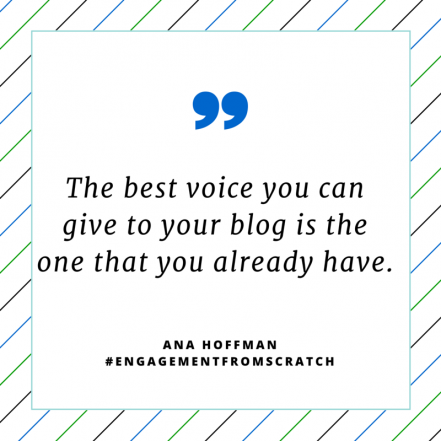 "Good content is a must, no doubt about it. But people will really become engaged with you, not just your content." Steve Scott
3. Have a Purpose That's Bigger Than You or Your Topic
"Your audience needs a reason beyond just your product or service to engage with you." Mitch Joel #engagementfromscratch
Click To Tweet
"Perhaps the very most important aspect of any successful community is the perception that it's going somewhere. You join them because you see a powerful force at work that helps people propel themselves forward, and you want to be a part of it." Tyler Tervooren
"Make it your mission to communicate the shared vision, message, or passion you have with your audience. When you share a purpose or a passion with your audience, engagement follows naturally." Marlee Ward
"If you want to grow an audience on a blog, or a website, or around a brand, you need to find a way to make people feel like they are part of an exclusive group." The Blog Tyrant
4. Provide Tons of Value
"The first lesson in building a community of fanatics is to create a new, effective, unique and original solution that solves a real pain-point for your target demographic." Dino Dogan
"People told me that I was crazy to be giving away so much information for free, but if I hadn't followed the freemium model, I wouldn't be where I am today." Alexander Osterwalder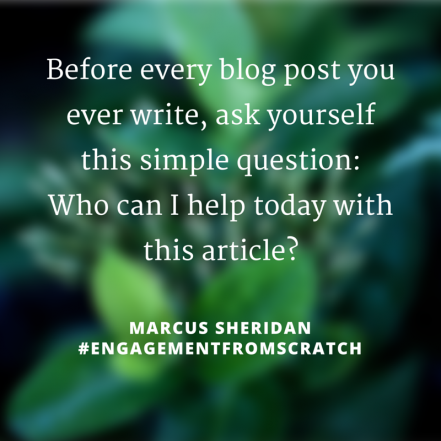 "If you want to build an online audience, you've got to teach people something valuable. Or entertain people. Preferably both." Brian Clark
"An engaged audience needs engaging content." Stuart Mills
"No matter what niche you're in, you need to provide people with a good—make that great—reason to visit your site, and an even better reason to keep coming back." Derek Halpern
"Make yourself absolutely and completely indispensable through purpose, differentiation, and flexibility." Linda Bustos
"Give, give and give in every way possible, and ye shall receive in droves." Natalie Sisson #engagementfromscratch
Click To Tweet
"To engage with your audience through your mailing list, you must give them a little something extra. You have to send them more content. Exclusive content." Kristi Hines
5. Make Conversion a Priority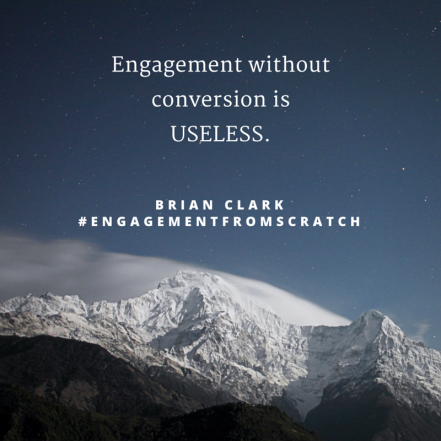 "Cut down on the competition by competing in a smaller, less crowded market." Corbett Barr
"Actively nurture all the attention you get, turn it into engagement, and use that engagement to build the best business that you possibly can." Sean Platt
"Not every post has an agenda, but every post fits into the overall goal of generating more conversions by creating more value for and trust with the audience." Brian Clark
"That's the basis behind the freemium model. Give good content away for free, and generate income with other, related applications." Alexander Osterwalder
"Guest blogging is the most effective tactic you can use when trying to build a great blog because there are no restrictions on what you can achieve with it." Onibalusi Bamidele
6. Build Authority in Your Area of Expertise
"The true secret to encouraging engagement on your blog is letting people see you as an expert, and people won't be able to do that if you're a jack of all trades who is master of none." Onibalusi Bamidele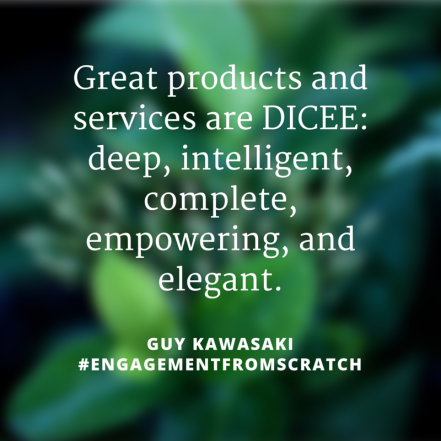 "Books are still symbolically important. They carry so much more weight than a popular blog or Twitter feed alone. It legitimizes your message and the messages of those you work with, and gives you a strong foundation to work from." Alexander Osterwalder
"A lot of audience-building success is about reaching critical mass. Having guest posts on lots of sites will not only find you a new audience, but will also create a buzz and reminds people who have visited you before to drop in again." Steve Scott
7. Invite Interaction
"It's not enough to build an audience. You need a thriving audience to create something really special." Corbett Barr
Click To Tweet
"To build a relevant community of people who feel they know you and your company, you've got to talk to them!" Adam Toren
"Communities are people. And people want to interact with other people." Dino Dogan
"True engagement allows the discussion to expand in all directions." Danny Brown
"Having the audience allowed me to connect with people who had the skills to create what I, in turn, could sell. Those relationships are what make all the difference, and you create relationships through engagement." Brian Clark
"Engagement encourages more engagement. And that, my friend, is what social scientists call Social Proof." Ana Hoffman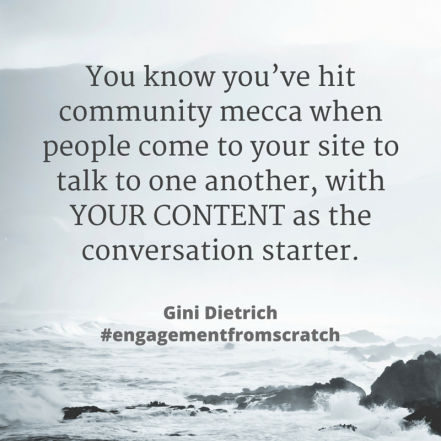 "My feeling is that an audience is an affinity group of diverse people with overlapping goals and perspectives. Given that affinity, they have demonstrated what is important to them, and you have an obligation to meet their standards. They aren't 'followers,' they are participants." Randy Komisar
8. Always Be Learning and Sharing
"People are fickle. You must stay on top of what's relevant in your niche." Sean Platt
"You have to be willing to change your tactics; to innovate and experiment. If something isn't working right – well, you know what they say about repeating the same thing expecting different results." Linda Bustos
"For me, having an audience has always been about sharing ideas; testing them, getting feedback on them, developing new ones, and to an extent, profit." Alexander Osterwalder
"If you want to build engagement, build your learning, and never stop learning.
Learn who your audience is.
Learn what they want to read.
Learn where they prefer to converse.
Learn how to be open.
Learn that you're never 100% correct." Danny Brown
"Every teacher was once a student, and the best teachers remain students as forever." JK Allen #engagementfromscratch
Click To Tweet
"As writers and teachers we most often don't invent the truths, we experience them and share them, giving our audience the advantage of "discovering" these insights for themselves." Randy Komisar
"This is the opportunity that having an engaged audience affords you. To share ideas, experiences and insights. Do not waste it." Randy Komisar
9. Think Outside the "Content" Box
"A few years ago, merely creating good content was good enough. But now, with millions of blogs, many of which are stellar, content is no longer enough. Now you also need a unique position in the marketplace, or else you risk picking up what I call 'traffic scraps,' a.k.a. 'I-get-no-traffic syndrome.'" Derek Halpern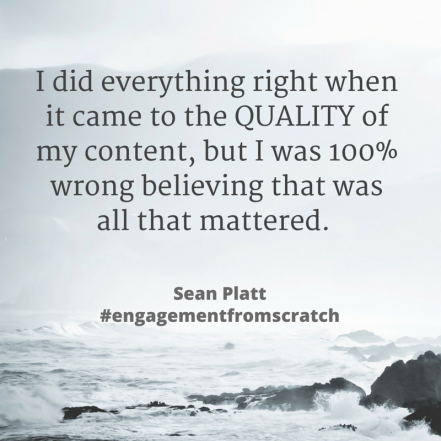 "If I could offer you any piece of advice for starting from ground up it would be to make sure that your design, and your presence, is as good as your content." Alexander Osterwalder
"Start a mailing list from day one. If you have followers on Twitter that are following tens of thousands of people, they might miss your message. But if you are sending your message right to their email box, you will stand a much better chance of being heard." Kristi Hines
10. Be Social
"You need to be grabbing people's attention on social networks and moving them closer to you until they trust you with an email address. Email remains the top online conversion channel, because you've earned their attention." Brian Clark
"Social media is this amazing gift to online business people: real-time marketing research. People will come right out and express their problems, desires, and needs without being asked, as long as you take the time to look." Brian Clark
"Twitter is a link economy. Facebook is a picture economy. Regardless of the platform, set yourself up as a likeable, trustworthy, quality-driven person in your niche." Guy Kawasaki
"The stronger your community, the more social media will pay off in your business." Adam Toren #engagementfromscratch
Click To Tweet
"Engagement is everything when it comes to social media. You get what you give. Always." Sean Platt
11. Get Comfortable with Being Uncomfortable
"Welcome to the internet, land of a million critics." Corbett Barr
"Until it's happening, you can never be entirely sure of how your audience is going to engage with you. Be prepared to be flexible – meeting your audience's needs is as important as their meeting yours." Alexander Osterwalder
"Bloggers aren't super heroes. Have the courage to be humble. As writers, and as leaders, there is strength in weakness." Mark Schaefer
"You know that phrase 'think outside the box'? I hate it. There's no such thing as the dreaded 'box.' You are the only box that you need to worry about." Ana Hoffman
12. Do the Work
"When it comes to blogging and audience building, there is one thing that matters more than anything else: doing great work. Everything else follows from that." Mitch Joel
"To paraphrase Hemingway: 'Life is about writing one true sentence.' That's what I am trying to do, and an audience is responding to it." Randy Komisar
"If you're looking for someone else to show you the path, then I'm afraid you will be disappointed. To get an engaged audience, you have to figure it out for yourself." Stuart Mills
"The cold hard truth is that a community takes a lot of consistent effort to build; a lot of hard work, epic content and continual promotion." Natalie Sisson
"Starting the journey is the easy part but true success is found in the persistence which will bring true self-discovery and a life that becomes a masterpiece." Jeff Bullas
13. The Time Is NOW
"When you have an audience, you never have to rely on anyone else for your marketing for you, AND people will seek you out with amazing opportunities." Brian Clark
"The audience is the heartbeat, the very essence of blogging." Stuart Mills #engagementfromscratch
Click To Tweet
"No matter what your niche or area of expertise is, if you're starting from scratch, what you're going to want is reader engagement." Evan Carmichael
"The audience is already out there. They're waiting for you to present them with your insights and the translation of your life experiences so that they might benefit from them." Randy Komisar
"If you want engagement, ask for engagement!" JK Allen
"If you want to succeed, be the person who builds an audience. Start today." Brian Clark
Final Words…
"It's not all about you. Comment on the work of other bloggers, and share it with your own audience. Reach out and get to know those bloggers, and they will return the favor. If you add value to their community, they will help you build yours." Mitch Joel
"Being a member of the community should be fun for all, otherwise it's work, and work sucks." Dino Dogan
"That's what makes the difference between a website and a community. It's the defining line between an 'audience' and a 'movement.' Anyone can build a website, but it takes a special vision to create a thriving community." Tyler Tervooren
"If you want an engaged audience, the only way you are going to get one is to engage them." Steve Scott #engagement
Click To Tweet
***
There's no denying the power of an engaged audience. It's how you get eyeballs on your content, share your message with the world, and turn it into a profitable business.
The key is to focus on value: Care about your readers. Connect with them. And build your community.
And keep in mind, there's no one way to do it.
As Danny says:
"There are many paths up the mountain, and looking for the 'one true path' is probably the biggest mistake that you can make."
As you might guess, the best way to respond to a post about engagement is to, er, engage.
For more on building an audience, grab our checklist below. Use the checklist to figure out where you are in the audience building process and the best steps to take.
Audience Building Checklist
Download the complete checklist for building your highly engaged audience.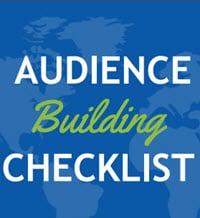 So pick your favorite tip and share it with your audience. Then share your best engagement tip in the comments.