Do You Make These Three Unforgivable Mistakes on Your ABOUT page?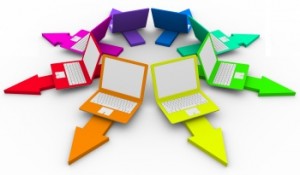 What's your about page like?
Does it boost your business?
Or does it chase potential customers away?
An about page is usually the second-most viewed page on a website. Only your home page gets more traffic.
Your about page provides a not-to-be-missed opportunity to connect with potential customers, to start a conversation, and to begin your selling process.
Let's have a look at the three mistakes that can make you lose potential customers. Avoid these three mistakes and you have a good chance of generating more inquiries and winning more business.
Sounds good?
Let me tell you how…
Mistake 1: You're Boring as Heck
How do you sound on your about page? Like a dull corporation? Or a friendly and approachable business owner?
When we write about ourselves in the third person, it's easy to sound stilted. Corporate speak can turn potential customers away because, let's face it – no one really likes corporations.
Avoid sounding impersonal and unnatural by trying these techniques:
Imagine you're having a conversation with your reader;
Address your reader directly and ask him questions in your text; use the word you;
Cut down on adjectives and adverbs because they make you sound pompous;
Avoid superlative claims because they make you sound insincere; if you're really the best, provide independent proof like a testimonial or test result.
Read your copy aloud. Does it sound like someone you'd like to do business with?
For more tips on telling a personal story and making a connection check out this post by Erica Lane on sticky About pages.
Remember: Your about page is the soul of your website.
Be human. Be yourself. People want to do business with you because of who you are.
Mistake 2: You're Blabbing on About Yourself
Your about page is about your company, your products or services, and you. Right?
Wrong!
The harsh truth is that people are, for the most part, more interested in themselves. They want to know what's in it for them.
Of course, you can share stories about your company, its history, and yourself. It will make you more approachable. But always consider: What's the benefit for the customer?
A potential customer wants to know why they should work with you. Why choose you rather than someone else? That's what you need to get across on your about page. Talking about yourself for the sake of talking about yourself doesn't get you anywhere.
4 steps to creating an about page that connects and sells:
Know who your ideal customer is. If your target audience is vague, your messages become wishy-washy, watery, and ineffective.When writing your about page, think about your ideal customer. Which questions will they be asking? What kind of humor do they appreciate? Which objections might they have to working with you or someone like you?
Use the words your ideal customer uses. Because it helps you to engage. Avoid marketese and gobbledygook. If you're not sure what this language is – research! Find other blogs and online spaces where your customer hangs out, and see how they describe things.
Make it clear to your ideal customer that they're in the right place. Tell them what you offer them and how they will benefit from it. How do you make your customers feel happier, healthier, or more productive? Which problems do you take away?
Choose stories that build your credibility and help connect with your ideal customers. While they may be mostly interested in themselves – people also prefer to do business with those they like and trust – and sharing about yourself (when it's for a good reason!) helps build that trust. Demonstrate through narrative why you are trustworthy, capable and skilled.
Remember: A good about page explains what you can do for your customers, and why they should choose you rather than someone else.
Mistake 3: You Don't Have a Call-to-Action
On many about pages you can read about a company and that's it. You have to go back to the navigation bar to decide what to do next.
Choice can lead to indecision and may chase your web visitors away.
If someone has just read your about page, it's likely that he's a potential customer. So make sure you encourage him to get in touch.
You could have a contact form, but an even better option is to get someone to sign up to your email newsletter. That'll allow you to build a relationship and start your selling process.
Check out the Mirasee about page and see how you're being encouraged to sign up to receive a free video training program.
Remember: your about page is a sales page. You need a clear call-to-action.
Two Awesome About Pages to Learn From
Example #1: MailChimp
MailChimp's about page portrays the company as fun and approachable. The language is conversational and addresses you as the reader directly. This is how the page starts:
"More than 3 million people in 200 countries use MailChimp to create, send, and track email newsletters. Whether you're self-employed, you manage projects for clients, or you work for a Fortune 500 company, MailChimp has features and integrations that will suit your email-marketing needs."
You see how that immediately sets the scene? MailChimp provides social proof by referring to 3 million customers; and then it suggests that you'll find that MailChimp can meet your requirements, too.
MailChimp's about page includes photos of people working at the company, including its founders. Everyone is smiling but not in a cheesy way.
They also use quotes to underline the company's personality:

I also love the big font MailChimp uses. The paragraphs are short. The text is engaging and easy to read. There are lots of pictures plus examples of customer e-newsletters.
Example #2: Social Triggers
The about page of Social Triggers features several pictures of its founder: Derek Halpern. But the text is not self-indulgent. The about page is clearly written with Derek's audience in mind. This is how he tells you you've arrived in the right page: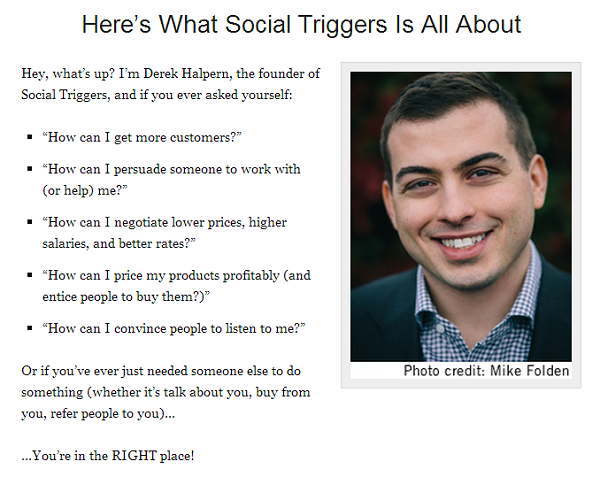 Derek Halpern goes on to explain how Social Triggers can help you get ahead in life and work. When he tells you about his blog posts, podcasts, and videos, he stresses what you, as his reader, will learn:
"Social Triggers, the blog, is where you'll get proven scripts that you can use in your business and life. Some scripts are about negotiation. Others are about persuasion. Use any of them to get more of what you want."
There's hardly any information about Derek Halpern himself on this page. He only highlights his past experiences to build credibility at the bottom of the page. Moreover, logos of various publications he's been feature in provide social proof.
Best of all? He encourages you to sign up to learn from him. Not once. Not twice. But three times! That's how you get people to take action.
How to Create an About Page That Boosts Your Business
Don't try to make yourself bigger than you are. If you're a solo-entrepreneur, be honest and don't refer to yourself as we – unless you're a king or queen.
People want to do business with you because of who you are.
Let your personality shine through so customers can get to know, like and trust you.
Your passion is contagious. So: Be yourself and have some fun!
When you visit an about page – what turns you off? What do you like? What, if anything, do you look for?
If you have any more examples of great About pages – let us know in the comments!