What Getting Pregnant Can Teach You About Marketing to Ideal Clients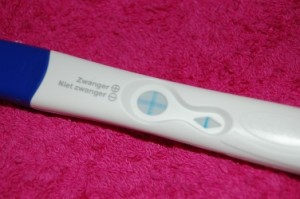 Don't worry. No one has to get pregnant (guys, you can breathe a sigh of relief now).
But it can teach you one of the most important concepts in SMB marketing — if not THE most important concept — one that you'd better be darn sure to understand if you are going to market your small business effectively.

Picture these two scenarios for a minute:
A young couple has decided they want to start a family. They are anxious to get pregnant and have been trying for a while. Finally, the aspiring mom is a day late and in anticipation rushes over to the pharmacy to get pregnancy testing kit. She wants to be absolutely sure about her bundle of joy. She looks on the shelves and spots a kit in a nice, blue package that says "clear", "confident", "reliable" and promises incredible accuracy. It's called ClearBlue. "Oh yeah, baby — that's what I need", she thinks. She buys it.
Now picture this one:
A young female student is studying for a mid-term and realizes she's feeling kinda "off". Like, nausea and woozy off. Isn't that weird — oh oh. She runs to her corner pharmacy, grabs a bottle of ginger ale and heads over to the aisle with the pregnancy test kits. A bright pink/red package grabs her eye, with a typeface that say "urgency", "speed" and "immediate". It's called First Response. "Oh yeah, baby — that's what I need", she thinks. She buys it.
Two different scenarios, two different clients.
Want to know the kicker? In essence, these kits were pretty much identical. Sure, there are some differences. One is very very very accurate because its ideal client wants to be absolutely sure of the result and they'd be very disappointed if it was proven wrong. The other is very very very sensitive because its ideal client needs to know, like, yesterday. But aside from that, it's pretty much the same product, because the accurate one is also pretty sensitive, and the sensitive one is also pretty accurate.
Most of you have seen the packages in question (or at least maybe stumbled upon them while lost in the pharmacy), so you know what I am talking about. Early in the Mirasee program, we discuss the importance of knowing your customer and defining your ideal client. Can you see how the in-depth understanding of the ideal client and the trigger that creates the need, helps with marketing the product? Can you see how they've really incorporated this understanding into all the branding associated with the product and its packaging? From the colors to the typeface to the name of the product itself.
So take a minute and think about *your* ideal client for your own small business marketing. Do you know your customer? Which three words best describe what they are looking for? Is it "clear", "confident" and "reliable"? Or urgency, speed, and immediate? Does your product or service's branding support these words? If not what has to change? Your branding? Or your target market decision?
Did this get you thinking? Share with us how this applies to your product or service below.