Want More Subscribers? Avoid These 8 Email Marketing Mistakes!
"Email marketing is where the money's AT!"
This has probably struck your eardrums for the billionth time right now…
And there's a reason for that. Simply put, it's true.
Research shows that email marketing is 40 times more effective at snagging new customers than Facebook and Twitter. Which is fantastic news for business owners and marketers.

Now while email marketing is a great way to ramp up business, it can soak up a ton of time, effort, and money when done incorrectly.
So here are 8 email marketing mistakes that are a danger to your bottom line. Steer clear of them to ensure that your business doesn't bleed cash.
Let's go.
Not Segmenting Your List
History shows that "divide and conquer" has been a great way to gain political power.
It's also a great way to boost email marketing power. Just ask Mailchimp.
When they analyzed the open rates of 9 million emails, they found that segmented campaigns have a 14.4% better open rate than non-segmented campaigns.
Another testament to the power of segmentation is from online retailer, Totes Isotoner.
They noticed most online shoppers came to their site and repeatedly visited one category more than others. So they reached out to those shoppers with segmented email marketing pitches about their favorite category.
The results?
It's safe to say they didn't just boost their revenue, they tied it to a rocket and blasted it into outer space with a 7000% increase in email marketing revenue.
It's wise to avoid generic campaigns where the entire list gets the same email. Instead, focus on a segmented approach when possible.
You can segment your list by:
Past purchase behavior
Vertical type
Email activity
Gender
Segmenting your list means that you're sending relevant messages that better identify with the pains and desires of your customers. This leads to less unsubscribes, increased open rates and higher click-through rates.
Not Emailing Often Enough
Emailing often will lead to people hating you and unsubscribing because they feel smothered and overloaded with information, right? Not really.
Email marketing experts like Ben Settle and John Mcintyre are huge advocates of daily emails for great business gains.
Ben even believes that anyone serious about email marketing should be sending out at least one email a day, and that you should sell in every email.
Kareem Mayan from SocialWOD started sending frequent emails to his list. He saw improvements with each email he sent, and his click-through rates climbed from 5% to 25.2 %.
When increasing your email frequency be sure to:
Educate and give value before selling
Use stories and open loops
Be personal and engaging
Use what Ben Settle likes to call "edutainment." Combine humor and personality with insights and information. This will deepen your relationship with subscribers, make you memorable, and more credible.
Test. There's no one size fits all for emailing frequency. The only way to find out is to test to see what your list responds to best.
Butchering Emails With Too Many Images
Spices make certain foods a real treat for your taste buds. However, too much spice can ruin a dish, leaving you desperately chugging down gallons of water while flapping at your burning tongue.
Considering they can cause a 42% increase in click-through rates, images are like the spice of emails.
They'll make your email more sexy. But overusing them, or using the incorrectly, can deal a deadly blow to your email marketing and leave a bad taste in your subscribers mouth.
When using images make sure that you use them to amplify and enhance your message
Relying on pictures to communicate your message isn't a wise idea when 60% of customers have images disabled. The image is there to simply emphasize your message. Your customer should grasp what you have to say despite there being no visual aid.
Decide if they work or not
Collect data about how many people click through on your images. You'll be able to see if images are increasing/damaging your conversions.
Use those ALT tags
If you have an HTML image tag you're in luck. Why? You use an attribute called alt.
This allows you to determine what text will be seen just in case your image gets lazy and decides not to load. Here's an example from Mr. Porter, a company that pulls in millions of dollars via email marketing:
Sending Out Sleep Inducing Subject Lines
Did you know that 35% of email recipients open emails based on the subject line alone?
This means weak subject lines could be causing huge losses.
It's the same principle behind sales letters and blog posts… to get your reader interested, your headline has to be irresistible. Likewise, to get your subscriber to open your email, your subject line has to leap out the screen and jolt him awake.
So how do you create subject lines that get opened?
First use these four words sparingly:
Help
Free
Reminder
Percent off
Mailchimp's analysis of subject lines concludes that you should avoid the words above because they're likely to reduce open rates.
Keep them short
More research by Mailchimp shows that the optimum length for email subject lines is 50 characters or less. The only exception is if your subscribers are highly targeted and are really keen on what you offer.
Make it benefit driven
Why should your reader open your email? Give him a reason.
Which subject line below sounds more clickable?
"Add more muscle"
OR
"How You Can Gain 10lbs of muscle in 3 months."
They both target the same reader, but the second is more likely to be clicked due it being more benefit driven and specific.
Below are good subject line examples from email "goo-roo" Ben Settle.


He blends humor, personality and a benefit driven approach to create clickable subject lines. I mean, who isn't going to click on an email that indirectly calls them a "fat dude"?
Check out these killer subject lines for more examples.
Not Using A Responsive Email Design
A responsive design is a design that adapts to the medium it is being viewed on. That means it's as smooth and clear on HDTVs, tablets or mobile phones as it is on computers.
Which is a must when research shows that:
41% of all emails are opened on a mobile device
42% of subscribers delete emails that don't display correctly on mobile phones
75% of Gmail users access their accounts on mobile devices. Gmail now has 900 million users.
Here are 7 pre-tested templates to help you get started with responsive emails.
Failing To Use Triggered Emails
"More than 60% of email marketers send automated welcome emails, and more than 50% send thank you emails. A smaller number send product recommendations." MarketingSherpa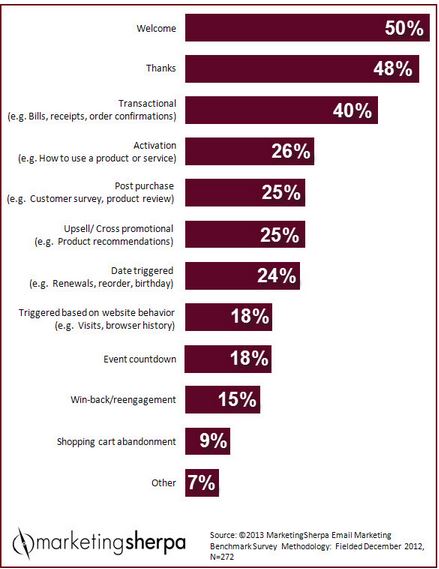 Triggered emails are emails that are triggered by events like:
A subscriber being non-responsive, which would trigger a reactivation series.
A lead subscribing to an email list, triggering a welcome series.
A customer abandoning mid-purchase, triggering a purchase abandonment series.
A customer purchasing a high-grade product, leading to an upsell series.
And when used properly they can put your email marketing on steroids.
Triggered emails have yielded over 100% higher click rates than non-triggered emails and 71% higher open rates.
One study even showed how a retailer used automated emails to generate 175% more revenue and boost conversion rates by 83%.
Why are they so effective?
1. They use customer behavior to segment your list
You've shopped on Amazon before right? (If not then congratulations on being 1 in a gazillion)
Then you've probably experienced how they send you emails based on what you've been searching for. I recently searched for some books on business and marketing. Look at what Amazon sent me after…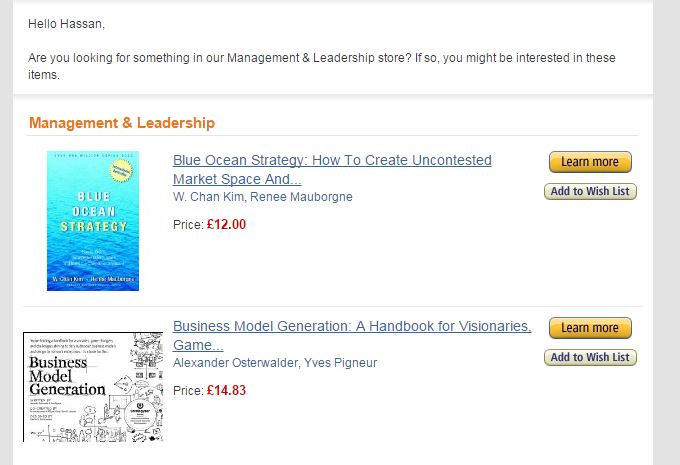 It's simple and effective and it led to me making a purchase.
2. Capable of using environmental triggers to engage subscribers
Triggered emails act on your customer's behavior. This allows you to overcome his objections and make him comfortable with your product/service.
For example, when your customer has whipped out his credit card and is punching his details in, it's safe to say he's interested. If your customer stops for whatever reason, your purchase abandonment series will take over and help you make the sale.
3. Eliminates you from the equation
One of the greatest things about triggered emails is that they do the heavy lifting for you. Once created, you have a reactive system that will boost your bottom line.
Ready to start using triggered emails?
Here's a free trial from GetResponse. Combine that with these great triggered email examples to help you hit the ground running.
Overwhelming Subscribers With Options
The New York Times conducted a study to test the influences of choices and options on buying decisions.
They gave various choices of jam flavors on two different days and measured how much jam was sold.
When presented with 24 different types of flavors, 60% of people tasted the jams, but only 3% actually bought anything.
However, on a day when only 6 flavors were available, 40% of people tasted the jams and 30% of them made purchases. Resulting in 600% more jam sold.
A common mistake that people make is sending emails that push readers into conflicting paths and give too much options.
Click To Tweet
While having a wealth of options may seem like a good thing, research constantly proves that it's not. So limit your options and stick to one call to action in your emails.
Using A Generic Opt-in Reward
The stronger the appeal of your opt-in reward, the higher your conversions will be. Makes sense doesn't it?
But how do you go about creating an opt-in offer that'll cause readers to throw their email addresses at you?
Start with your ideal customer. Step into his shoes. Get information on not just demographic but psychographics. What are their values? Dream solutions? What have they done in the past? The more time and effort you spend on this step the better your end opt-in offer will be.
Come up with your opt-in idea. Using the information about your audience, you can create an ebook, interview, template or drip style course that helps them. If possible, try making the opt-in specific to the content your audience is consuming. Brian did this and increased conversions by a jaw dropping 785%.
Test your opt-in and launch. Create a landing page to direct traffic to and test different opt-ins. Your bound to hit a home run if you keep testing.
Not Collecting Data To Drive Your Actions
What do you base your email marketing decisions on?
If you're just throwing different ideas out there and seeing what sticks, you're going about it the wrong way.
To make real progress with email marketing, you need to constantly test and collect data.
Take the best practices, do the opposite, add your own spin to things. Whatever you do, don't make blind decisions. Collect data and information so you can constantly upgrade your email marketing efforts and squeeze the maximum ROI from it.
Are you making any of these mistakes? Tell me in the comments below. I know I've been guilty of some.