Small Business, Big Vision: Tech Entrepreneurship Interview with Adam Toren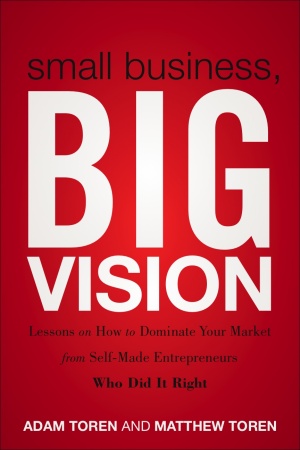 Want to see an *impressive* entrepreneur's resume?
Then check out Adam Toren, and his brother Matt.
At the urging of their grandfather, their first successful entrepreneurial venture started when they were 7 and 8 years old.
They went on to run a handful of profitable businesses while they were still in high school, and passed on full ride scholarships to college to buy an ailing billiard hall, turn it around, and sell it, all in only a year.
If you're looking for entrepreneurial inspiration, then these are the guys to look to. And if you're looking for success, you should be wanting to know what they know.
Conveniently, they've poured all of that knowledge into a book! 😉
I caught up with Adam Toren on the phone, and we spent half an hour chatting about two of their books, their business ventures, and their philosophy of early entrepreneurial education.
(Hint: Others say that it's never too late, but they say that it's never too early – and I agree!)
Without further ado, here's the interview, 28 minutes for you to enjoy:
Here's the full transcript:
Danny: Hi Adam. It's a pleasure to speak with you, and I want to thank you for taking the time for this interview.
Adam: Danny, I'm super happy to be here, and it's definitely my pleasure.
Danny: Great. For the benefit of our listeners, Adam Toren and his brother Matthew are some of the most active entrepreneurs you'll ever find. They run YoungEntrepreneur.com, Blogtrepreneur.com, they're investors in an app business called Websitez, they consult at BizWarriors.com, and they're the authors of two books now, one called Kidpreneurs, and another one that's coming out soon called Small Business, Big Vision. So Adam, where did this all start? Where did you and your brother first begin to work together in an entrepreneurial capacity?
Adam: Well Danny, first of all, thanks for that great intro, I appreciate it. You know, we grew up learning the entrepreneurial lifestyle from our grandfather Joe, and he actually set us up on our first entrepreneurial venture selling these little stunt airplanes called Dipper Doos. Have you heard of those?
Danny: I seem to vaguely recall them.
Adam: Okay, so we sold these little stunt airplanes at a local folk festival, and his goal was to teach us the proper way to use the stunt airplanes and really wow the audience, and it turned out that it worked, and we sold out of them before the folk festival was over.  Now, that's a great feeling for a couple of seven and eight year olds. So that's really when it started, that's when it begun for the Toren brothers and, and the entrepreneurial bug, as we call it, had taken its bite. So after that, we actually went from mini venture to mini venture throughout our schooling years. And we imported car stereo equipment, and I'm not sure if you were like me, but who didn't want a great stereo system and a boom box back then.
Danny: Haha.
Adam: It was quite a popular thing in high school for us. And it was convenient because our own cars, Matthew and my cars, were our showrooms as well. And, if you're wondering if we could bounce pennies off the roofs of our cars, yes we could, our systems were that good! So then we moved on to importing kids magic kits from Hong Kong. We set up kiosks, actually, in the malls, those little kiosks in the middle of the malls, in and around our city. And again, we sold out of them during the holiday season. So we learned a lot of really, really cool entrepreneurial techniques and made some good money along the way. And after graduating high school we took the money that we earned and bought a struggling billiard hall in an up and coming part of town, and this is actually where we learned the saying that you hear so often from entrepreneurs. We poured our blood, sweat and tears into that business. So, lots of long hours, huge branding, huge rebranding, I should actually say. We hired some key staff, we did super creative promotion for the venue, and a good portion of it was really good local PR. And we expanded the venue into a place where you could enjoy a game of pool, but then we got a liquor licence, so now you could enjoy a nice glass of wine while listening to a live jazz band on stage while playing pool. So it was, it was really a lot of hard work, flexibility, dedication and I guess the creative marketing and PR ideas, that the business actually quickly became THE place to be on Thursday, Friday and Saturday night with line-ups every single night. And as the buzz continued to build, we started to do private parties for the movie industry, because it was an ideal location and space was big enough to accommodate big, big groups. So, and the exciting part of this whole story here, intro wise is…
Danny: Well, all of it sounds exciting.
Adam: It definitely was. We ended our twelfth month in business, and we received an offer to sell it, so it didn't take long for us to realize that these long nights of sleeping on the couches in the actual pool hall had paid off. And we took the deal, and we moved on to our next venture, and then this time it was a totally different industry that we knew nothing about, and that was printing and graphics. And we found a struggling downtown printing and graphics company. We used the same philosophies and ethics that we did in the pool hall to overhaul and brand this small printing and graphics company. And then, when we went into it, Matthew and I said: "Let's try this time to make this a success, make it work. Let's try to sell it, before twelve months." On our eleventh month: success. We sold the business for a nice profit, and we took our graphic design team because the new owners didn't want to keep the graphic designers, they had their own team that they were brining on board. So we took them with us and we started a publishing and media company. And we published our luxury and lifestyle magazine for several years after that, and they had a combined readership of over half a million per issue. And two of those publications were acquired in the last four years and we still own one. And that was a huge, huge learning experience for us, still is. The learning curve continues. Especially being in the print medium, so we've had to do a lot of changes on the online side of things. The big thing here is that we realize that, that some things have definitely stayed the same since our first business venture, and that's our dedication, our work ethic our determination and our passion to help others start manage and grow successful business ventures. So there you have it.
Danny: That's very cool, that's a very inspiring story. It's, it's really interesting that you've gone through such a wide extent from, from business to business. And not just from business to business, which a lot of entrepreneurs do over the course of a lengthy career, but from industry to industry, that's, just how varied the different businesses are. Why did you do that, I mean, after you kind of grew a successful pool hall business, why wasn't the instinct to say: Okay, well why not, you know, we want another business, let's take on something that we know that we know how to do, like you know if not another exactly the same thing, thing but you know, whether it's a restaurant or a bar or a lounge or something of that style.
Adam: Well, I guess we got the kind of entrepreneurial bug that wants to learn other techniques and really diversify and expand our knowledge base because our true passion is helping other aspiring entrepreneurs start manage and grow business ventures. And if we were just laser focused on one specific style of entrepreneurship or one industry for this matter, then we don't feel that we would have been able to assist as well as we could if we had experience in other industries. So, just kind of took its path on its own. Nothing was charted, nothing was planned out, we just kind of made our own path along the way.
Danny: So is that kind of the consistent thread? Because, you know, there are a lot of businesses and, you know all the stuff you've mentioned so far doesn't even include the very large digital online kind of entrepreneurial footprint which is how I became introduced to you guys. Is the consistent thread not exactly education necessarily, but is it empowerment? What is the – there's got to be some unifying something that holds it all together.
Adam: Well, I think I'm going to have to classify that as just being a serial entrepreneur that really likes to learn, and when I say learn, I mean by trial and error, and the trials and tribulations of being an entrepreneur. So, both Matthew and I had full ride scholarships that neither of us utilized because we were so invested in this tech entrepreneurship at such a young age so, we, we consider all of these many business ventures many degrees of in the school of hard knocks or the school of trial and error or whatever suits it best. But that's really, how I think Matthew and I find ourselves going into various business ventures and we've learned along the way not to micromanage. So we've found people that are better than us to assist us with growing these businesses, so we can put some of them on overseeing and auto-pilot mode, so it helps us expand while keeping the companies moving at a good pace.
Danny: That's really cool. And I didn't know that you had put aside those scholarships in order to continue your entrepreneurial activities. I can certainly relate having left school when I was a teenager to start my first business. I'm very interested to hear, let's talk about Kidpreneurs. I'd like to hear where does the idea for that book come from, what is the intention with that book and what are your thoughts on education for children?
Adam: It's a great topic. It's a great topic, it's a hot topic, a lot of people want to know, because especially in this economic climate that we're in right now, people are wondering. And to answer your first question about where the idea had come up for the book Kidpreneurs is; right before my brother Matthew and I, right before we started writing the book, Kidpreneurs, my niece Alexis who was seven years old at the time, asked my brother: "Daddy, what is your job? What do, what do you and Uncle do as Entrepreneurs?" Know she obviously knows and knew what a doctor, a lawyer and a nurse did, but didn't know what an entrepreneur did. And I mean, this great country was founded on the principles of Entrepreneurship and we feel that kids need to understand the basics. So we, so we went out and we tried to find an age appropriate book that outlined entrepreneurship, and we weren't able to find anything that we felt would outline the basic tools and strategies of tech entrepreneurship in a simple, straightforward manner. So that's how it actually started. We went to start working on creating this ideal book that we wished we had as kids. So my brother and I set out, we authored our own book to teach children the same principles we'd been teaching adults and teens for years. And, the philosophy behind the book, Kidpreneurs is simple, and I think you'll appreciate this; it's that the future of our children begins with us. And most people say it's never too late, and my brother and I have always been saying it's never too early. And we feel that the benefits for an early introduction to the basic principles and the infinite rewards of entrepreneurship are massive, and they work for us and they work for people that we've mentored and that we talk to. And the Kidpreneurs book breaks down otherwise difficult concepts into fun, small, easy to read bites that any child can easily enjoy, and so Kidpreneurs was born. We feel that the book fuels a child's desire to get involved in business early. And it stokes their curiosity, and it's simple, engaging, creative and importantly, safe ways. That's how the book came about.
Danny: And what's the response been to the book?
Adam: The response has been absolutely amazing. And we didn't know how good the response would be when we were writing the book. We were essentially just writing it because, like I said, my niece was seven at the time and didn't know, so it startled us that she didn't know what an entrepreneur was. And we knew talking, you know to other parents out there that there was a need for a book like this. And in 2010 we were awarded the National Association of Parenting Publications Gold Award for the year, for Kidpreneurs. And now the book is, it quite often hits top ten Bestseller on Amazon under kids books, money and finance, and we're now getting requests from school boards, which is really exciting, for the Kidpreneurs books to be entered into the curriculum, so different states have already started asking for the book which is definitely a breakthrough in our minds, and I mean, like I said, Matthew and I have always said that's it's never too early to begin talking with kids about entrepreneurship. And like I said, it's never too early, and the future of our children is going to start with us. And what you say to kids abut it will change as they get older, obviously, but the first hint of the concept should begin very early. For example, it's very common for adults to ask little kids what they want to be when they grow up, right? You hear that quite often.
Danny: For sure.
Adam: And the meaning of this question, when asked by most people is usually: what job will you get when you grow up? Instead, from as early, I'd say from as early as three or four years old, I encourage parents to ask their kids: "What kind of business would you like to own when you grow up?" And you're obviously not having lengthy conversations about entrepreneurial concepts, at three and four years old, but you're creating the basis for those conversations later on. And of course if a child wants to be a firefighter or a police officer or a doctor, a lawyer, whatever, we would never discourage them. It's more about opening their minds up to all the possibilities that are out there, and teaching them the basic principles. Whether they're going to be an entrepreneur, or maybe their friends are going to be entrepreneurs or small business owners. They just need to know the basics. And the benefits of an early introduction to the basic principles are huge.
Danny: It comes to create a literacy. Because, I mean, the idea is so far beyond just kind of the scope of the expected reality for most people who go to school, it's not something that is taught or talked about or thought about.
Adam: Exactly.
Danny: Which is unfortunate.
Adam: Exactly. What are your thoughts? I'm just curious; you said that you are interested in the topic – what are your thoughts about early entrepreneurship introduction to kids.
Danny: I'm very interested in the topic. I actually came very close to doing a PhD in early entrepreneurial education and decided to stick with running my business for the time being.
Adam: Oh wow.
Danny: I think it's incredibly important. I have a lot of issues with the formal education system in general. I think education's incredibly important, and I mean, it's ironic, I mean, as a guy who dropped out of school when he was fifteen to start his first business, most of my companies have involved education in some capacity. I mean, I've run literacy education start-ups a few years ago. Most of my current businesses involve education and training in some capacity, my consulting work involves a lot of knowledge transfer. I believe very strongly in the importance of education. I think the way education is formally done… there's a lot of room for improvement. A lot of the stuff kids learn in school is arbitrary, not necessarily relevant and not necessarily age appropriate.
Adam: I agree.
Danny: So there's a lot of room for improvement, and in the areas where entrepreneurship touches this is a very empowering space of: "Think about what you want to do and what you want to create and then create a plan to make it happen." That's what entrepreneurship is about at a very fundamental level, right? And whether you actually take those skills and then go on to create businesses your whole life, or, you know, you end up being a doctor or a lawyer or a candlestick maker or whatever, but; life is full of projects.
Adam: Right.
Danny: It's full of challenges that require novel, creative solutions to be conceived and then executed. That's what entrepreneurship is about; I think it's a critical skill for kids to have.
Adam: It is! And I think, from what I hear, just in, in the talks, there is a bit of a movement, so to speak, and I think that we're going in the right direction. It's going a little slower than I'd like to see, and by the sounds of it than you'd like to see, but we are going in the direction that I think the schooling system is realizing that in this current economy, if we don't teach our kids the basic principles of entrepreneurship and learning about how the economy works and how a small business works, then we're going to find ourselves in a situation that we don't want to be in. So it's definitely a timely conversation to have.
Danny: I absolutely agree. Look, I mean, we could talk about this, probably for hours.
Adam: I agree.
Danny: But let's keep going. Tell me about, how did this lead to Small Business, Big Vision?
Adam: Okay, well Small Business, Big Vision. I can definitely start by saying we're very, very excited about Small Business, Big Vision.  For several years now our focus has been on helping entrepreneurs succeed, as I've said, and we feel this book does that in a huge way. We looked at the most common questions we hear from entrepreneurs. Whether they're just starting out, or they've been going at it for quite some time, and Small Business, Big Vision actually talks about the very important principles of starting, managing and building successful business ventures. And we not only talk about our own philosophies, and things that have worked for us, but we also talk about the profiles that we feature in there… they back up what we say. So we have, Gary Vaynerchuk for example, talking about social media marketing. Matt Mickiewicz, co-founder of Site Point and 99 Designs and Flippa in the book, and he's an amazing entrepreneur. And we talk about all sorts of things that all have to do with the entrepreneurial formula. So we're definitely excited about Small Business, Big Vision and we are really looking forward to it coming out here on September 13th.
Danny: Cool, which is just a few days after this interview is going to go live on Mirasee, so there's going to be a link for the benefit of our readers and listeners, there will be a link within the transcript. Follow those links go to the website; find out, I'm sure you have a pre-launch set up. So sign up for that and when the book comes out go buy a copy.
Adam: Yes, we have the pre-launch set up already at SmallBusinessBigVision.com.
Danny: Perfect. So tell me a little more about this formula for tech entrepreneurship and for businesses, what does that involve?
Adam: Well, we've always been big believers in bootstrapping business ventures, and there are several advantages to building a business without investors being involved. Primarily, you keep 100% control of your business, and you're able to peruse your business for what you want your company to be. And of course, you get to keep all the profits too. Now for some businesses, bringing in an investor does make sense. For example, if you need a few hundred thousand dollars to have a prototype made for a product you've invented, or if you need to assure your distribution channels that you can produce enough product to satisfy them, then, you know, that's a good time to bring on an investor. And when that's the case, it's important that an entrepreneur looks for a collaborator, not just someone with a lot of money. And the advantages of an investor should go way beyond the cash they bring to the deal. You're going to want to find someone who's going to work with you, and offer their expertise to help build your company. And this will, most likely, allow them to bring their list of contacts on board, their relationships that they have, and the experience that the entrepreneurs need to grow their businesses for the long term. So I usually think of it like this: a bank is just for money, and an investor, ideally, should bring much more to the table, and that's actually a chapter in the book that we talk about.
Danny: You're basically looking for smart money, that's, you know, because there are so many strings that come with all that money that, there better be more on the table to justify it.
Adam: Exactly.
Danny: So Adam, you mentioned this formula for business or for entrepreneurship, and I guess what you do in the book, you know over the course of the chapters, you touch on all these different elements. Maybe you could walk us through what you cover in the book and the different sections?
Adam: Sure, sure Danny. Well we looked at the most common questions that we hear from entrepreneurs, whether they're just starting out or they've been in business for a long time, and we provided answers in the book. Questions like: Do I need a business plan? Do I need outside financing, and how do I find it? And, how do I know if it's the right time to hire employees? These are all things that we hear quite often. We also covered how to use social media to market your business, how to become a recognized expert in your field, and how to turn around a struggling business. Those are all very, very important details, and those are just a sampling of what's in store in the book. And the book provides practical, useful advice on these topics.
Danny: So it's not just all theory.
Adam: Exactly. Because we don't just talk about our own personal experiences, like I said, we then take it a step further and back up our own advice with the advice of some of the most successful entrepreneurs out there. And every single chapter has advice and lessons from self-made entrepreneurs who have been wherever the reader is now. So it's very relatable, very timely. And, what can I say? Buy Small Business, Big Vision, the book we wished we had many, many years ago.
Danny: It sounds like a lot of fun. We are running a little short on time, so I want to kind of steer us towards wrapping up, but I do have a couple more questions that I want to ask.
Adam: Sure.
Danny: One is, you just mentioned a formula for turning a business around when it's struggling, and you know, we see a lot of that, and I'm sure a lot of our readers would be interested in hearing what that formula might entail –could you share that?
Adam: Sure. In one word, Danny, I would say flexibility. Earlier I mentioned that, well I feel that perseverance is a common characteristic of many successful entrepreneurs, but that doesn't mean that you will never change course, because really, every company comes up against some type of challenges, we all have, and most face significant obstacles at some point. But the key to dealing with them is flexibility. And we've looked at Matt Mickiewicz, co-founder of Site Pointand 99 Designs and Flippa in the book, and he's a perfect example of this concept. Matt's a good friend of ours, and we learned his story earlier on, and he actually had to reinvent his company to keep it afloat after the tech bubble burst eleven years ago. And his willingness to remain open to change, and his, his actual skill in identifying opportunities with his business model allowed his company to not just survive, but come out of a challenging time, because I remember it too, cause that's back when we launched YoungEntrepreneur.com back in '99, and he came out much stronger than before. If he had just stubbornly stuck to the original business model, there would likely be no SitePoint or 99 Designs today. So flexibility is the key to turning a struggling business around.
Danny: Cool. So Adam, before we wrap this up, there's one question that I want to ask, and this is a question that I ask of all of the people that we interview for Mirasee, it's to make sure that our listeners walk away with something really clear and actionable, and that is if our listeners who have been listening to this interview or reading the transcript, they've gone the last twenty minutes, half hour, they've been totally wrapped up in what we've been saying,  they've really been enjoying it, they're really learning a lot they're really excited about everything you've been saying around entrepreneurship and around just the whole process of putting an effective business together and thinking in a  very entrepreneurial way, and they're saying I want to put some of this into practice. I want to take some of this information, create something better out of my business. I'm clearing my afternoon; I'm going to put three hours into practice the stuff that Adam's been talking about. What should they do with those three hours?
Adam: Hmm. That's a good question. A really good one. Three hours, eh? Three full hours. Well, an entrepreneur day often ends up being filled with small tasks, and fires to put out. Sometimes big fires, sometimes little fires, but, especially if you're a solo entrepreneur, you have to wear a lot of hats. There's no if ands or buts about it, you're going to be wearing a lot of hats. And when you're getting started, you're the accountant. You're Danny the Admin, you're Danny the Marketing Department, you're Danny the Customer Service guy, and very importantly, you're Danny the Sales Team. And if you have employees it's not necessarily any easier or any better, or any less hats. In fact, having a staff usually adds to your daily workload. So if you're able to clear a few hours today, this is what I would do: First, I would commit to doing that more often, clearing a few hours, and then use that time, and actually focus on two or three things that will truly move your business forward. All those daily tasks might be necessary, and they might contribute to incremental progress, but they aren't likely to really give your business a significant boost, the type of boost you really want. So think about what you've been putting off, or wish you had the time to do. And it could be, let's say, making a call to a big potential client. Or maybe it's finally implementing that marketing plan that you haven't looked at since it was created months ago, and it's just sitting in your inbox or your drafts or wherever, maybe in your computer. And for some entrepreneurs out there, it might just be reaching out to a mentor or a potential joint venture partner. It's going to be different for everyone so you really have to figure it out for yourself. But the point is: it's important to take time on a regular basis to really proactively push your business forward. Not only are your going to see huge growth results in your business, but you'll probably also have a lot of fun with it, and getting away from answering emails and actually working on your business can be invigorating at times, and I, both my brother Matthew and I, try to do that quite often, we actually try to clear our schedules for a full day, one day per week to really focus on some of these big things that really try to help push that business to the next level.
Danny: Awesome. Adam, that's fantastic advice. I think I should aim to do that quite a bit more than I actually do.
Adam: Well, it took us many, many years to realize that that was one of the many missing ingredients in making all of the wheels spin the way that they're supposed to be spinning.
Danny: Cool.
Adam: So yeah, I'm a big believer in creating that time and really focusing on a couple of things.
Danny: Awesome. Well, Adam I want to really thank you for taking the time to do this entrepreneurship interview. I've enjoyed it, I know it's going to be very valuable to our listeners, and I wish you tons of success with your dozens and dozens of businesses and upcoming book!
Adam: Likewise. And I'd like to thank you and all of your listeners as well. This was great, I really appreciate you reaching out to us.