7 Lethal Marketing Mistakes You Can't Afford to Make
Content marketing can be a serious pain.
You drill into your tired brain and dig out lessons for your readers, hours of researching, and reading leaves your eyes feeling like dry wood.
And you ruthlessly edit your work with the hope it helps your readers and generates sales.

But despite your hard work, you're not getting a good return for the brutal effort that you put in.
You feel like you're just… wasting your time.
So what's going on?
Chances are, you're making some mistakes. Mistakes that are damaging your business and undermining your content marketing efforts.
So here are 7 lethal content marketing mistakes you can't afford to make.
Steering clear of these mistakes will catapult you above the noise and help you use content marketing to attract a bigger and better audience to shoot up your business growth.
Let's go.
#1 No (Effective) Call to Action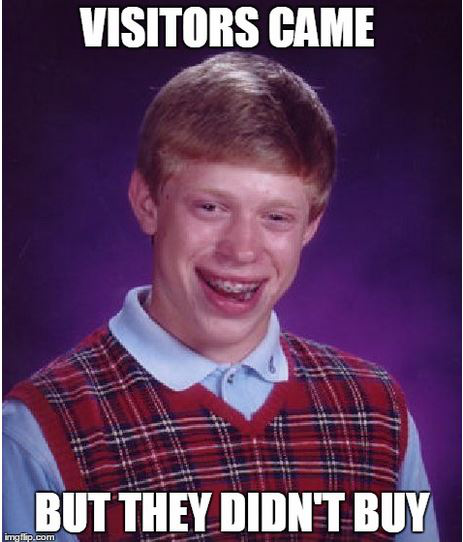 Imagine heading over to a fancy restaurant for dinner. You've seen the place before. You've heard good things about it. So you decide to try it out.
Everything seems cool. You sit down and eagerly search the menu, your mouth is watering just reading it. But there's one problem…
There's no way to order, and there's no mention of what to do once you've chosen what you want…
And since you can't order that delicious looking beef lasagna with garlic herbs and crispy onion rings, you leave.
Sounds like a silly way to run a business doesn't it?
Well, when you don't use a CTA on your site and content, you're doing the exact same thing. (And according to small business trends, 70% of small business don't have a call to action on their homepage.)
With regards to your website, you've already sold the consumer on clicking through to your site, he's read an article or two, and then… click.
There was nothing else for him to do. He's gone. Forever.
Once your prospect is finished with the initial content he came to consume, build a relationship by inviting him to take another form of action.
You can:
Ask him to subscribe
Ask him to download
Ask him to read more
Ask him to comment
Ask him to share your post or website
There's a variety of CTAs you can deploy. But the trick is to use a call to action that aligns with your content marketing goals.
So instead of randomly picking a CTA, ask yourself: What's the most important action to take after absorbing your content?
Do you want to build an engaging audience? Tell them to comment their thoughts, offer help, and ask them to subscribe so you can help them regularly.
Want to build a huge subscriber list? Ask them to subscribe with pop ups and be sure to convey the mouthwatering benefits that being a subscriber has. (Pop ups are powerful way to capture subscribers. They've been proven to swell subscriber numbers by 1,375%.)
Want them to read more stuff? Link to more articles.
Want them to share the post? Include share buttons and again, ask them to share.
You get the idea.
#2 Restricting Yourself to One Form of Content
Content marketing means more than simply creating a blog and publishing posts. That's only one form of content marketing.
There's a ton of content types that can excel without a blog:
Videos
Infographics
Podcasts
Interviews
Webinars
Presentations
Everyone absorbs information in different ways. Some people feel "scrambled" when something densely populated with words pops up. Others rejoice in learning visually with pictures and infographics.
That's why it's important to be open to more than one form of content.
You can instantly make great leaps in your marketing by producing more visual content. Why?
A study by ROI Research shows that 44% of online users are more likely to engage with brands that use visual imagery and dynamic content (like video). That's why sticking to one form of content is like telling a big percentage of your audience to take a hike.
Also, according to WebDAM, the human brain processes visual data 60,000 times faster than text. And according to unbounce, in the last two years demand for infographics has soared by 800%.
While videos and infographics are proven ways to power up your content marketing, it's best to test and research your own audience. Throw in a podcast or an interview and judge your audience's response.
#3 Lack of Keyword Research
To understand the impact of keyword research, let's say you own a fitness website that uses content marketing.
Now let's say you create a post/video about fat loss, but you're a little unsure about your headline. You can choose any of the following:
"How to blast off belly fat"
"How to quickly reduce body fat"
"How to get insanely huge, ripped and vascular"
Here's where keyword research swoops in to play.
You see the headlines might have similar content, but… they appeal to different people with different problems and goals.
So if your audience is made up of individuals with average fitness knowledge, whose priorities are slimming down and shaking off a little puppy fat…
The "how to get huge" headline will be as effective as a press up in a jumping jack contest.
The first two headlines are guaranteed to generate way more traffic and business; because they match the language that your audience uses to answer their specific pains and problems.
Would you squander thousands of dollars (and a huge chunk of time) to launch a product without knowing:
What pain your product solves?
Who is likely to buy and why?
You wouldn't…
So why throw your time and effort into creating content without knowing:
What pains your content solves?
Who your potential audience is, and what they're searching for?
Blindly blasting out content without considering your audience is, and how they're searching for solutions is a waste of time.
You don't have to be an SEO wizard to boost business with keywords. Just be sure to:
Stop making assumptions about your audience
Ask yourself… is the keyword relevant to your content?
Search for the keyword in major engines
Test your keyword conversions with a sample campaign at Google ads
And be sure to check out the Ultimate SEO Guide.
#4 Weak Content Promotion
Build it and they'll come running, right? Well, not really.
The days of publishing content and having thousands of eyeballs reading it are over. The internet is saturated with content, which is why you have to ensure your content gets to your audience.
Creating content and expecting people to find you is an excellent way to get nowhere… real quick.
So apart from sharing on social media, what else can you do to get your work noticed?
Ask influencers for quotes and facts that you can put into your posts
Weave tweetable lines and statements into your posts
Email anyone who you mentioned in the post. They'll most likely share it
Contact people who've shared content similar to yours
Turn your content into video, infographic or presentation
Simply churning out good content isn't enough.
If you spend 15 hours creating content, be sure to spend at least 7.5-15 hours promoting.
Click To Tweet
#5 Not Measuring Content Efforts for Maximum ROI
Content marketing isn't cheap.
If you're producing content yourself, it takes plenty of elbow grease. If you're hiring out content creation to someone else, it's still going to cost a pretty penny.
That's why:
Failing to measure the ROI from your content marketing efforts is a big mistake.
Click To Tweet
Most small businesses understand certain aspects of content marketing, but fail to grasp the necessary pillars for success, which are:
Creating valuable content
Promoting content
Measuring and tracking results from content
Optimizing that content for maximum ROI
Tracking ROI from your content marketing efforts is essential.
It allows you to gives a deeper insight into your audience's world, and shows what type of content gives you the best ROI, which means you can create content that's even more valuable for you and your audience.
Also, knowing more about the content needs of your audience will allow you to create products, opt-ins, content, and courses that generate more business.
To get a grip on measuring your ROI from content marketing, start by learning the basics of Google Analytics. This will help you understanding what's happening on your site. And be sure to answer the following simple questions to measure your ROI.
How many people viewed your content, measured in views, downloads or page views?
How many people share your content with others?
How often do people who consume your content turn into leads or customers?
Keeping the questions above in mind will give you a powerful understanding of your content marketing and will allow you to quickly maneuver in the right direction if you go off track.
#6 No Content Calendar
Using a content calendar can have a huge impact on your content marketing productivity. It helps organize your content and creates a schedule and frequency that appeals to your audience.
Instead of having to write new posts every week, have a few posts written and scheduled beforehand so you can focus on other aspects of your business.
Just install the free WordPress editorial calendar, and plan out your content from there.
#7 Wimpy Content
The worst mistake any content marketer can make is yawn-inducing, wimpy content.
Your reader is already paying you with his time and attention, and if your content doesn't satisfy him… guess what? He's gone.
Creating content that grips your audience isn't hard, it just takes a little effort.
Yank out sophisticated babble and filler words, then dig them and throw them in a ditch.
Keep your sentences short and sweet.
Inject personality in your content. You're talking to a living breathing human, not a robot.

If you're making a video, smile a little… crack some jokes.
If your writing, use powerful verbs, tell stories and ask questions.

Charge your audience with emotion. Use powerful words and verbs, sprinkle in personal stories and give out small snippets of your personality to jolt them with a current of emotion and bond with them.
Don't cover a post that's been used a billion times before. If you do, be sure to have your own unique spin on it.
If that sounds like a handful, the easiest way to instantly make your content more captivating is to imagine that you're talking to friend.
Imagine you're both having an animated conversation over coffee, and you're excited to share information with him.
This will naturally force you to strengthen your content delivery and make learning from you more engaging.
Content marketing is an awesome way to generate business, but you have to be careful.
A couple of lethal mistakes can minimize results or worse, render your efforts useless.
What's your biggest frustration with content marketing? (I hate promoting content…bleurgh.) Let me know in the comments below so we can help you!