How to Double, Triple or Quadruple Your Writing Speed… Today!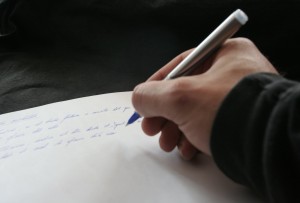 It's great to see so many people give us advice on how to better promote ourselves and engage with our audience.
Like the guest post on guest posting the other day: That's excellent stuff, and it was heartening to see in the comments how many people were inspired to start writing more.
Something that doesn't get mentioned nearly often enough though, is how to actually write.
You know, the process of getting those words on your screen in the right order.
Especially, how to write with ease and speed. And without too much frustration.
I'm a writer by trade, and I can tell you I know how stupidly difficult it can be some days.
Here is a basic and simple, yet incredibly effective strategy that writing pros use to get to their daily word count without going bonkers.
Put these into practice and be serious about it, and you'll boost your writing speed to that of a true ninja within a month.
Try this today, because I'm pretty sure you'll see results instantly.

Basic Writer's Identity: Three Hats
I'm not the first (or only) writer to talk about this approach, but it's so important and so radically useful that I decided to give it the Stellar treatment just for Danny's readers.
Here goes:
There are three distinct phases you go through when you write. The more you are able to separate these, the faster and more fluidly you will write.
Let me explain.
Every writer, professional or otherwise, has three personas dealing with the job of creation.
1. The Inventor
This is the inspired visionary, the person who comes up with the great ideas.
This one is at work when you stare at the wall through the mist rising from your coffee.
The visionary is the guy who suddenly tells you: "Pull over, you gotta write this idea down".
2. The Writer
You writer is the guy who has to do all the hard work. He has to take the Inventor's ideas and turn them into something legible and coherent.
The best way to do this – as I'll explain in a minute – is to write as if you're on fire, without stopping.
Writing speed is all that counts at this stage.
That does of course mean mistakes, and plenty of them – and that's why you have an Editor.
3. The Editor
Once your Writer is done, the Editor steps up.
He sits down, looks at the unbelievable mess the writer created, and in that mess he finds the meaning, the message.
He's like that sculptor who says: "There's an angel hidden in this block of marble. I'll chip away at it until it's the only thing left."
The thing with these three personalities is that you should bloody well leave them alone when they're doing their thing.
I'm saying: If you're contemplating what you're going to write, your Inventor is hard at work trying to invent something.
If at that point you bring in your Writer and already start building phrases or outlines, you stifle the right-brain creativity that the Inventor needs to do his work.
Just let him cook up whatever idea he's toying with. When he hands over the idea to your Writer, that's when it starts to make sense.
Blank Page Syndrome Much? How to Shut Up Your Writer Forever
Your writer is typically an unrecognized genius.
He's able to craft a story, an interesting and engaging exposition, of the ideas the Inventor creates.
His skill at filling in blanks, making connections, deftly wielding wordage to astutely convey a message – it's all pretty amazing.
Problem is, if there's one thing that will shut up your Writer instantly, it's the Editor putting his nose where it doesn't belong.
How do you know when your Editor is messing with your Writer?
The backspace key.
See, a Writer is a creator. He'll get far more creating done if he isn't interrupted.
And each time you hit the delete or backspace key, you are stopping the creative flow the Writer is in.
Just leave him alone. Let the Editor just wait his turn.
He's the one who will make it pretty, fix errors, move ideas and content around for better coherency – and he's very much the guy who is there to scrap as much as 50% of what the writer turned out.
But not until the writer is done and headed for coffee detox.
Putting it Into Practice: Fast Writing, Today. Here's How…
1. Go to your thinking place, and reserve some time to spend there. For me, 10 minutes is usually enough to come up with an idea for a blog post. If you need an hour or a day, that's fine. Just make sure you're not writing – you can jot down notes, but keep it mind-mappy. Don't write.
2. When you have a reasonable idea in your mind (or on paper), get out your favorite writing configuration. Coffee, music, the right chair, your cat – whatever works best for you.
Personally, I like to set a time for 33.33 minutes, during which I write-write-write and am not allowed to get away from my keyboard.
At this point, you need to firmly resolve that forward is the only way.
You're NOT going to touch the backspace key. Not allowed.
You're just going to get ideas onto 'paper', as many as you can, as quickly as you can.
Your Writer is now boss, and he wants full liberty to say whatever he can come up with about the Visionary's ideas.
Just let him run with it. The more you write, and the crappier it is, the better. Really.
Write until your timer rings, or you reach the end of the article you're working on.
Take a break.
3.  Best is to give it a day. That way you'll come back fresh and open-minded.
It's time to let your Editor do his thing.
Very likely, you'll remember the draft from the day before as truly an utter piece of unusable crap.
And hopefully, it will be.
Because once you open the doc and you let your Editor's mind go over the copy, you'll see that in between all the errors, there are fantastic ideas, ready to just be extracted, cleaned up, and put in the right position.
Exactly the kind of job your Editor excels at.
Before you know it, you'll have a perfectly publishable piece of writing that just needs a final proofing.
Am I making sense, do you see how it works?
Try it. You'll be amazed.
Let me know in the comments how it went and how much you increased your writing speed.