Do for a Year What Others Won't Then Live for a Lifetime as Others Can't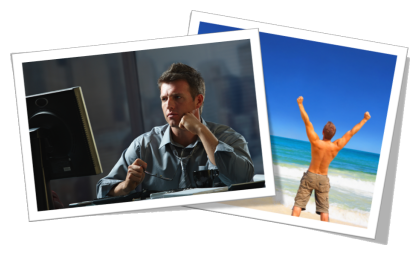 Why do so many people play the lottery each week despite the fact that there are higher odds of them dying before the draw than actually winning enough to retire on? Quite simply it's because most people want something for nothing. It seems far easier to simply buy a ticket and try to win their million dollars than to work extensively and consistently over a long period of time for it. That's just boring.
Unfortunately we live in an age of "push button" solutions to everyday problems which, even if they don't work, sell enough to be worth producing simply because of the uncontrollable interest in such products. Software that promises to flood your website with traffic overnight. "Guaranteed" systems to make you thousands of dollars by the end of the month. Miracle weight loss pills. Microwave dinners.
They all promise effortless results – but they very rarely perform as promised. Real results require real effort and trying to "game the system" is a roadmap to mediocre results at best.
Working or Hardly Working?
The fact is that we live in a competitive world. Taking the "easy" route out rarely works simply because there is always someone else willing to actually put the time and effort in while other people just want to pop a pill or pay for a service and then get on with their everyday lives.
Take search engine optimization as a perfect example. The "push button" solutions involve the use of software and services to blast your links to thousands of other sites in mere minutes. Of course the kind of sites that accept these links are generally poor quality so these links have little or no worth irrespective of how many you build.
Contrast this to the marketer willing to put the time and effort into effective link building. They write guest posts on authority blogs. They network with the players in their niche. They get active on Twitter and Facebook. They consistently build their influence and over time their traffic grows.
Sure the first marketer may see an initial increase in traffic but this will quickly die away. The other marketer is in for the long haul. The other marketer will be sipping cocktails in the sun while the "push button" business owner frantically tries out the latest reincarnation of the software that didn't work to begin with.
Success in the Face of Long Odds
Let me give you a personal example that involves an internet business I started some years ago. The business was in a very competitive and profitable niche where I was competing against hundreds of professionally-run and well-funded companies while my team consisted of just me and a few outsourcers.
You'd think my odds for success were slim against these odds but I played the long view. I consistently did the things that the big companies weren't able or willing to do and ever so slowly I saw my traffic and profits increasing every month. After a couple of years of effort my site was finally ranked as the single most visited site in my niche. I competed against, and beat, companies spending crazy amounts of money on advertising each month.
Why? Is it because I am a genius? Far from it. I built a dominant internet business by investing a tiny amount of money and a lot of effort and creativity. Contrast that with the "push button" solution my competitors were using simply trying to throw money at a problem and hoping to find a solution.
As a side note once I gained the top position these same companies I was competing against started to contact me on a regular basis hoping to advertise on or buy my website from me. More dollars thrown at the problem!
There's a Price to be Paid
The fact is that if you want to succeed in life you need to pay the price. The price may not be monetary. It may be time. Effort, Self discipline. Less TV. Missed days out with your friends. The odd late night. But there is always a price and to be successful you need to be willing to pay it. You need to take the long view and do what it takes to make your business a success on a daily basis.
If you want to lose weight you need to control your diet, learn about nutrition, exercise regularly and so on. The diet pills alone won't get you where you want to go.
If you want to cook incredible meals then sticking a ready meal in the microwave isn't going to make you Gordon Ramsey. You need to focus on your craft, learn to pick out winning produce and combine it in interesting, creative ways.
If you want to know how to be successful in business you have to reach out and be receptive. For business success, you need to put the time in to create value for your website visitors and customers. You need to be unique-enough that people sit up and take notice (and tell their friends). You need to offer great customer service. You need to invest.
Yes folks – you may even have to work a lot of hours – at least initially.
The keys to success are to be persistent and consistent. Woody Allen said that 90% of his success can be attributed to simply turning up. He never gave up, never gave in.
I know a lot of people who play the lottery and yet I don't know a single person that has won big. On the other hand I know numerous people who have started their own business, worked hard and are now living the "millionaire lifestyle" as a result.
Appreciate the benefits of hard work (and the limitations of "push button"). Be willing to pay the price or go home. Because if you're not, you'll only be wasting your time.