What IS a Virtual Assistant (And How To Market Effectively with the Help of One)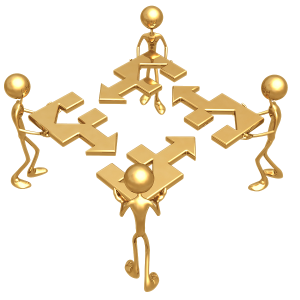 When you market to your potential prospects and they respond, it feels like magic.
They click on links from your email campaign or respond to your status on Twitter and/or Facebook. Not only do they respond, they share the information with their friends and business associates because of the value of your product or service and the magic continues.
That feels GREAT right?
The momentum begins. Your plan is working. You are delivering what you promised. Now what?
How will you maintain and receive repeat business or referrals?
What about those that did not participate the first time, how will you continue to market to them?
Are you prepared to handle the responses to your campaign?
Are there opportunities to follow-up with those that are not ready at the moment, interested, but they want to wait?
Maybe your message was lost in the mix of everything else and you need to put the message out there again.
Optimize your marketing efforts and goals, build a team. After all, now that you are growing you cannot continue to do everything yourself.
It is time to take your business to the next level fulfilling the ultimate goal – GROWTH.
Enter the Virtual Assistant
One of the members of your marketing team is a virtual assistant. A virtual assistant plays a key role in support of your marketing efforts/plan.
A virtual marketing assistant can take the leadership role in:
Assisting your marketing coach or mentor in planning and coordinating your marketing goals and objectives.
Creating marketing materials such as sales pages, newsletters, brochures, flyers, press releases, email campaigns.
Develop questionnaires or conduct interviews to obtain the required information.
Managing promotion via social media updates.
Following up with clients/customers.
Set up auto-responders and more.
As a marketing virtual assistant I intricately learn your product or service as well as your business. This knowledge aids in support of your business with basic Internet marketing programs.
Delegate what you feel is important yet time consuming, you save money. Think about what you charge and where YOUR time should truly be spent.
One example:
I have a client that I have worked with for more than 5 years. She has a local business TV show where she interviews and promotes other small businesses. She is also starting a new business that does not exist in the United States so many things need to be created to fit the US markets.
For the show, I provide a letter to each guest with details about the taping, follow up to make sure they receive them and answer any questions they have. I am available via telephone on the day of the taping in case they get lost, or for any last minute changes for she is spending her time with other staff members preparing for the show.
Her new business requires more start-up needs. I created a new form for people to join, a new logo similar to the other one she has to have consistent branding, a "Save the Date" card to promote the grand opening of the new office.
She leverages her time spent on the most important aspects that only she could do and delegates those important marking support items that are also critical to her success.
Once the marketing materials are done, website updated, it's a matter of helping to promote the event on the various social networking platforms, email campaigns, auto-responder, etc.
I have become such an integral part of her business that her clients come to her events looking to meet me!
The length of time we have worked together is beneficial as I now know her style, her services and products, colors and various other components important to her brand. She merely sends an email with the request and I fulfill the need.
One important thing to keep in mind…
I am always on the internet reading, searching information about new technology and processes, and reading blogs. I am always paying attention to how others are marketing and the success they are having or have not, so my clients are always seeking advice and suggestions for their products or service.
Quite often we brainstorm ideas and thoughts and make recommendations to each other. With all the information available, this is another way we help each other by sharing the success we learn from others.
Once your team is built and they are connected to you and your brand, the less you will have to initiate to ensure that your processes and needs are followed. Utilize your team to create and sustain your marketing system so as each promotion begins and ends, everyone knows their role and the steps to take.
Have you considered the idea of working with a virtual assistant? What about it has grabbed your interest, and what has held you back? What is the biggest challenge that you face in letting go of some of your marketing tasks?