16 Design Mistakes That Make Visitors Bounce From Your Website – And How to Fix Them
Admit it…You're confused.
You've been told again and again: web design really matters. Your website is the window to the world.
You're pretty sure your website design ticks all the right boxes. You have professional photos, a logo, a sign up form, and your website has a brand image.
And that's good, right?
But your website is not converting as successfully as you'd hoped, and you start to wonder… could it be the design? Because you know that website visitors have low attention spans and little patience. They want information now, and decision making has to be effortless.
You desperately want them to stay hooked on your pages. You want to seduce the socks off them. You want them to buy, click and share.
But what if your visitors are having a terrible time on your website? What if they are regularly bouncing away?
And what if it's because you've made a few goofball mistakes?
Time to banish that confusion and fix those website mistakes!
Visual Mistakes
Mistake #1: Your Photographs are So Slick They Make People Suspicious
Are your images too glossy? You know, stock photos with go-getting businessmen, fabricated smiles and perfect studio lighting? They're professional, but unconvincing.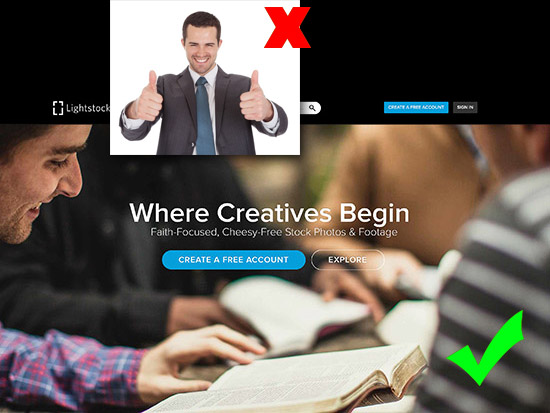 Ditch the cheesy shots for real-life photos that help build trust.
Images tell your audience a lot about your brand, so it's important that they appear genuine. Try spontaneous shots with collaborating team members. Realistic photos radiate personality and encourage visitor trust.
Want to take your own photos? Make sure they're top-notch. Shaky, blurry shots won't impress your audience. Re-touch your photos with free photo-editing software such as GIMP.
If in doubt, hire a professional photographer.
Mistake #2: Your Calls-to-Action Suck
Do your calls-to-action stand out or fade away? Lackluster buttons and graphics will leave your visitors directionless. They won't know where to go next, and rather than take the time to figure it out, most of them will simply leave your site.
Create buttons that visually stand out, demand attention and guide your visitors to take action.
Try contrasting colors that alert and words that entice, and don't be afraid to increase the size for maximum attention. HubSpot offer customizable buttons with no coding requirements.

Create attention grabbing calls-to-actions which demand attention.
Mistake #3: Your Design is Tired and Outdated
You don't have to be a trendsetter. But a website that is clearly stuck in 1997 won't give you the credibility you need, either. Fuzzy amateur images, flashing animated gifs and dated fonts turn visitors away.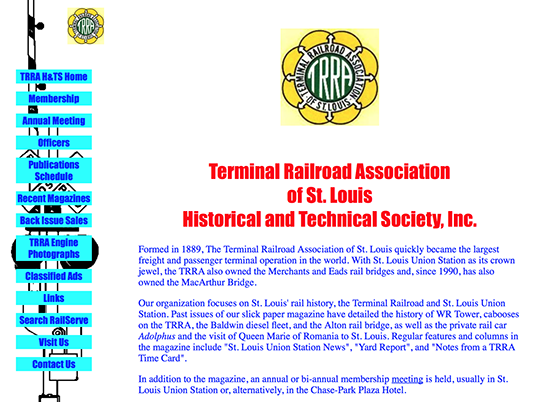 A tired looking website does nothing for your image.
An up-to-date design will show your visitors that you're current, available and clearly in business. Replacing old graphics and improving your colors and formatting can instantly refresh your website.
Mistake #4: Browsing Your Site is Like Having a Psychedelic Nightmare
Vivid, untamed colors can daze and distract your visitors, causing havoc. Use key brand colors sparingly for headings, boxes, quotes and buttons. When used well, colors can highlight content, differentiate services, attract the eye and improve the user experience.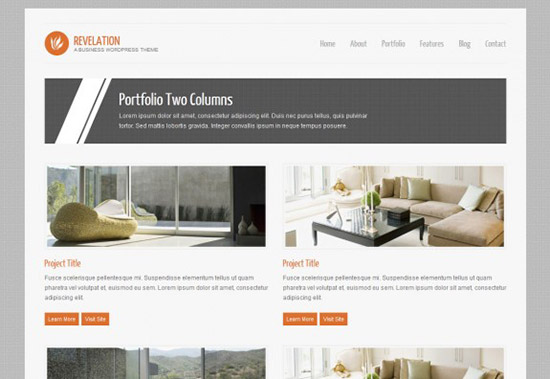 Stop chaos with a minimal and user-friendly website. WordPress offer easy, customizable themes.
Branding Mistakes
Mistake #5: Your Design Elements are Haphazard and Erratic
Random-sized headings, mismatched graphics and haphazard styles offer no sense of cohesion.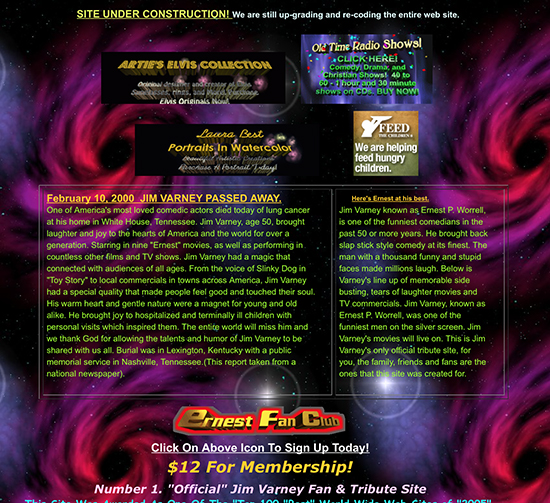 A haphazard layout can confuse and irritate.
Create a consistent web layout to allow your visitors to get information with ease. Stick to a brand style guide and offer your visitors familiarity.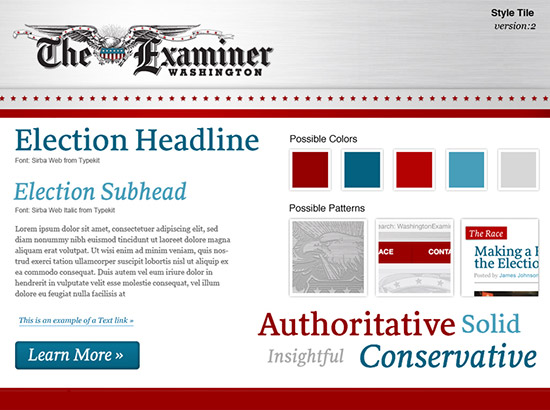 A brand styling system can create cohesion. Taken from http://styletil.es
Mistake #6: Your Logo is Fuzzy and Distorted
Is your brand image the best it can be? If your logo is fuzzy and distorted, you're sending out the wrong signals.
Upload a crisp high-quality logo that will ooze professionalism and trust.
Mistake #7: Your Home Page Makes You Look Like a Sleazy Marketer
Is your home page one big sleazy sales pitch? Gimmicky sales messages, flashing dollar signs and over-the-top graphics can make your visitors suspicious.
Create a strong first impression by focusing on how you can help your audience, while displaying your accreditations, social proof, and testimonials. When done correctly, your look and feel can build trust and encourage visitors to stick around, click through to another page, and maybe even become interested in your paid offerings.
Swap your sleaze with a trustworthy and credible home page.
Mistake #8: Your Stock Images Send the Wrong Message
What is your company personality? Maybe you're friendly and approachable, or maybe you're traditional and serious.
Choose photos with a consistent style that matches your values. Keep your visitors hooked with carefully chosen images that speak volumes about your personality.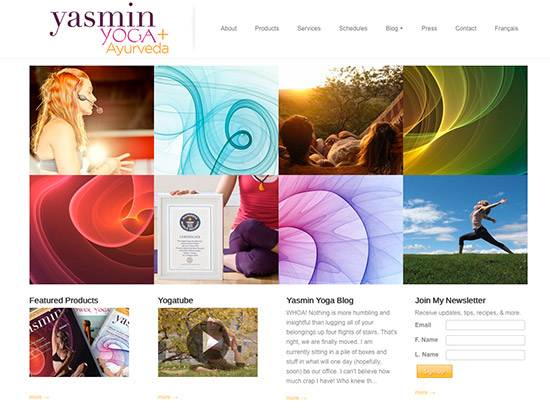 This yoga website shows warm, inspirational images combined with real-life photography.
Usability Mistakes
Mistake #9: Your Site Looks Pitiful on Smartphones and Tablets
As more and more people surf the web on their phones, and tablets, it's essential to ask: Are your visitors squinting to view your pages on a smartphone? A responsive design adapts to smartphones and tablets so your visitors can view your information effortlessly.
Check out this handy link to find out if your site is responsive. Consider a re-design or choose to build your site using a CMS system such as WordPress.
Without a device-friendly website, your visitors are more likely to hit the back button.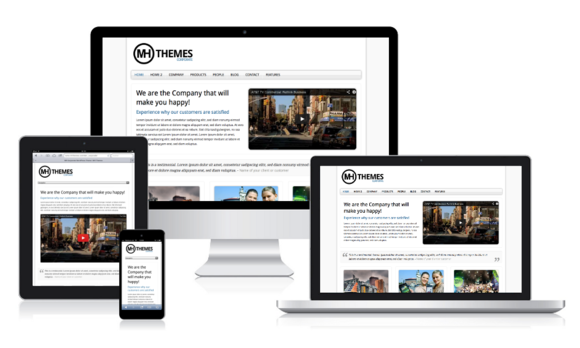 A responsive design works effortlessly across different devices. Most WordPress themes are device-friendly.
Mistake #10: Your Pages Display in Some Browsers (But Not in Others)
Not all browsers are created equal. So when you're testing out your site, test it in each of the four major browsers: Firefox, Internet Explorer, Chrome, and Safari. Does your layout break in IE8? Do your images overlap or disappear in Chrome? Fixing these bugs will cater to all of your visitors, whatever platform or device they are using.
Hire a techie to sort out your browser bugs. Access these useful browser stats and decide which browsers you want to design for.
Mistake #11: Your Navigation Sends People Down The Wrong Path
Badly thought-out navigation can confuse, annoy and irritate your potential new customers. Can your visitors find what they are looking for? What's the simplest way people can access your content?
Don't make your readers trawl through endless pages. Remember that they arrived at your website with a mission: to find a solution or answer to their problems. That's what they're looking for in your navigation, too.
Simplify. Create a clear path so your visitors can navigate without complication. Drop unnecessary links or hide your sub-pages with drop down menus.
Here are a few excellent navigation examples.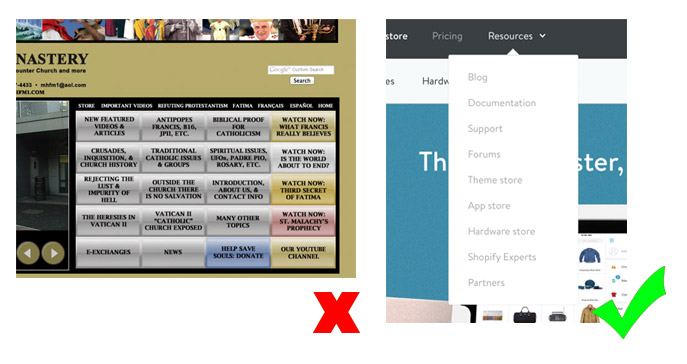 Providing too many links can cause confusion. Hiding your sub-pages can improve user experience.
Mistake #12: Your Site is Just Too Slow
Are your pages taking forever to appear? Large images and plugins can cause web bloat, and while this might not seem important to you, remember that your visitors are impatient. If your website takes too long to load, your visitors may click away to another, faster site.
Consider reducing the size of your images. There's a range of free Photoshop alternatives if you're on a tight budget. If you're using a lot of videos, try compressing your video or hosting the videos on a service like Vimeo or Wistia. You can also try dropping your third-party plugins.
Highly optimized pages will lead to more engagement and conversions. Test your website with a speed check.
Styling and Layout Mistakes
Mistake #13: Your Formatting Gives Readers a Migraine
Do you have crammed text, or overly spaced-out paragraphs, or huge fonts combined with tiny bullets? Your readers want legibility, which means easy to read text with enough white space around it. Messy formatting can give your visitors a headache.
Create clean, consistent spacing, bullets and visible links to improve readability and likability. Not the techie type? Change your CSS styles with this handy Chrome plugin.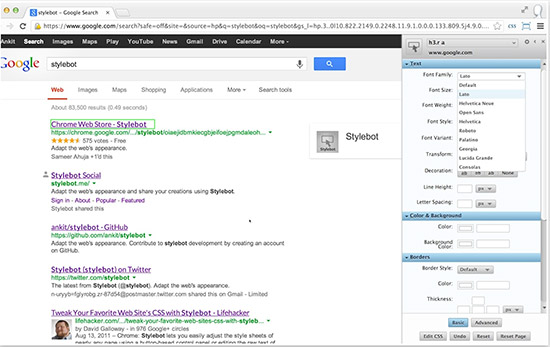 Change your own styles with Stylebot, a Chrome Plugin.
Mistake #14: Your Layout is So Minimal it Creates Apathy
Less is often more, and clean functional layouts can improve user experience. But what if your layout is so minimal it turns people away?
Add personality to your layout to entice, persuade and energize. Add icons, images or devices. You can buy affordable images and icons from stock libraries such as istockphoto.com, but be sure to mix in your own photos as well. Otherwise, you run the risk of appearing too slick by using too many stock images.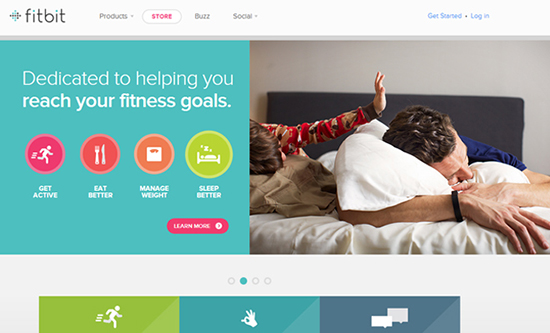 Improve your website layout with interesting images, colors and icons.
Mistake #15: Your Testimonials Look So Bland They're Ignored
Are your testimonials slinking into the background? Do they fade in with their surroundings?
Format your testimonials so they stand out, intrigue and alert. Choose a different font, color, and background – you might even add quotation marks.
Quotes are a great way to tell your visitors that they're in the right place, and that you can help them with their problem. Don't squander this opportunity to impress with visually boring quotes.
And if you're a WordPress user, you can skip hiring a techie and choose a plugin that will save you time and money.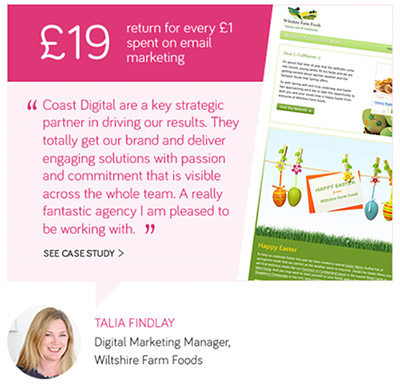 Draw attention to testimonials with eye-popping styles.
Mistake #16: Your Pages Scream Chaos and Confusion
Too many images fighting for attention, clashing styles, flashing animations and a haphazard layout – such distractions  cause unwanted noise.
Avoid visitor confusion with overbearing styles and colors.
Create a space to breathe, add more white space and clean up your design elements. Consider reducing text, dropping images or learn how to change your website style sheet with CSS.
Focus on the one or two actions you most want your visitors to take.This will give your visitors laser-light focus.
Are You Ready to Banish Your Design Mistakes?
You want your website visitors to trust and respect you and your business because that's the first step to turning them into loyal customers.  But it doesn't matter how professional you are if your website design is sending a different message.
Sometimes mistakes can be staring you right in the face, but you're just too close to notice them.  So start by checking your website against the list above. And if your design is falling short, get a professional designer to fix it.
It may not be glamours work, but just remember: every day those mistakes remain unfixed is another day potential customers are bouncing off your website.
Are your visitors leaving your website because of one of these mistakes? If so, which one? What will you fix first? Let me know in the comments below.