Warming Up Your Network So No One Can Turn You Down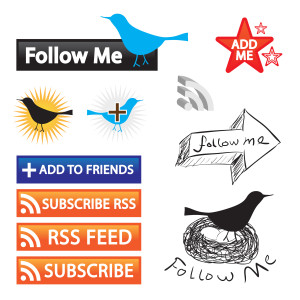 Ever send a pitch email to a blogger in your field asking them to share one of your blog posts – and get no response?
Or maybe you emailed an entrepreneur you really admire and asked if they'd be up for meeting for coffee – and all you heard was crickets?
It's always disappointing when you're eager to make a connection and hear nothing but silence… which is why you need the tactic we're about to go over today. This will drastically increase your response rate, so you can move faster toward the results you're looking for.
Here's a question for you: Think those people you emailed would've been more likely to respond if they'd recognized your name?
Of course they would! A warm call has a far higher chance of success than a cold call – even if our modern version of calling is email. Whether you're marketing a blog, building a business, or growing your personal network, you're much more likely to reach your goals if you warm up your contacts before approaching them.
A Smart Tactic for Warming up Your Targets That Anyone Can Use
So how do you create an environment whereby industry influencers, sales targets and potential mentors recognize your name when your email lands in their inbox?
By using something simple, something that's at each of our fingertips: Twitter.
Yup, this social network can swing the networking pendulum in your favor. While you have lots of social media tools at your disposal – Facebook, LinkedIn, Pinterest and Google+, the list goes on and on — Twitter is the best one for warming up your network.
Why? Because unlike many other popular social networks, Twitter makes it easy for you to make new connections.

Think about it. Most of us use Facebook or LinkedIn to solidify connections we've already made. When you connect with someone on LinkedIn, it's usually because you've met them at an alumni event or tech meetup, and you want to officially add them to your network in case there's an opportunity to work together. On Facebook, we tend to become friends with people we met at a party or book club; we don't often ask people we don't know to become our virtual friends.
Twitter, though, is different. On Twitter, it's completely acceptable and even encouraged to connect with people you don't already have some sort of relationship with. That means it's the perfect place to meet the people you want to know.
But How Do You Turn Heads on Twitter?
Of course, you don't want to meet just any people – you want to meet the right people.
Sure, there's a piece of Twitter that's serendipitous; if you use the network often, you'll meet people with similar interests who you didn't expect to meet. But if you're keen to meet the right people, the people you want to recognize your name when you send them that warm email, you've got to use the network strategically.
That's right: being on Twitter isn't enough. To really see results from the network, you've got to be proactive about how you use it.
But wait. There's another reason you should choose Twitter for warming up new contacts before you approach them directly: Twitter lets you warm them up subtly.
Rather than being in someone's face about how they should read your latest blog post or why you want them to speak at the conference you're organizing, you can help them notice you tactfully and skillfully, so they don't even know you're doing it. If you do this well, you might even find them approaching you about opportunities to work together before you send that hard-ask email.
So how do you use Twitter in a subtle way to help people notice you?
You look for opportunities to interact with the right people. Here are a few tips for doing that well:
1. Figure out who, exactly, your targets are
Too many of us are on Twitter without knowing exactly why. And guess what? You can't attract your targets to you if you don't know who they are.
So before you do anything – and especially before you declare Twitter useless – pinpoint the exact people you want to reach. Start with groups of people if you must; for example, editors or entrepreneurs or dog lovers. But quickly force yourself to dig deep into those groups and pinpoint real people, because it's those people you want to reach.
The more specific you can be, the better.
2. RT that person's tweets
RTs are a subtle way of saying, "I like your ideas so much that I'm willing to share them with my network." They're also a subtle favor; you're helping to spread the word about that person's work.
To take this one step further, add a comment before the RT, something that shows you either agree with them or, better yet, have an innovative idea to add to the conversation. Now you're not only getting that person's attention, you're also showing them you're a smart cookie.
3. Make sure your feed is in tip-top shape
If that person does notice you, they'll hopefully click over to your Twitter feed. When they do, they're not going to want to see tweets about what your cat ate for breakfast.
Make sure your feed is full of valuable content that showcases your expertise. While you do want to tweet your own ideas and links to your blog posts, your feed should also include links to other people's content, because that proves you follow developments in your industry and are familiar with the big players in your space.
Getting someone to notice you is really only the beginning. Showcasing your value in your feed so that person wants to get to know you will help you seal the deal.
4. Use the @mention
This sounds simple, but it's absolutely one of the best ways to get someone's attention and grow your network – and too many people fail to do it.
Before you send each tweet, ask yourself: Who else could I @mention here? If you're sharing someone else's work, have you @mentioned them? If you're sharing your own blog post, have you @mentioned people you referenced in that post? Or maybe there's an opportunity to @mention someone who will appreciate what you're about to share?
You're on Twitter to grow your network, and using @mentions is one of the best ways to get people to notice you. A tweet without an @mention is a missed opportunity.
So once you've identified your targets, look for ways to @mention those specific people. And if you're already in the habit of including one @mention in each tweet, push yourself to include two. For example, if you tweet a post that ran in a certain publication, @mention the publication, then look up the @handle of the author and include that, too.
Yes, this will take more work than simply tweeting the link. But those extra few minutes will pay huge dividends for you down the road.
5. Create a "Notice-Me" list
Want to make sure you're interacting with your targets on a regular basis? Create a list of those people and pull it into whatever Twitter application you use – my preference is Hootsuite. That makes it easy to RT, @reply and follow tweets by the people you want to notice you.
I go so far as to call this my "Notice-Me List." If you go this route, make sure you make the list private, so you're the only person who sees it.
Over time, who you want to notice you will change, and when it does, adjust your list. This is one smart way to make sure you're using Twitter strategically, rather than wasting time on the network.
Each of these tips will help you subtly warm up your targets, so that when they hear from you via email, they'll actually want to press reply. And that means more YESes in your inbox.