7 Warning Signs Your Viral Marketing Strategies are Screwed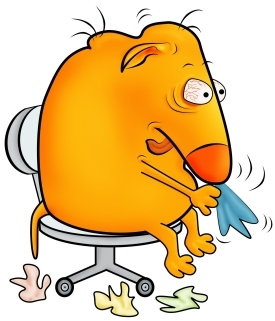 "What am I missing?" You wonder.
Part of you wants to ditch your entire viral marketing strategy, and forget about the whole online business entrepreneurship thing forever.
And yet, here you are, reading this post, trying to figure out if there is any reason why things aren't going according to plan.
Of course, it's not that you haven't tried. You have. You have done everything the expert marketers say to do.
And yet, the viral effect you hoped for is not taking place. The rapid multiplication to explode your message to thousands, and even millions of people around the world is not happening.
What could you possibly have done wrong along the way?
What is the secret difference between you and all the other successful people who have done this?
What in the world have you done (or not done) to screw things up so badly?
What is the secret to viral marketing?
Well, I'll tell you seven possible reasons your viral marketing strategies aren't working. Let's start with number 1…
1. You Have No Idea What Direct-Response Copywriting Is
The truth is, if you don't know what direct-response copywriting is all about, you are doomed to fail before you even start.
Here's why:
Making your content go viral (in whatever form) is all about getting people to take the action you want them to take. That's what direct-response copywriting is all about. It's about getting people to respond to you exactly the way you want them to.
If you can't do that, there is no way you can get any result from your campaign.
So I guess the question is: do you want to fail? If not, then get busy learning copywriting starting today.
2. You Don't Value the Importance of Headlines
So let's say people are highly interested in your topic – you've researched this – you know they are.
You have used Google's Keyword Tool to find out there are at least 120,000 people searching for your main keyword every month. The Facebook fan pages in your niche have a minimum of 20,000 people. Because of all this, when you put your content out there it will spread faster and everything will sail smoothly, right?
Wrong.
Because you see, going viral is not about the number of people searching for your topic every month. Neither is it about the number of fans or followers in your niche.
The headline is the most important thing that will determine whether your content spreads or not. The more attention you pay to it, the better your bottom line gets. The less attention you pay to it, the worse your bottom line gets.
Why? Because if people aren't attracted to your work in the first place, why would they tell others about it?
So the next time you're creating something to spread all over the web, pay more attention to your headline. It needs to be sinfully delicious to your readers. It needs to benefit them in some way in exchange for their valuable time.
(If you want to do a deep dive on writing great headlines, Eugene Schwartz's book Breakthrough Advertising is a great place to start.)
3. You Don't Have Any Guest Posts Promoting Your Campaign
To tell you the truth, guest posting is hard work. Many new marketers avoid it because it can take so long, and feel so risky. You have to ask another blogger to accept your idea and to do that, you have to get to know them first. Even harder is when it's time to write the content. You have to shoot for the very best quality, and that takes time and a lot of thinking.
But if you do it right, it can be one of the best things that has ever happened to you – especially if you've got a piece of content that you want to see go viral.
Seriously.
Guest posting isn't just for promoting bit new products or services, or for building strong relationships – you can also use it to highlight a specific piece that you've created, or small campaign that you want to go viral. Just reference it in the post and include it in your by-line.
It's that simple, and all of a sudden hundreds and thousands more people are being exposed to your work.
4. You Have Spent Less Than 10 Hours on the Content
What's one of the easiest ways to make sure your viral marketing strategies fizzle out without so much as a YouTube view?
Simple: by creating mediocre content.
You have a good idea, so you sit in front of the computer to work on it. Within an hour or so – Bingo! You feel like you have something truly remarkable. Something so stunningly awesome people can't help but talk about it, right?
Not a chance.
Here's why:
No matter how brilliant you are, you cannot create something truly remarkable, something people will talk about for a long, long time in 45 minutes.
You have to do better than that.
You should spend at least 10 hours on creating your viral content piece from start to finish. At least. In some cases, you get to spend less but for the most part, 10 hours minimum is the standard you should hold yourself to, if you want to create something worthwhile.
Good things take time, and that is as true of online content as it is of everything else.
5. You Don't Know What Keeps Your Readers Up at Night
Okay, show of hands:
Who else is sick and tired of having a really good idea, spending hours upon hours on it and then when you put it out there, nothing happening with it?
Want to know why that's happening?
It's because you don't know your customer and what keeps them awake at night.
Jon Morrow popularized this concept more in the blogosphere, and it's golden.
Check it out! It's counter-intuitive I know, but try it. It will work wonders for you.
6. You Don't Have A Goal
Lots of people who have a viral marketing campaign plan have no real purpose for what they are doing.
They give out free e-books with unrestricted access because that's what everyone is doing. They pay a lot of attention to headlines because that's what everyone is doing. They put social media tools in place to help spread the word because that's what everyone is doing.
They do everything because that's what everyone is doing, and for some vague idea of "getting more traffic, subscribers and conversions."
And if you are one of them, you need to stop.
You need a clear, measurable goal for each viral campaign you run. Do you want more subscribers or page views? Extra activity on social media? More comments on your posts? More personal email with your readers?
Whatever it is, you should know what you want to achieve, and by when – of you can't measure what you've accomplished, you can't adjust anything to make improvements.
And you never learn how to do better.
9. You Want to Become Successful on Your First Try
Does this sound familiar:
Your campaign is good to go. Everything is in place, and everything feels good. You check it out, and it all fits to the advice of a popular marketer you so much believe in. In other words, since everything is perfect, you should be wildly successful even though this is your first time doing this, right?
Don' worry – most of us have felt that way at one point or another.
Here's why:
The more you keep doing something the right way, the better you get at it.
On your first try, or even your first few tries, you probably just don't have the practice and experience yet. It's okay – you'll get there!
Creating good, feasible viral marketing strategies take time! Don't expect to have the biggest success on your first try. This is not a one shot thing. You have to keep showing up constantly, and you have to keep becoming better the next time.
And it will hurt so much while you are at it, because you have a target, and you can't get there yet.
But isn't that the price you pay for trying to become super successful at anything?
So, don't walk away from this.
Because I know you can do it. And you know you can do it.
So go do it!