Advice For Your Viral Marketing Campaign: Get Vaccinated Against the Viral Marketing Virus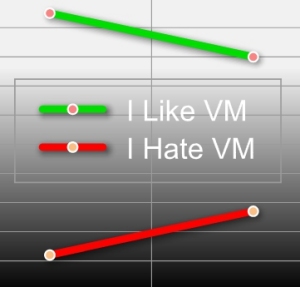 Did you know that a full fifth of your current clients could suddenly up and leave you, if you've got Viral Marketing virus?
I know it for sure, because I was the ones who left.
Let's go through a little background info on this dread disease before I continue my story of escape.
The phrase "I like viral marketing" turns up 9,100 results in Google search, but 2,120 results show for the search "I hate viral marketing". These figures may vary on different days, but the tendency remains:
For every four of your possible clients you have another one who hates viral marketing in general or really hates some particular form of it.
In this case, Viral Marketing refers to anything involving social media strategy. Think Facebook Likes, Youtube shares, Tweets – that kind of thing.
One of the giant cockroaches, which may frighten your clients to death, is hiding here:
"I don't like Facebook" gets 2,400,000 Google search results
"I hate Facebook" gets 1,330,000 Google search results
"I don't like Twitter" gets 634,000 Google search results
"I hate Twitter" gets 429,000 Google search results
Even allowing for error in these statistics, there are plenty of people who will not want to share your content in social networks, even if you promise them a tempting reward. Your attempts to persuade them may end with a disaster.
Now, back to how I almost caught the Viral Marketing virus…
The Mistake of a Conceited Tailor
I used to follow the sewing blog of a woman with excellent professional qualifications, many years of experience and a soft voice, which was a pleasant supplement to her instructive webinars. But one unfortunate day she caught a dangerous local mutation of the Viral Marketing Virus and said:
"I will post the second part of my instructions on how to (…), only when there are 40 "likes" for the first part".
I was puzzled. And irritated. And a little put off.  Plenty of other readers felt the same, because it took quite a long time for her to get those 40 "likes".
Meanwhile the Viral Marketing Virus was conquering her mind, and another day, not long after, she declared:
"I will give you access to my next webinar about how to (…), only if you post 3 links in various social networks. You must inform of these links in the comments, I will check them for validity and then I will send you the link to the webinar".
Feedback was fast and destructive. From the 90 comments on this post 15 were about unsubscribing definitively, 8 said they started thinking of unsubscribing. How's that for a conversion rate?
Those who left spoke about unfair attitude, offence, humiliation, compulsion, discrimination.
Some of them didn't have accounts in social networks, or they did, but they were not public and the readers only wanted some sewing information.  They had no social media strategy. For others the topic of sewing was absolutely irrelevant to their friends, followers and even employers, who were monitoring their accounts.
But the disease had a firm hold, and continued warping her marketing. Several readers, who did complete the requisite linking and social sharing didn't get the link for the webinar in time to attend it. Because "we should understand, that checking all those links takes a lot of time". Talk about appreciation!
I was among those who unsubscribed definitively.
The Dangerous Turn to Dictatorship
Soft-spoken doyennes of sewing blogs are not the only victims of the viral virus, not by a long shot. It's contagious, and spreads mercilessly.
The next outbreak I want to tell you about was in a popular blog on informational business, owned by some gentlemen with good knowledge of sophisticated software. They automated the process, partially, but the malady was the same:
Share in 3 places, inform of your links in comments, they will be verified, you'll get a promised E-Book. If you didn't want to share socially you could buy the e-book, and the price was not low, not at all.
The discussion which broke out was hot and uncompromising. No wonder, the audience was composed of marketers! There were not enough reasons to buy, the book was not promoted earlier. The main emotional driver among the "professionals" was indignation and reluctance to cooperate under the whiplash.
Flying Over the Cuckoo's Nest
Looking through the comments in both cases, I defined two camps at war: those who suffered from the disease and those who protected it. Those in the second came protected not the idea of viral marketing activities, but the blogger who engaged in them.
The popular argument of those fans was that their dear blogger didn't need the unsubscribers, who were accused of being lazy freeloaders – uninterested, incompetent, stupid, unable to push a couple of buttons. In both cases the bloggers silently stood on their position and didn't take a step towards the offended. Who knows how many people lost their desire to buy from them?
Were those bloggers really so rich and successful, that could throw away a significant percentage of their audience that it may have taken months to accumulate?  I doubt it.
Those were the sad stories, how Viral Marketing Virus penetrated communities and poisoned the relationships.
Stop Viral Marketing Virus!
Experiencing these Viral Marketing virus outbreaks taught me some powerful lessons. Since I felt the pain as a client I knew that I had to be fully vaccinated against the disease as a blogger. I concocted this course of prophylactic pills and keep them handy when I'm planning new campaigns.
Pill #1
To be taken 7 days before any marketing campaign through social networks.
Remember: Who are you working for?
When finding your target audience, ask yourself what the odds are that they are all fans of social networks. Do you have iron-clad reasons to support your conviction to go with viral content marketing?
Maybe you will decide to run a survey, asking your audience about their favorite social networks and how active they are in them.
Pill #2
To be taken 3 days before the marketing campaign begins, if you decided to continue with viral marketing.
Remember: What products or services do you offer?
Would people with the specific problems your product solves feel like talking in public about it?
Does your audience use their social media in accounts in a way that is appropriate for this sharing campaign?
Pill #3
To be taken 1 day before the viral marketing campaign, if you are still going for it.
Think About:  What is viral marketing? What tactics are you going to use.
If you offer more than one social button to "pay with", allow a client to decide which one to use. (This was implemented well with the

Naked Marketing Manifesto

.)
Never, ever say that you will be verifying the links, before handing out the product or service, even if you do! It's always a bad idea to treat your audience like children.
In case of emergency, if the Pills are not enough:
If you did your best, ran your campaign and got some unpleasant reactions, accept them graciously, respond, apologize if necessary, and mend your ways.
When I decided to divorce with the sewing blog, I still was ready to buy the recording of the webinar that had angered so many people. But my comment explaining why I quit, though polite and honest, was held in moderation for two days and disappeared from the list, with zero reaction from the blogger.
I changed my mind about the purchase.
So take this next bit to heart, because we all make mistakes, no matter how hard we try to avoid them:
The worst response to an unhappy customer or reader is disregard.  Take your medicine like a grown-up and attempt to mend the breach.
My affair with that sewing blog was almost a month ago. This whole mess probably wasn't worth one more than a few minutes of my time (just enough to click unsubscribe!), but my expectations were not met, my plans to sew were ruined and my emotions were so violent that I'm still nursing them today. Hence this blog post.
All this happened because the viral marketing craze that has overtaken our industry got into the hands of people who weren't ready or able to handle it properly. Like any other virus that can leak out from a laboratory, the Viral Marketing virus can ruin communities.
What would you feel and do in a similar situation – as a client, as a blogger, as a business owner? Help me to find the indisputable arguments against and vaccines for my next battle with the Viral Marketing virus!